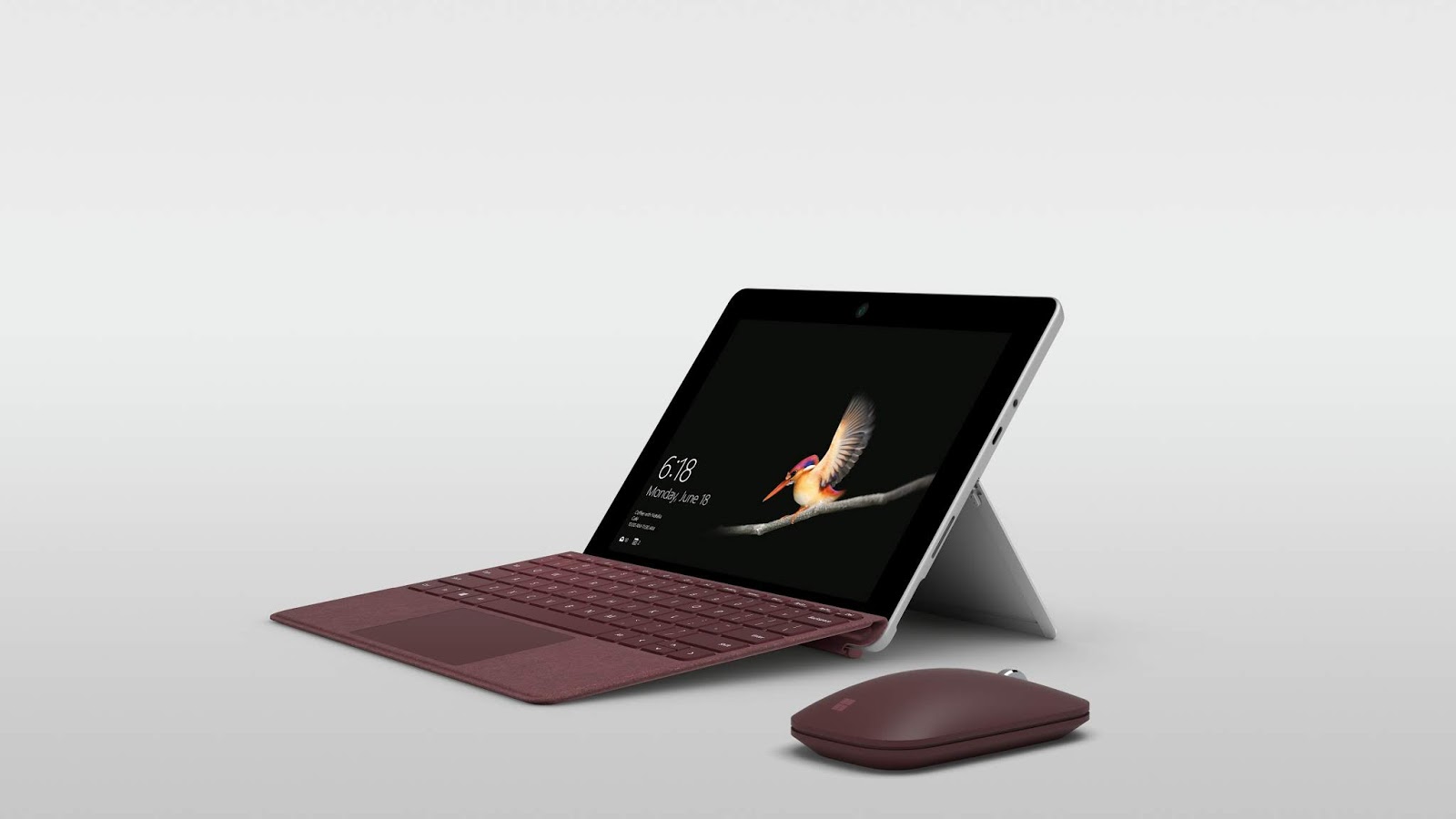 Image Source:- Microsoft
While looking across the surroundings or in our daily life we see different types of people carrying out their specific tasks. There are some people who believe in performing these tasks in a single place while some love to carry out tasks at different places. Whatever be the place the most important thing is getting your task done faster and in a smarter way.
Today, due to smartphones it has become easy to perform tasks casually but if we want to perform a task professionally we need to have access to a desktop, laptop or a tablet. So, to make it easier for you to perform your daily tasks & work, Microsoft has brought a new product in their range and its the Smallest, lightest & affordable Surface yet- Microsoft Surface Go.
Design & Display:-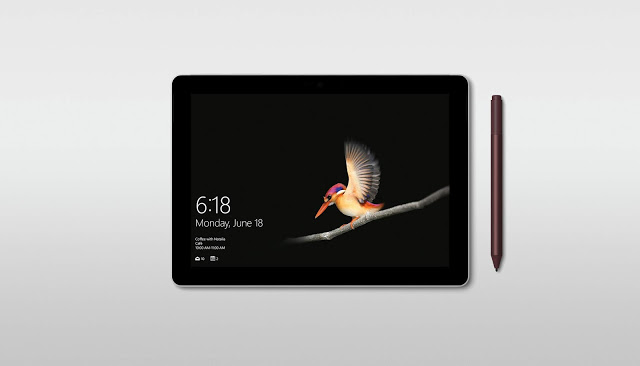 Image Source:- Microsoft
The Surface Go provides you a laptop performance along with tablet portability and a stunning touchscreen. It weighs around 1.15 pounds and is 8.3 mm thin. It comes with a 10″ PixelSense display that looks impressive. The device is strong and small and it runs all desktop apps like Office and other apps like Spotify and Netflix. The device is smaller and lighter and it provides all the premium qualities that Microsoft Surface is known for.
Surface Go is the best of Microsoft with no compromise in the quality of the product and comes with the iconic Surface design. It comes with a magnesium body, a kickstand with a full-friction multi-position hinge to 165 degrees. The device looks awesome and the quality is like having a premium Surface product in your hand.
Software & Hardware:-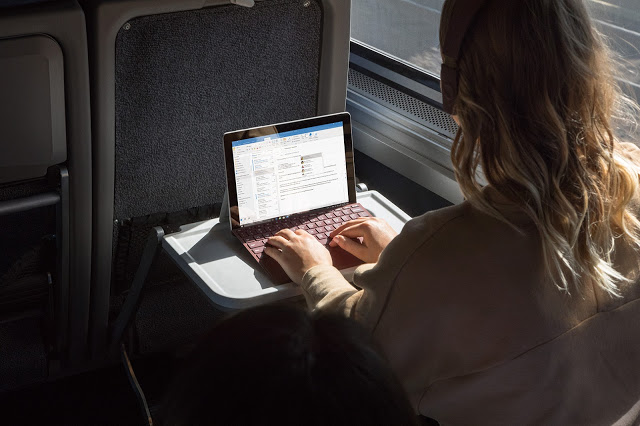 Image Source:- Microsoft
The Surface Go is powered by the 7th Generation Intel Pentium Gold Processor 4415Y that will run your surface device smooth throughout the day. It helps you to seamlessly multitask while performing tasks on different applications. Its optimized to give you better productivity and manage performance, battery life, and the processor gives you the portable power you need to get your pieces of stuff done.
The Surface Go comes with the Windows 10 is S mode which works exclusively with all the apps from the Microsoft store within windows and the accessories that are compatible with Windows 10 in S mode.
Additional Features:-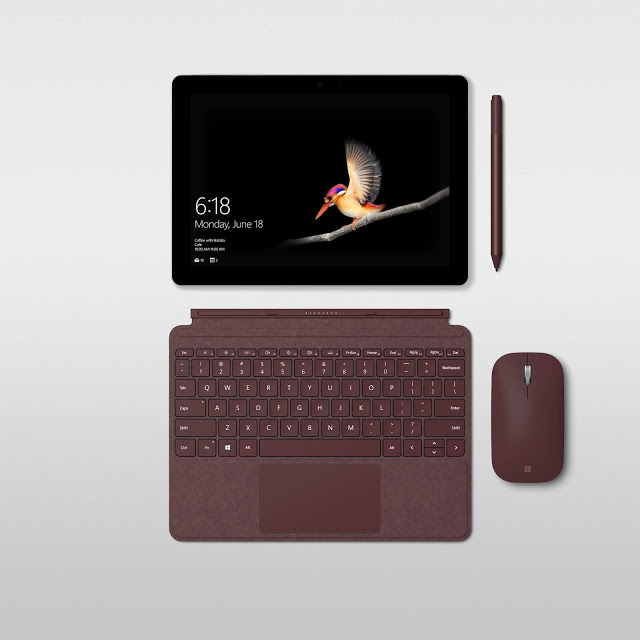 Image Source:- Microsoft
Surface Go helps you to stay connected on the go with all the productive apps like Word, Powerpoint, Onenote, etc.. at your fingertips and lets you to access them from anywhere.
It also supports Surface connect, allowing you to magnetically charge and create a desktop experience with the Surface Dock and it also supports USB-C 3.1 port for data, video, and charging.
Experience more richness with your Surface Go by pairing it with the Surface Go Type cover which offers you an amazing typing experience with backlight keyboard. The Surface cover is available in 3 beautiful colors- Burgundy, Cobalt Blue, and Platinium. It also features a full-size precision keyboard that is made up of glass and has multiple touch support.
Complete the full-laptop essentials buy buying the Surface Mobile Mouse and the Surface Pen which provides you more versatility along with your Surface Go. Perfect balance of style and comfort.
It comes up with the built-in WiFi and will also be available in the LTE option which is coming soon to provide you the hassle-free connectivity anywhere you go.
A MicroSD card reader under the kickstand helps you to add more storage so that you never run out of space ever.
Verdict:-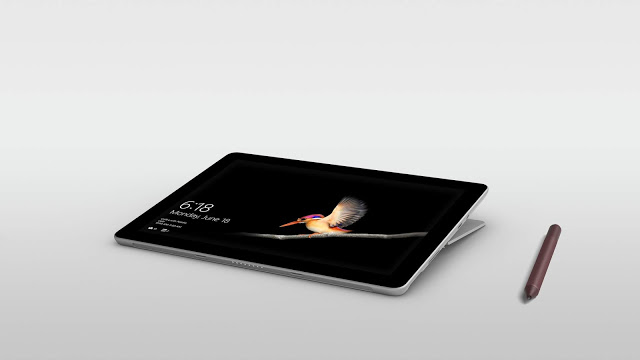 Image Source:- Microsoft
Surface Go is one of the best product from Microsoft with the Windows you love and the iconic Surface design makes a perfect notebook for your family at home or an expert in business or for school to provide their students the most versatile tool to study. It competes with the Apple iPad and Google Chromebook but with the Microsoft Surface features and quality this device takes an edge.
Microsoft has brought their best surface product this year with the launch of Surface Go.
We loved this device and hope that you too.
Pricing & Availability:-
The
Microsoft Surface Go
is available for pre-order now on the
Microsoft Surface website
and it will hit the shelves in the offline stores on
August 2, 2018. It is priced at $399.
Also, the LTE model will be arriving later this year.
So, looking at the price segment and the surface experience along with the stunning design it looks a good option to go for.