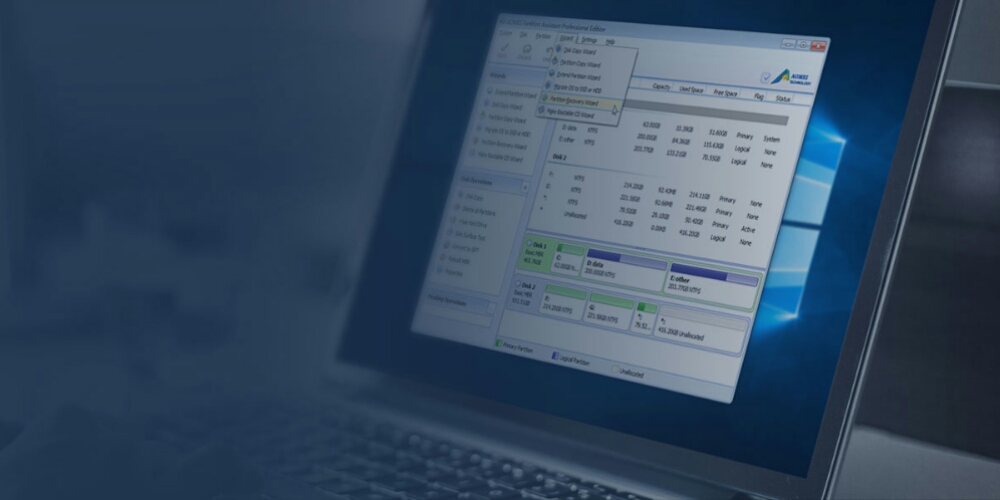 Have you ever meet any problem while using Windows Disk Management utility? Guess what? The answer of most people isn't negative. Generally speaking, the Window's build in disk management is powerful, it could support most of the partitions and disk tasks. If you want to perform some advanced features, some kinds of third-party software might be helpful.
Standing out from the full marketing partition software, AOMEI Partition Assistant includes rich features with intuitive user interface, which is designed to optimize disk storage and manage partitions. You can use it to resize, extend, split, format, create, move, recover and merge partitions, meanwhile, it provides migrate OS to SSD, convert file system among NTFS, create Windows to go, SSD secure erase functions. Let's see deeper with the latest AOMEI Partition Assistant.
Highlight of AOMEI Partition Assistant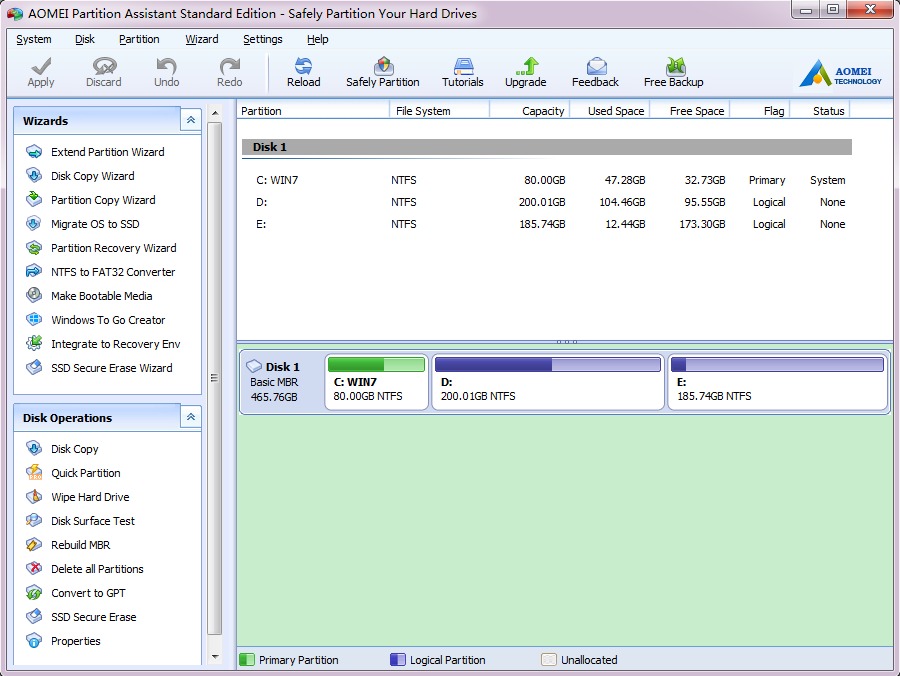 There are six editions of AOMEI Partition Assistant based on the different audiences. AOMEI Partition Assistant Standard is a free partition software which covers most important features for basic Windows users. AOMEI Partition Assistant Professional offers more advanced features for those users need higher priority technical needs and it's paid edition. For server and enterprise users, there are AOMEI Partition Assistant Server and AOMEI Partition Assistant Unlimited. AOMEI Partition Assistant Technician Edition provides charged technical service to clients with unlimited usage and manage hard disks and partitions for unlimited computers.
Resize/Move Partition: adjusts the size of partition or move the place of partition without data loss;
Merge Partitions: merges two partitions or merge unallocated space into one partition to extend partition's space;
Create/Format/Delete Partition: helps you create partition from blank space, or format partition, or delete partition for protect data leaking;
NTFS to FAT32 Converter: can convert file system from NTFS to FAT32 without data loss;
Align Partition: Max the performance of your SSD or HDD by using partition alignment;
Windows To Go Creator: save your personalized Windows 10, 8/8.1/8 or 7 OS and use it on any compatible device and keep your work and home use of PC separate if you use the same PC for each;
Partition Copy Wizard: the partition copy wizard offers two ways for cloning/transferring one existing partition to another one, easy to use;
Make Bootable CD Wizard: creates a bootable rescue disk based on Windows PE to boot your computer when the native system failed to boot, and then manage partitions or recover partitions by using AOMEI Partition Assistant in the Windows PE environment;
Integrate to Recovery Environment: integrates AOMEI Partition Assistant or AOMEI Backupper into Windows built-in recovery environment;
Split Partition: can split the whole hard disk and partition into multiple partitions easily and safely;
Convert GPT/MBR Disk: can convert mbr to gpt without data loss and change a disk from GPT to MBR partition style or MBR to GPT partition style without deleting the existing partitions and losing data.
The Change Logs of AOMEI Partition Assistant Version 6.5
Added "SSD Secure Erase Wizard": securely erase your SSD to reset the SSD to its factory state for peak performance.
Enhanced Windows To Go Creator: support to choose a system in WIM file.
For safety, add limitation to resize/move boot partition in Windows 10, version 1703 and later under Windows and PreOS environments. However, there is no limitation under Windows PE environment.
Fixed bug: in rare cases, error code 6 occurs during conversion between MBR and GPT.
Fixed bug: an encrypted disk will be initialized.
Fixed some other known bugs.
Conclusion
There is no doubt that AOMEI Partition Assistant Standard is your most powerful partition manager and complete hard disk management tool. It enables you to organize disk space usage without data loss, and manage disk partitions to improve server performance. It supports English, Deutsch, Español, Français, Italiano, Português, Magyar, Polski and 日本語.