It started so young, when we hope for weekends to come so we can sit together and watch our favourite movies. Frankly speaking, films make us feel something. They fill us with longings and allow us to escape sore moments as we dream of an impossibly beautiful universe. Some of the essential stuffs we have learnt so far, where learnt from movies. Now with the invention of technology which lead into something called internet, people started seeing a cheaper and better ways to get contents online. Between this era, ganool spawned, allowing users to download all sorts of movies for free.
AlsoRead: Best LetMeWatchThis Alternatives to Watch Movies Online
At first, its overall idea was beautiful, instead of offering a streaming platform where users can watch any of their favourite movies online for free, it opted for them to download them for offline viewing. I have personally used ganool before, and loved the quality of contents they offers. But aside from this, I fancied the way they used RockFile to distribute Google drive links of movies. It ensured stability. Sadly, ganool was taken offline even before it could make waves. So today, we're unveiling the best alternative sites like ganool to download movies for free.
1. Pahe
Looking to get high quality movies at affordable sizes? Then pahe.in is the deal. It is literally a no-nonsense website that was specifically created to allow users download movies for free. Directly from the homepage, you'd get to see tons and tons of top trending, newly released and popular movies that are still airing in the cinema. At the top lies the search bar, alongside some text options that once clicked, will lead you to its secondary movies such as anime and Korean dramas.
That's not all, pahe brings a huge library that includes IMDb's top 250 movies and rated TV Shows, you do also get to find some Indian movies on the platform alongside popular Oscar Wins. That aside, the list of movies and TV series on pahe can be sorted by genre and you can also download a TV series seasons (with all episodes included) in one pack. Select the movie you want to download and you'd be greeted with the trailer and other relevant informations relating to that particular movie.
Similar to ganool, pahe lets you download its movies from Google drive links and beside this, there are other mirrors to use, such as megaupload. So choose one among all of them depending on the quality format you want. That's it, pahe's movies mostly come in 420p, 720p and 1080p quality to ensure rich viewing experience. It's really a better alternative to ganool.
Visit Pahe.in
2. Ganol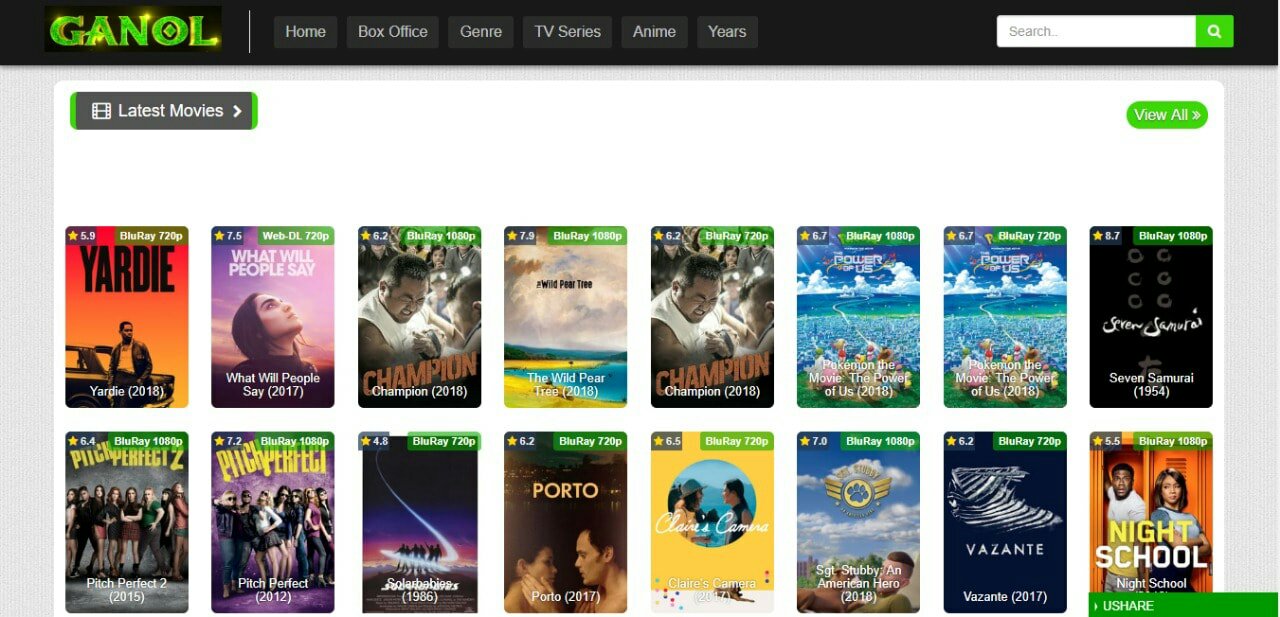 With the death of the original ganool, this site spawned. The thing is, we aren't sure if it's the same website that got morphed into a new domain, but whatever the case might be, we are "solely interested" in its slew of contents. Ganol 'similar' to ganool is a movie download site that is gradually gaining popularity. Although it brings a few annoying pop-ups, it is still the best option especially if you think pahe hasn't got all the contents you need.
Ignore the 'commercials' on ganol.si and what you'd see next is a colossal number of movies "plastered" on an easy-to-use and classic user interface. Similar to ganool, pahe offers anime and TV series which can be sorted by year and genre such as adventure, action, comedy, fantasy, war and many more. Tap on the movie you do like to watch and you'll see the trailer as well as download links. Ganol doesn't have a Google drive link option, but it's rare to find a dead URL on the platform. It offers box office movies too, but fails to bring an option for users to select movie quality.
Visit Ganol.si
3. Psarips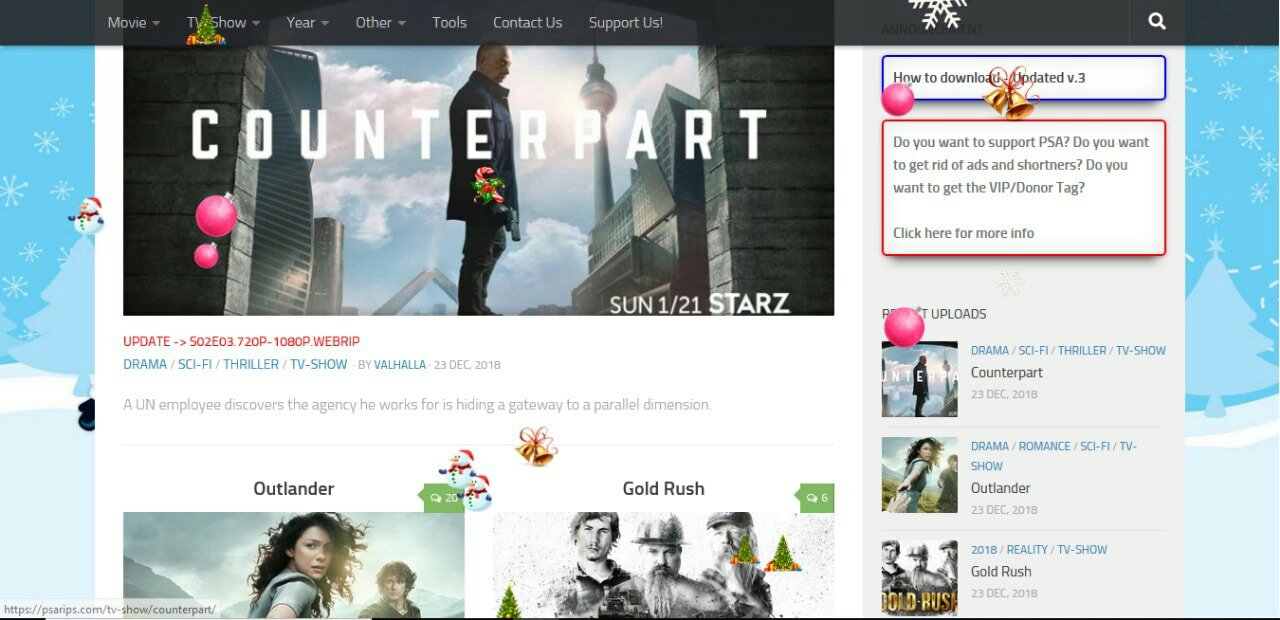 If you're looking to download x265 movies and series, then psarips should be your go to. With an elegant and simple user interface, one may think that the site doesn't offer enough contents, but stick around a little and explore the site and you do be amazed at the slew of movies and TV shows available on the platform. For the record, psarips has seeded one perabyte of data via torrents barely two and a half year of its invention. It's literally a hub to discover new films.
With daily updates, psarips homepage is filled with newly released movies such as A-X-L, Hell Fest, Halloween and the House with a Clock on its wall. Simply select any of the films listed on the home menu and you do get an option to view the trailers before downloading them via torrents. Just like ganool, psarips movies and TV shows comes in various quality such as 720p and 1080p and the developers have recently announced that they'd be providing DDL link for selected uploads to allow users download files without going through downloading hosts.
Visit Psarips.com
4. Hdencode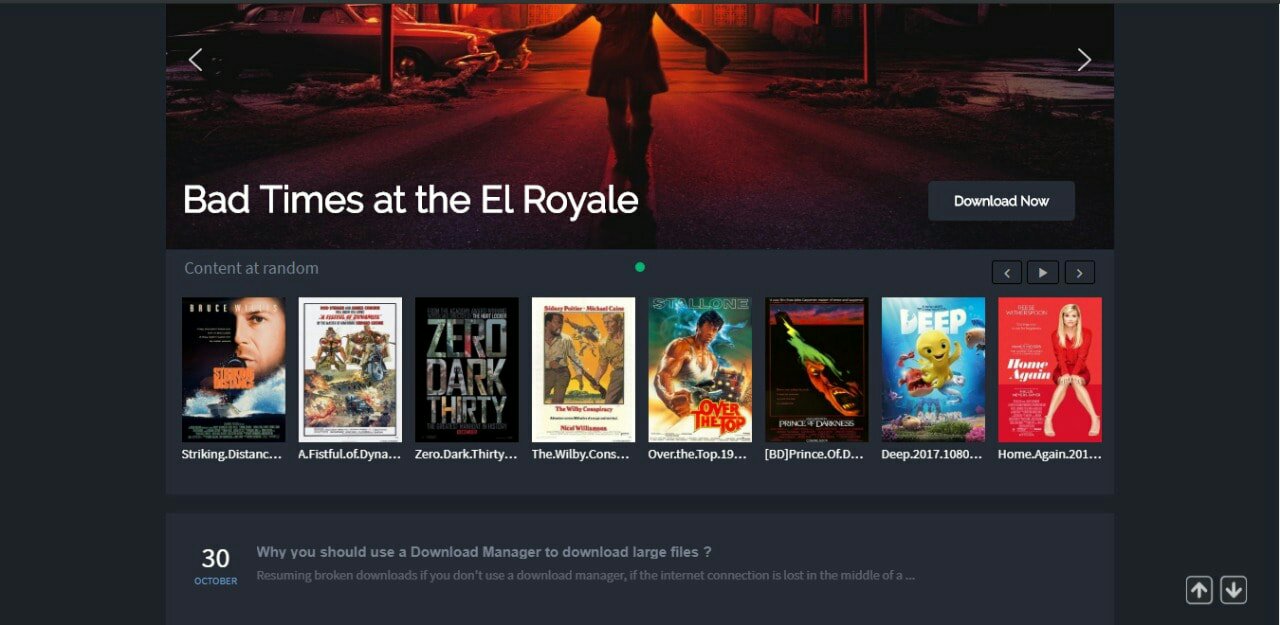 If you have enough data to burn, then look into Hdencode. It has "numerous" movies that are worth downloading. Hdencode is literally your "source" for high definition releases. It brings an extremely large collection of movies and TV shows with English subtitles. Coming to the user experience, hdencode is loaded, bringing a nicely laid out UI that's feature-rich. At the top lies the search bar, where you can easily look up for the movie you want to stream by sorting them by title or exact match.
Hdencode offers tons of TV packs and registered users can painlessly add any of their favourite movies to wish list. When you select the film you'd want to download, the next page will ask you to solve some sort of captcha, go ahead and input the numbers to get access to the links. Hdencode makes use of cyberlockers and I really fancy the comment section. Scroll down a little and you'll see where to sort movies by year. Overall, hdencode is a go-to if you're still missing ganool.
Visit Hdencode.com
5. Snahp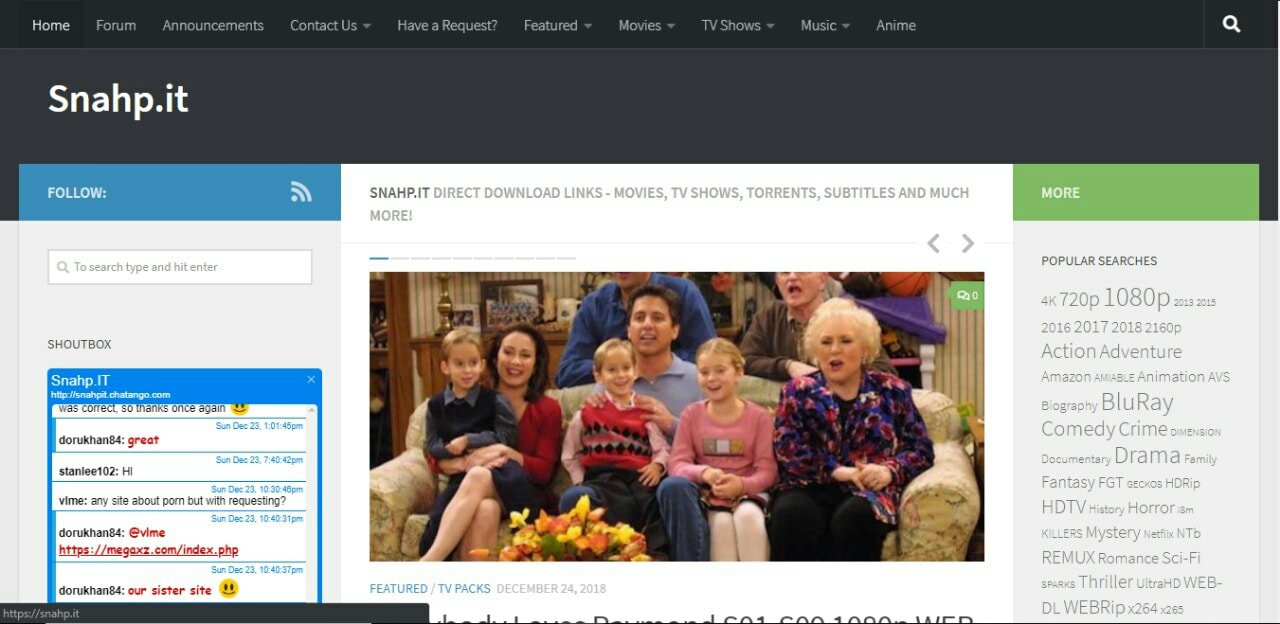 Snahp is yet another movie download site that's similar to ganool. It brings same UI as seen in psarips and offers huge library of contents. Aside from movies and TV shows, snahp also lets users download anime and music videos on its platform. That aside, most of snahp movies are in ultra HD quality and even though it brings pop-ups here and there, it is still a better alternative to ganool. Personally, I fancy the direct download links it offers, no captcha, no surveys. So endeavour to frequent it often.
Visit Snahp.it
Wrapping Up
If you are burned out on torrenting, then simply halt and take a look at the above listed DDL sites. They're completely free and offers an extremely large number of Movies you can't find on subscription platforms. Yeah I know, ganool was once great, but it didn't get to stick around for long. It is gone for good and it's obviously time to move on and try some other alternatives. So go ahead and download any of your favourite movies from the above listed sites that are similar to ganool.