Filelinked isn't called the #1 bulk downloader for nothing. In fact, it's awesome. While other apps are mainly focused on letting users grab "stuffs" online using links, filelinked takes a completely different approach. It typically allows users to directly access and download multiple files simultaneously without having to type in long boring urls. All there's needed to do on the user's end (once the filelinked app is installed) is to search for any corresponding codes offered freely on a ton of sites on the internet , then paste the 8 digit code within the filelinked app and you'll be shown all the files you can download with just a click. Of course users can create their own codes if they are looking to share it with their friends. Now having listed the best filelinked codes in our previous article, we're going further to unravel the steps to safely Install filelinked on firestick.
Preparing Your Firestick for Installation
First things first, before you start, you'd need to allow installation of third-party apps on your firestick tv. So to get this one going, power on your firestick and navigate your way to Settings > Device or My Fire TV > Developer options. From here, set the option for ADB debugging and Apps from Unknown Sources to ON and you will be good to go.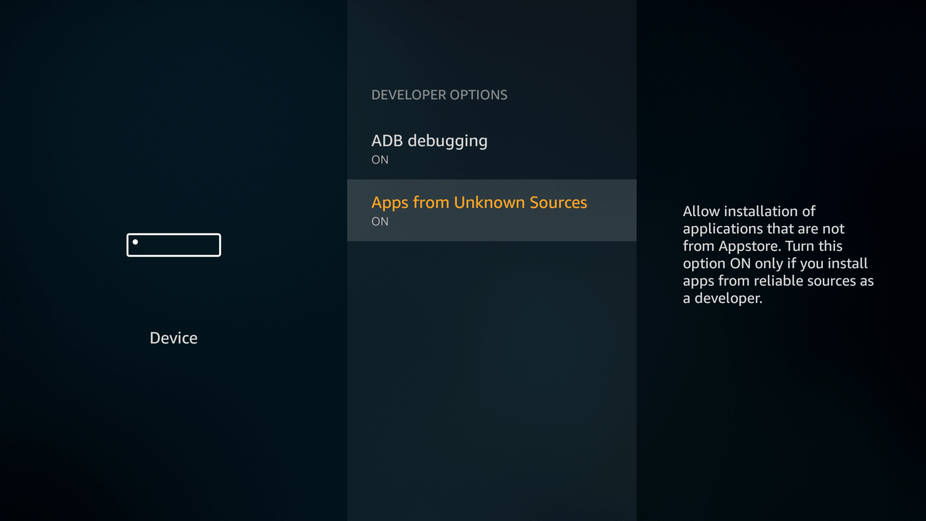 Installing Filelinked On Firestick
Es file explorer aside, downloader is one of the most popular program you can use to Install third-party apps on your fire tv. So for this guide, we're going to use it to sideload filelinked on firestick. Now we assume you have already enabled installation of apps from unknown sources on your firestick, so go ahead and head back to the home screen. From there, click on the Search icon at the top and type in Downloader APK. Select the app from the list of results, hit Download to install it, then fire it up.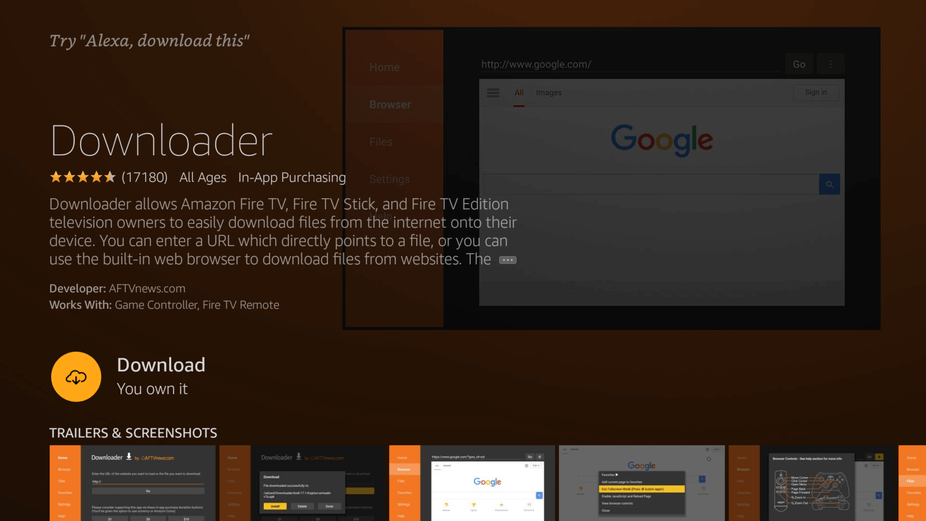 Once you have opened downloader, click allow to accept the prompted permissions, then locate the address bar and type in the following url http://get.filelinked.com, then click "Go" when you're through to initiate the downloading process and hit install afterwards. From here, a message may pop-up asking if you do want to delete the filelinked APK file. Go ahead and click delete as we won't be needing it again. Now navigate all the way back to your firestick homescreen and you'd see the filelinked app under Apps & Games.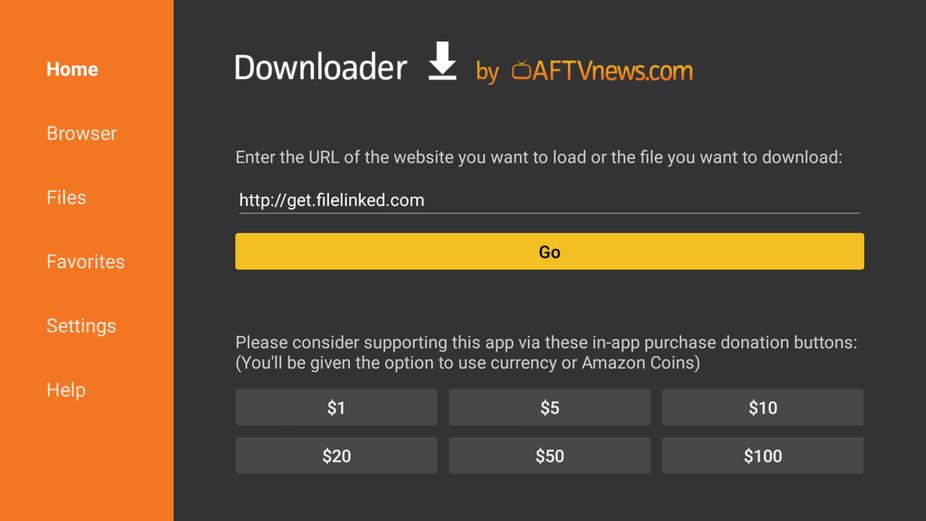 Using Filelinked On Firestick
Filelinked is undoubtedly a straightforward app. Fire it up on your firestick and you do concur with me. With an easy-to-use and simple user interface, you'll instantly see a box that asks you to paste your code.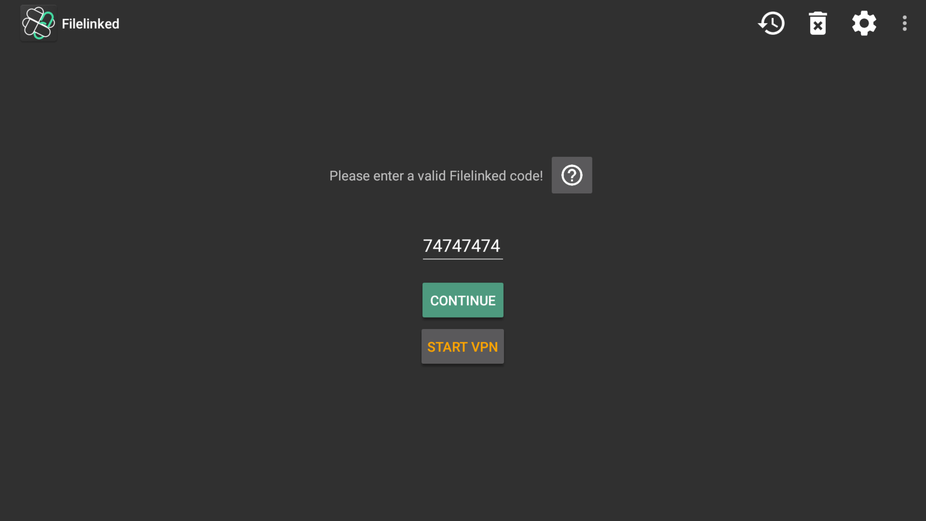 Simply look up for a valid filelinked codes on the web and type it into the box. Alternatively, you can checkout our content-rich filelinked codes that boasts of thousands of apps and kodi repository.
Hit the Continue button once you have pasted the code and select dismiss when prompted to subscribe to filelinked newsletter. Now all the apps encrypted within the code you submitted will appear, simply scroll through the ones you want and click the download icon to Install them.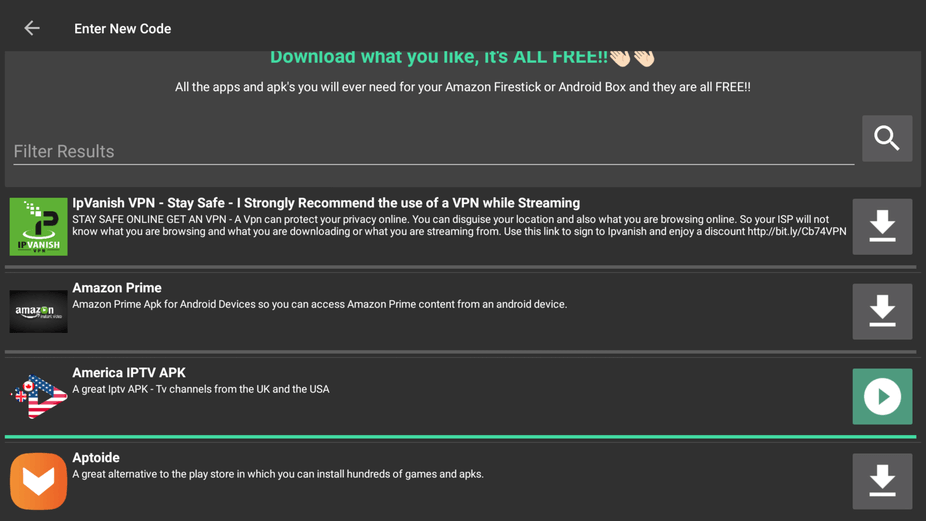 Wrapping Up
So that's it. Installing filelinked On firestick is surprisingly easy and the whole tasks can be carried out within 2 minutes. Before we wrap things up, we do recommend you check out one of the highly acclaimed fireDl app. It's a good alternative to filelinked and brings more functions.