YouTube needs no Introduction. We all know that it is one of the largest video sharing platforms available Worldwide. Having billions of active users and more importantly, it offers the video sharing and streaming service with much ease. The statistics shows that more than 1 billion hours of videos are watched on YouTube every hour. So, you might have already sensed the popularity of YouTube. But there are many other Alternative Websites which offers the similar type of videos sharing services. Here's the list of some of the Best YouTube Alternative Websites you can try to Watch and share your videos.
1. Dailymotion
Dailymotion is one of the popular video sharing platforms after YouTube which is available in more than 15+ languages Worldwide. It allows users to upload their content online but having some restrictions like max video length to be 60 min and 4GB size. If any user wants to upload videos of more than 4GB then they have to sign up for MotionMaker account. More importantly, you don't need to pay for creating an account similar to YouTube. The interface of Dailymotion previously was similar to YouTube but now has been upgraded which enhances its look.
Visit Dailymotion
2. Vimeo
The second one in the list is Vimeo which was the first website to support HD quality videos. When you have a look at the interface of the website then you will surely like it. One thing I like about the Vimeo is there are no ads here and there on the Website, unlike YouTube which has lots of ads. You can upload your videos on Vimeo but there are some limitations that videos max size is not to be more than 500MB per week. The count of videos can be any number but if you aren't satisfied with the restrictions then you can upgrade your limit according to your requirement for that you have to pay. The key feature about Vimeo is it supports 4K videos and 360-degree video support.
Visit Vimeo
3. Flickr
Flickr is a combination of video and image sharing website but its priority is image sharing. Many users aren't aware of the fact that Flickr offers video sharing they only know that it is only for images. Using Flickr is pretty simple simply signup for free account start using and sharing your videos. It offers 1TB of storage when you create an account on it but pro version offers unlimited storage space. One thing about the free account is that you can upload only 2 videos in the month that is not the case with pro-version unlimited uploads.
Visit Flickr
4. The Internet Archive
You all might not hear about this one but has a large collection of video which includes TV series, movies, documentaries and more. The Internet Archive is actually a storage platform for video shared videos. The users can upload and download videos freely. But if you are in search of new contents then you might not get it here.
Visit Internet Archive
5. MetaCafe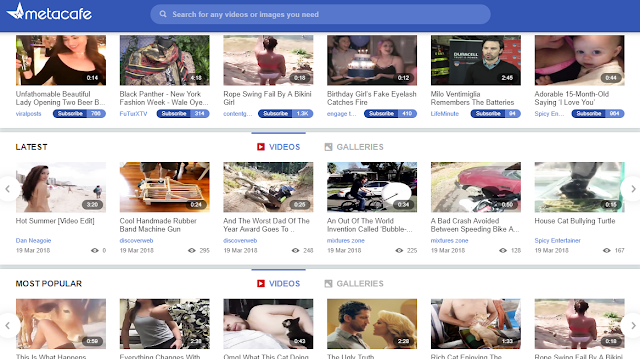 Metacafe is one of the oldest one on the list even before youtube founded in the year 2003. The key thing about Metacafe is it has a collection of short videos. The users can upload the videos of length 1-3 minutes. Now talking about the interface have simple look with three sections Latest, Popular, and Trending. But recently Metacafe shut down the video uploading feature the reason is still unknown to the users.
Visit Metacafe
Conclusion
So, that is it. We have listed Five Best YouTube Alternative Websites to Watch and upload your videos online. Do comment in the comment section that which one is your favorite and the reason behind it. We would like to hear from you all.