Most of the Android users will agree with me when I'll tell them that the default video player app on their phone is just useless. With basic functionality and limited format support, it is just a necessity to have a third party video player on your device. Keeping that in mind we bring to you 5 of the best Video Player apps for Android.
1. VLC Media Player
2. MX Player Pro
3. KM Player
4. BSPlayer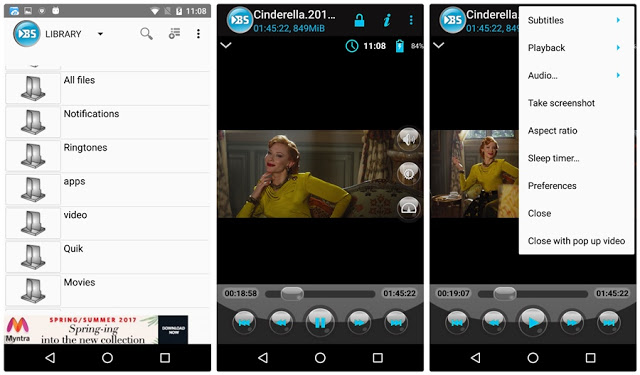 Source: The Android Soul
5. MoboPlayer Pro

Another player with wide range format support including Xvid and MKVs. A player without proper subtitle support is deserved to be on this list and MoboPlayer is no different. With amazing subtitle support and straightforward controls this player also has settings to change its UI as per your need. It comes with a floating window whose size can be set according to your need. It is very customizable, you can even display the time or battery power on the screen while watching a video, which is a very useful feature.
Final Words
Some of the 3rd party video players on the list are not free (since they've Pro versions). But you can still check out their free versions with fewer features and those irritating ads but it would still work fine for an occasional use. The list is not ranked in any way because each of the players is unique and might appease different type of people like I prefer MX player but some of my friends prefer VLC, KM, and others on the list. So do tell us your ranking of these 5 best Video Player Apps for Android and share this list with your friends and family. Until next time… Peace Out.