AOMEI Backupper is a free backup software that's capable of protecting your system, files, disk and partitions from WannaCry Ransomware cyber attack.
Overview of AOMEI Backupper Standard
System crash happens occasionally while using computers. Usually, we will choose to reinstall the system or restore the system if meet those kinds of problem. But both of the two solutions are not easy for novices. Here introduces the easiest free backup software, AOMEI Backupper Standard to solve this kind of issue.
AOMEI Backupper Standard is a free, easy to use backup and restore software. It not only provides system backup feature, but also could backup files, folders, partitions, hard drives and transfer data with real-time sync to network & NAS. In addition to the backup feature, it helps to restore data to the original state easily when data loss occurs. Let's see its main features.
Main Features of AOMEI Backupper Standard
System Backup and System Restore – AOMEI Backupper supports to create a system image with Windows operating system and system configurations. You can return to the original system state after restoring from the system image.
File Backup and File Restore – To save the specific files including photos, videos, games and other documents on other hard drives or NAS. You can selectively to restore the corrupted files via the file backup images as well.
Disk/Partition Backup and Disk/Partition Restore – It supports to make a disk image to backup the hard drive data as well as the specific volume or partition. You can restore the partition image or disk image to another solid state drive or hard disk drive.
Incremental & Differential Backup – With the incremental and differential backup, you can backup those data has been changed only to save your storage space and time.
Automatic/Schedule Backup – AOMEI Backupper provides the automatic backup to make a schedule to backup data based on date and event triggers. It's extraordinary helpful for those users who are careless to data backup.
File Sync – Backup files with file sync, no image file and supports real-time sync.
Disk/Partition Clone – Clone a hard drive to another without creating an image file. Besides, you can transfer the data via the hard disk or partition from large hard drive to smaller one.
Create Bootable Rescue Media – Create a Windows PE or Linux bootable CD/DVD disc, USB drive or ISO file for system reboot during disaster recovery. Windows PE bootable disc is more popular than Linux bootable disc based on legacy BIOS and UEFI mode.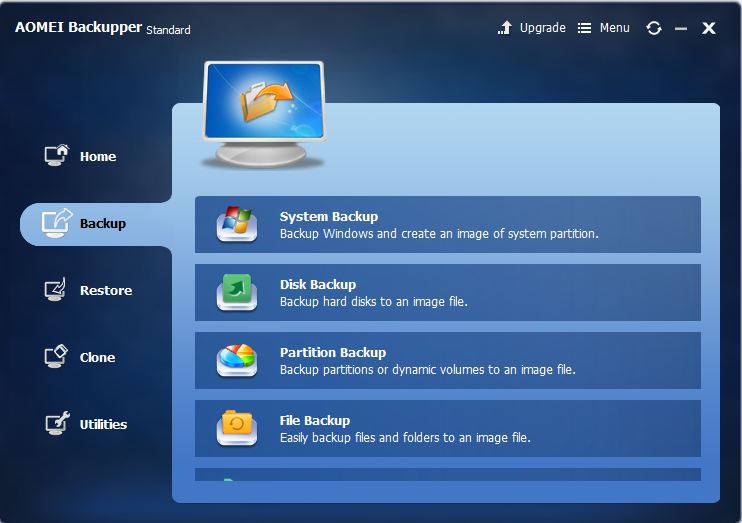 Version 4.0.6 (Released 2017-09-05)
Added new multiple languages: Italian (Italiano), Dutch (Nederlands), Spanish (Español) and Turkish (Türkçe). Now AOMEI Backupper supports 10 languages.
Fixed issue: antivirus software like Avira falsely report AOMEI Backupper as Adware or gen2.
Conclusion
Here you can use AOMEI Backupper to solve the issue we mentioned in the first part. After finishing the system restore, you can boot your operating system and use your computer again. With the complete backup, fast restore, easy clone and powerful utilities, AOMEI Backupper is the simplest pc software to backup, restore and clone your Windows system, important data and crucial programs.