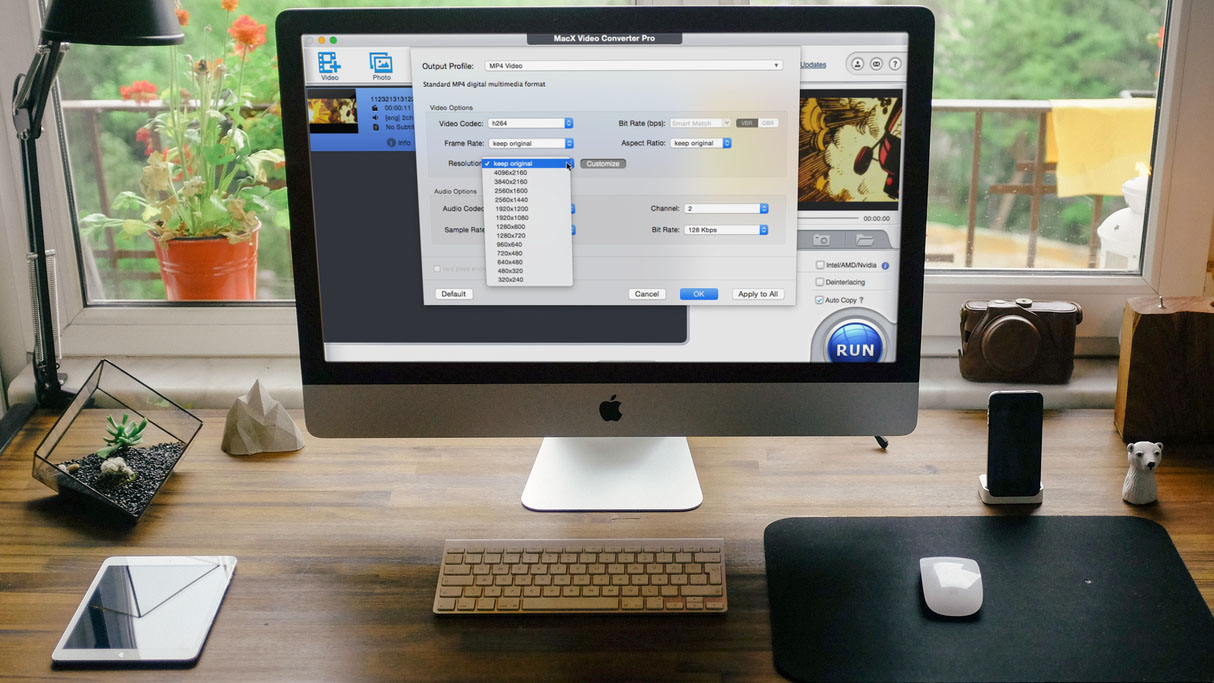 Advances in technology bring us an increasingly clear world as 4K UHD videos becomes more and more popular. New gadgets such as iPhone, camera, Drone, or GoPro, all supports recording of 4K videos. And those 4K sources are finally coming online. YouTube, streaming video services like Netflix, all support 4k videos and hence 4K revolution is finally kicking off.
While the video is of very high quality and clear, there are some issues with this technology. For example, when you want to store those camera or phone-shooting videos, you may find that large files eat up your storage space rapidly and finally slow down the operating speed of your devices. Also, it becomes very time-consuming to upload the big-size videos on YouTube or other video sharing sites.
So here I would like to introduce a fast video compress tool
MacX Video Converter Pro
to deal with those annoying issues. With this software, you can reduce or compress big 4K videos up to 50% without quality loss.
Today you can get the $59.95 valued license copy for free and have access to win GoPro Hero 6, Travel Folding Tripod and Portable Charger etc. You just need to take a 1-minute survey about the video compression. Click here to win the free license copy and other grand prizes
The new V6.3 of MacX Video Converter Pro is upgraded with 3-level hardware acceleration tech. From Wikipedia, we can see that hardware acceleration is the use of computer hardware to perform some functions more efficiently than is possible in software running on a more general-purpose CPU. And the 3-level hardware acceleration means that it is supporting hardware-based decoding, processing, and encoding. That is unique as compared to the similar programs in the market. MacX Video Converter Pro is the only application on Mac that rely entirely on the GPU to perform all the tasks.

According to the Digiarty experimental data, MacX Video Converter Pro is proven to be the fastest video converter in the market. For example, it can convert a 22-minute MKV video to MP4 in just 4 minutes. This is 5 times faster than before, and will efficiently compress video size by 50%. While its famous competitor Handbrake will need about 33 minutes. With this software, you could deal with all the big 4K videos fast and hassle-freely.
Here we will show you the step by step process to compress big 4k video files using MacX video converter Pro. The
software is very easy to get started with and it is simple and brings intuitive UI. it can also be used by beginners and professionals alike.
Step1: Loading Video Files
Run MacX Video Converter on your Mac and you will see the starting page where you can drag and drop your clips or select them from your computer's file system.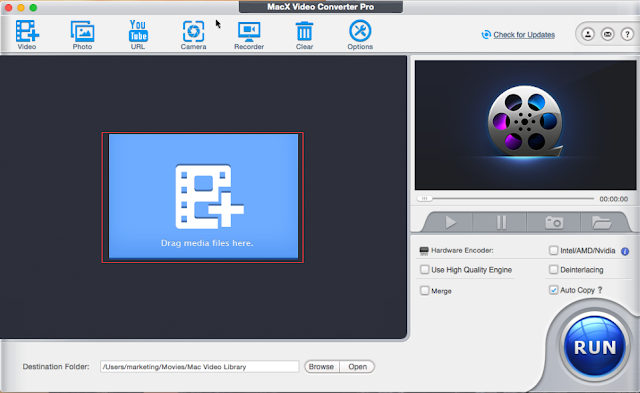 Step 2: Choose Output Format
After loading the files you are going to compress, you could choose the output format you need. As we can see, this software provides commonly-used video format like 4K, 2K, MP4, MOV etc. as well as Apple devices, Android devices etc.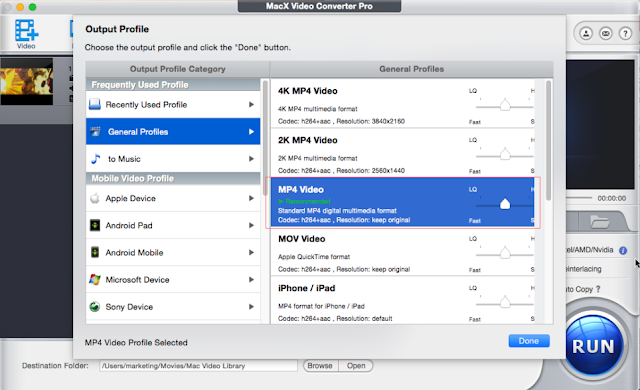 Step 3: Necessary editing and Parameter Settings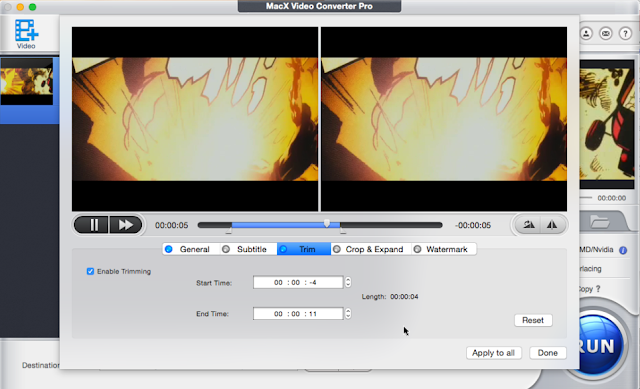 Step 4: Run to Get Your Video Clips
When all the settings have been done, click the run bottom. Then you will get a compressed and high-quality video clip.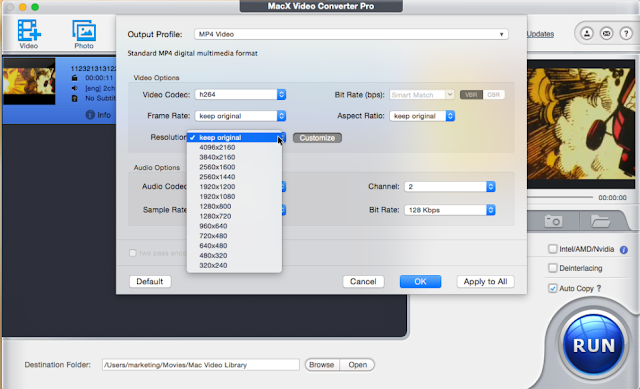 While MacX Video Converter Pro does far more than compressing 4k videos, it features 370+ built-in video and audio codecs. It also enables you to convert videos to any format and latest devices like MP4, MOV, MKV, AVI etc. as well as newly iPhoneX, iPhone 8, iPad, Apple TV and Android devices etc. And it is able to download 4K, UHD videos from 300+ online site like YouTube, Vimeo, Vevo, etc and even record screen, create a stunning photo slideshow all for free. Now it's your turn to try this all-in-one 4K video processing tool.