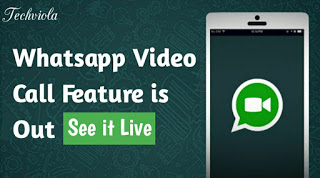 WhatsApp users have been eagerly and patiently waiting for the video call to officially hit the WhatsApp platform as an update. Now WhatsApp has started rolling out video call feature on its messaging app.
After series of update from the past month you do agree with me that the camera was measurely improved in such a way that it allows users to add stickers from any clicked photo they selected before sending. Another measure features to notice is how solid and eye catching the emoticon is. After the Facebook messenger received a video calling update, it was actually a big blow to the WhatsApp platform. Integrating video calling feature in WhatsApp follows last year roll out on the voice calling.
According to a Spanish website onewindows.es. the update was launched in such a way that when you press the call button WhatsApp gives you two options, video call or voice, and once you select the video call, the video call begins choosing contact. One of the major thing to notice is that all features of WhatsApp is first officially released on the Android platform but the case is absolutely different now since the video call update is rolling out for the window operating system.

Window phone users have reported that they can easily access the video call feature without any need to re-install the WhatsApp app. Once initiated the call allows them to silence or even change the front camera to the rear, ideal if they want to show something that they're watching on there contact. Call list has also been altered and now displays video and voice calls, but a button was added to make a video call to a contact.
I must say this is a joy for the window phone users. Although the video call features is yet to be realeased for the iOS and Android platform, but its a strong believe that the video call feature will officially start rolling out for the iOS and Android next year or probably this year!.