When it comes to designing a business card or flyers, you do be faced with the issue of choosing the right font. Apparently, there is 85% chance that you might've come across an image or logo on the internet exhibiting stunning fonts and you'd ask yourself, What font is used in this picture?. In most cases, one would head over to quora's typeface identification and input the question hoping to receive an answer from font experts. But when there is no reply to your query, then the​ best option will certainly be to use any of the robust font detection tools online. So if you've got the image or logo ready, below are the best free online tool that'll​ help you identify fonts from images.
1. WhatTheFont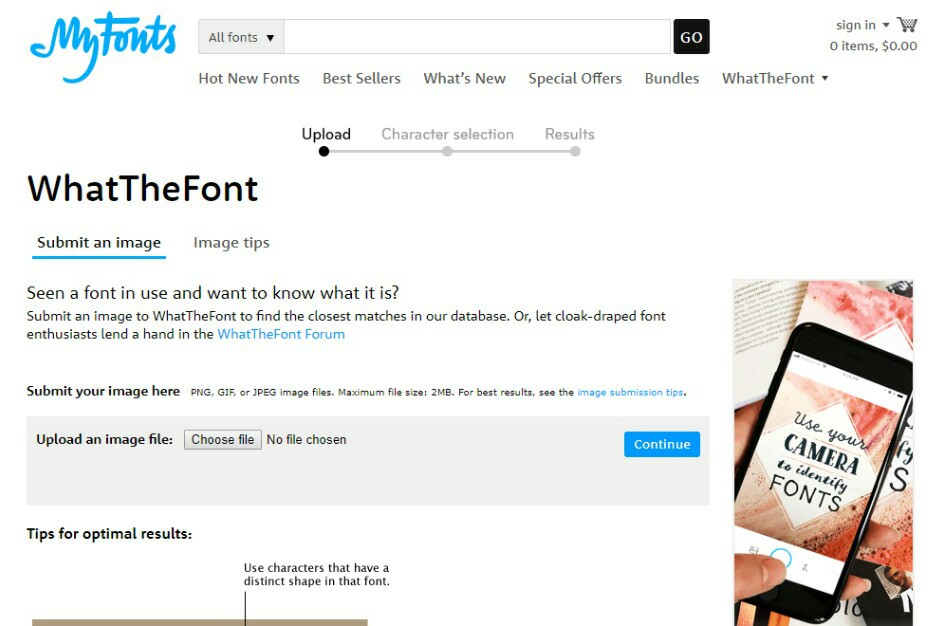 WhatTheFont uses an artificial intelligence to accurately identify the fonts used in an image. Apart from being free, whatthefont supports image in gif, jpeg and png formats. To use this tool, go ahead and download the image or logo containing the font you need to identify. Navigate to WhatTheFont and upload the image. From here, WhatTheFont will try to guess the characters used in the image. During this process, some characters may not be detected so enter them manually and rectify the ones that have been guessed wrong. Then tap "Next" and that's it, you'll be presented with a list of fonts used in the image you uploaded.
2. FontSpring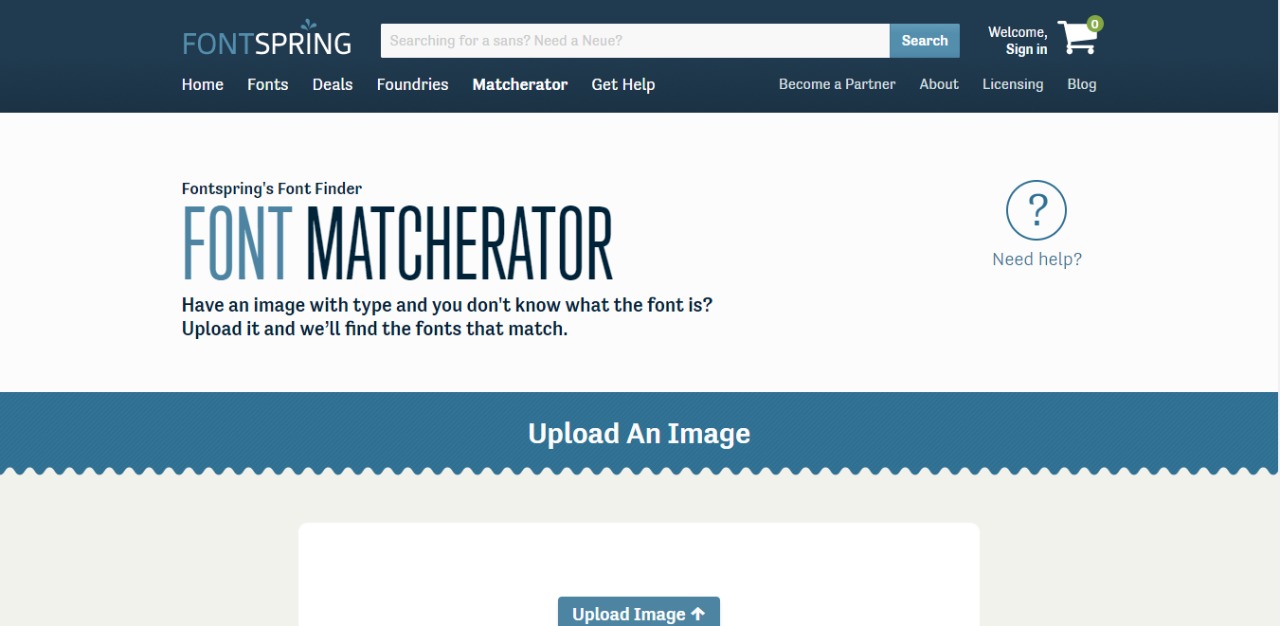 FontSpring font finder uses a special tool named Font Matcherator to find out what the font is in an image. Here's how it work, If you've an image with type, and you don't know what the font is, simply upload the image and the tool will automatically detect each shapes. Highlight the text you wish to match and enter the letters correspondingly FontSpring will now show you a list of fonts that matches the one used in the image. You can also opt in for FontSquirrel, considering the fact that it is a great font detention tool powered by FontSpring.
3. WhatFontis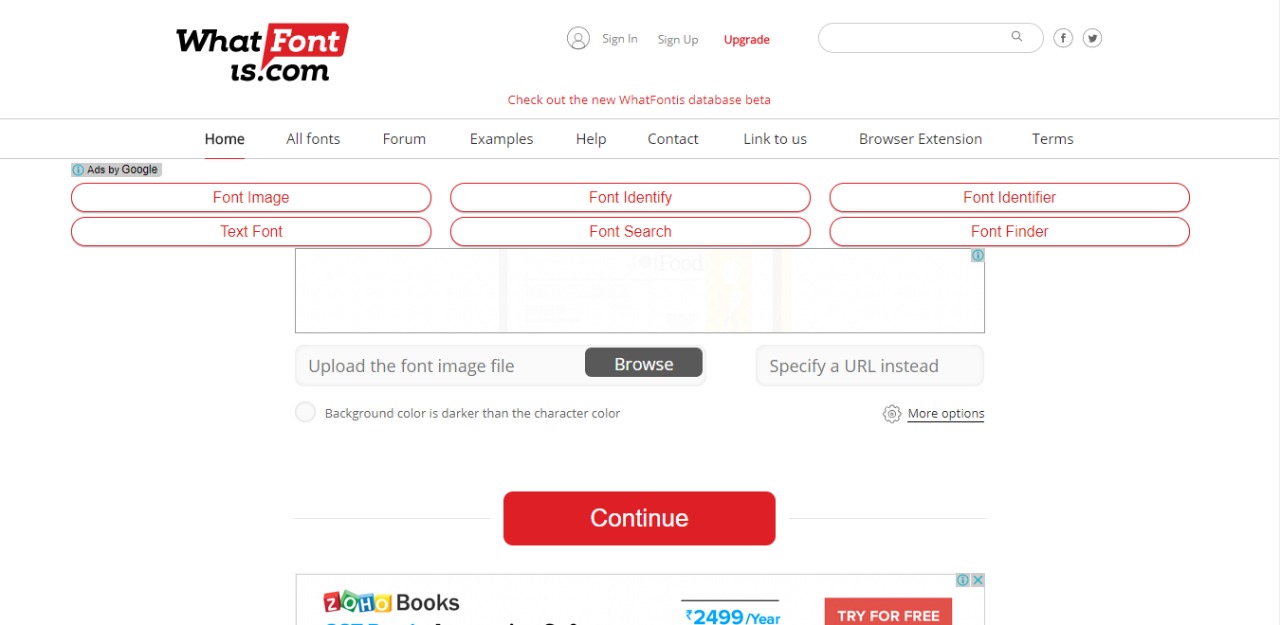 WhatFontis can seamlessly identify the font you're looking for, and it supports images in various formats such as svg, png, jpeg and gif. To get started with WhatFontis, upload the image or logo whose font you want to identify. From here, tap "Continue". Then fill the characters to match the image. This step is case sensitive, so if the texts in the image you uploaded are in uppercase, then input the characters in uppercase. When you are done, hit "Continue". WhatFontis will now unveil a list of the first 100 fonts matching the image you uploaded. So identify the font type from the preview and download it.
Identify Fonts by Name with Identifont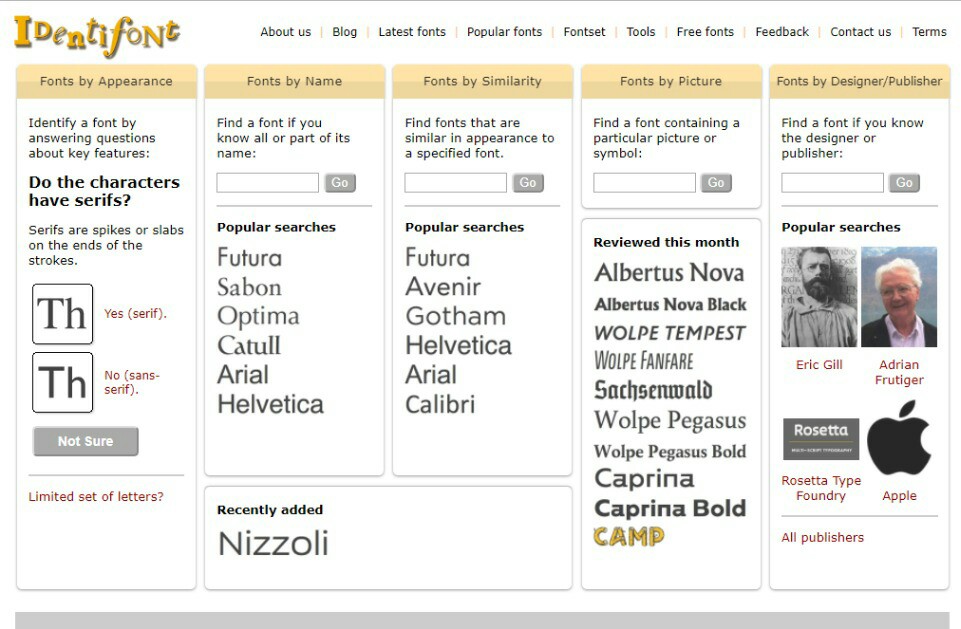 If you are unable to find an image or logo that contains the specific type of font you're looking for, then you can use Identifont to identify fonts by name, appearance, picture, similarity and designer. Lets quickly explain this options.
Fonts by Appearance: Identifont will ask you a total of 13 questions relating to the font you are looking for. Then it will present a list of fonts that matches with the queries you answered. Ensure to input the correct answers, some of the questions include "What shape is the dot on the question mark?", and "Do the characters have serifs?".
Fonts by Name: Identifying fonts by name using Identifont is pretty easy, for example if you're familar with part of the font's name, but you're not sure of its full name, then identifont will give you suggestions and previews to match. With this, I was able to find out that the font used in Google Logo is Catull.
Fonts by Similarity: This option can help you discover an unknown font that's very similar to another font. Just enter the name and see what styles are a close match.
Fonts by Picture: With this tool, you can search various types of fonts. You can even search by word, for example, entering "bike" will list all fonts which include images of webdings.
Fonts by Designer: This option is one of my favourites​, you can  easily find out numerous fonts from a certain creator provided they're famous. Just type in the name of a designer who is notable for his/her unique styled fonts and the lists will appear.
Wrapping Up
So I guess you can go ahead and complete your project now since you've discovered that stunning font that has been hindering your work. If you are faced with any issue while using of the above font detection tools, then use the comments below to file in your query. Also endeavour to tell us which tool of the font identifier you love the most!.