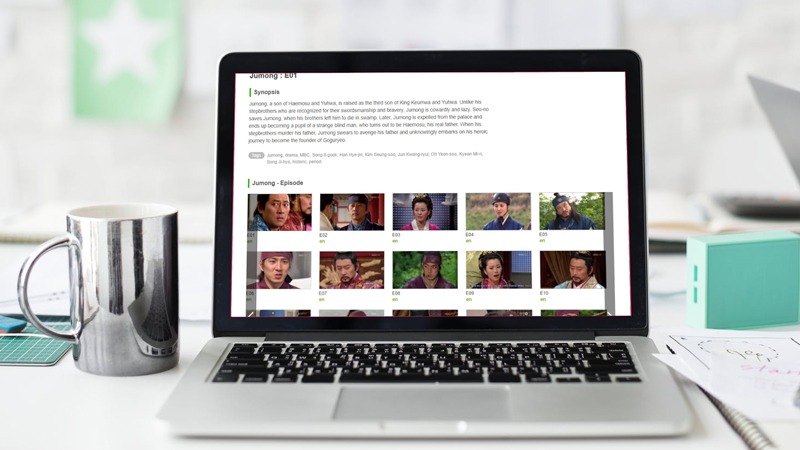 A Man Called God and Sea God where the first drama that introduced me to South Korea culture. The famous knife fight scenes​ alongside the cute-sy moments and cultural immersion exhibited in those dramas where close to impeccable and it typically allured me to the extent that I had to binge watch them into the wee hours of the morning. You don't need to deny it, we have all been there.
Also Read: Best Websites to Download Korean Dramas For Free.
Reasons aside, it is quite obvious that Korean dramas are growing in popularity around the world. We have seen more audience outside Asia getting cut into the Korean waves and due to this increase in search, (with some looking for where to watch Korean dramas online) we decided to dig deep into the web and was able to compile a list of the best Korean drama websites that are worth visiting. So here they are;
1. OnDemandKorea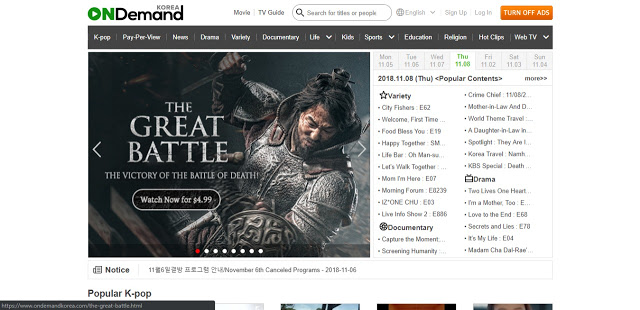 Following DramaFever's unfortunate shutdown, OnDemandKorea immediately emerged to become one of the best places to watch Korean dramas legally. It's ideal for North and South America citizens and I "extremely love" the fact that it offers k-pops too. For one thing, OnDemandKorea brings a vast array of even the oldest and newest Korean dramas and you will get to see popular series like Descendant Of The Sun and Goblin within the site. One of the major​ reasons to rely on OnDemandKorea is that it offers quick updates. It barely takes it 24 hours of delay to upload an episode that's airing in the cinema and they're fully subtitled and comes in HD quality. Furthermore, with just $6.99 per month you can get an ad-free streaming experience and access to exclusive contents.
Visit OnDemandKorea
2. Icdrama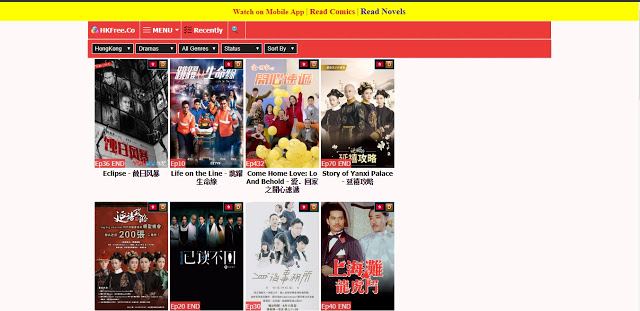 Icdrama is a Korean Drama website that wants to remain anonymous, but its​ slew of contents are hard to ignore and it has seen a lot of passionate users recently. An initial visit to the site will present you with tons of korean dramas that are free to watch and its design and layout is top-notch and easy to navigate. It also has a dedicated section where you'll get to see new and popular dramas from different genres and almost all of there movies are subbed in Cantonese and English. Similar to OnDemandKorea, Icdrama offers full episodes of Kdramas but brings annoying ads that may pop-up here and there. This is understandable since it's there primary source of revenue. So we recommend that you access the site using a good Antivirus software.
Visit Icdrama
3. DramaMate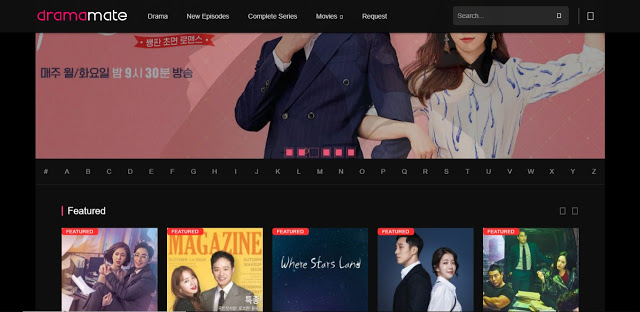 DramaMate is unequivocally awesome, it brings an "overwhelming" amount of on-going Korean dramas, and it's personally my go-to when I feel like catching up on my favourite asian shows. One thing that will allure you to dramamate is its simple-to-use user interface, the korean dramas present on the platform are subtitled in English and they're neatly organised in grid. Fire up dramamate's menu and you will be welcomed with completed series of Korean dramas and aside from this, you will get to see a section that offers a slew of Japanese, Chinese and Korean movies. Dramamate makes use of cyberlockers, but streaming​ Korean movies on the site is fast and it brings few pop-ups. Overall, it's the best destination to watch korean dramas online with English subtitle.
Visit DramaMate
4. ViewAsian
ViewAsian isn't 'completely' new to us. It has for so many years being in the Asian media business and has grown to become one of the most popular platform to watch korean dramas online. Head over to the site and you'll be greeted with a colossal number of high quality Korean dramas subbed in English and the episodes are mostly completed. Similar to Dramamate, Viewasian allows users to comment on dramas, which makes it more versatile, thus adding a new level of entertainment. Another plus point of Viewasian is that it has a stylish design and with just a click, you can painlessly stream tons of Korean movies and dramas for free. In summary, viewasian is one of a kind and it's quite reliable perhaps safe too.
Visit ViewAsian
5. DramaGalaxy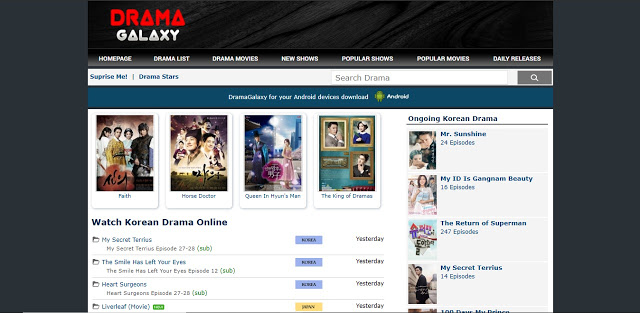 DramaGalaxy painfully reminds me of the now dead DramaFire. It is one of the most popular Korean drama website that has survived years of persecution and we are glad it's still active and running properly. Here's the thing, if you are looking for the best platform to watch korean dramas online, then dramagalaxy should be on your number one list. It brings daily releases of new Korean dramas and they are streamable. Aside from this, the site's user interface is easy to explore and i personally love the fact that they feel ads are like amnesia in dramas, so they don't promote pop-ups and the adverts on the side page aren't intrusive at all. DramaGalaxy is unique, and it provides alternative links to each episode of drama.
Visit DramaGalaxy
Wrapping Up
So these are undoubtedly the best Korean drama website that can be used to watch korean dramas online. We know, there are quite a slew of sites on the internet that claims to offer free Kdramas, but you'd need to be careful as most of these sites promotes pop-ups that can install malware on your device. To top it off, you may even end up not streaming that favourite show. So its recommended you opt-in to use the above listed sites, since they are safe and most importantly reliable.