What on earth is happening to Samsung mobile technology? This question has frequently been asked in similar ways by samsung mobile users. First it was the Note 7 catastrophic, which hasn't been fixed yet, and now the
almighty Samsung Galaxy S7 Edge has encountered severe issue that can be termed as a nightmare. Recently
, a news circulated around the globe that the Samsung Galaxy S7 Edge now has a strange and non-removable vertical pink line across its screen. Now the question is, how come does
this
strange pink line suddenly starts displaying in almost all Samsung Galaxy S7 Edge smartphones (if not all).
Samsung Galaxy S7 Edge users reported that the line turned up without the device experiencing any physical damage like drop of the device.
While the complaints is still circulating, other users of the device have found temporary repairs and management to the issue like implementing the use of inputting
*#0*#
dialed on the smartphone's dial pad and then proceed by pressing the Red, Green, and Blue levels. According to the user's experience, the above action is responsible for the repairs of any faulty pixels of the screen.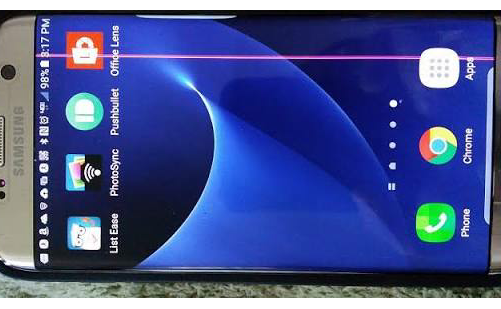 An alternative method was also observed that whenever the vertical pink line displays on the screen, it can be temporarily erased by acting pressure on the screen by pressing your thumb to the screen with little force to avoid screen damage.
All these observations i've said so far are all in the video below; i've watched it, so why
don't
you do the same?
Samsung are aware of this issue and has urge all users to bring their faulty Samsung Galaxy S7 Edge showing vertical pink line for repairs under warranty provided the smartphone has not been attacked by other physical threat.
Meanwhile Samsung Galaxy S8 and S8 Edge are at the door step waiting for them to be unleashed by the company.