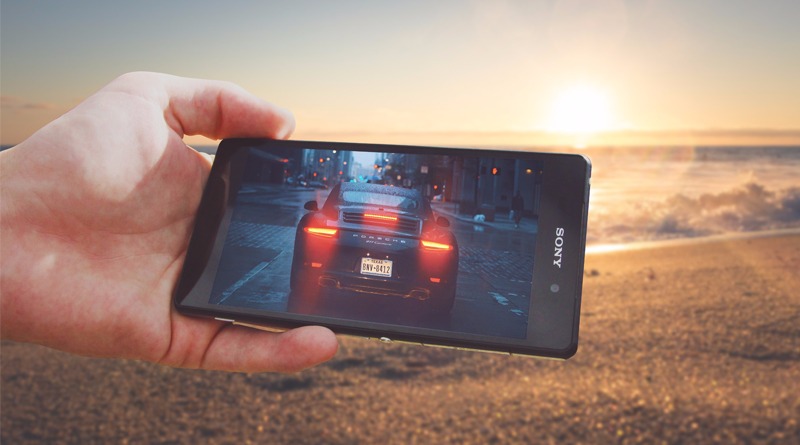 Believe me when i say that human desires are boundless, our eyes often seems to be focused on top-notch gadgets but when we decide to take a glimpse at our budget, we'd be disappointed upon realising that we can't​ afford to purchase a premium Android device. If perhaps you're the gamer type, you will notice that the gaming industry is growing rapidly with tons of high definition games been produced everyday. Most of these games mostly bags stupendous graphics and can only run on device that possess​ huge processor and RAM. Looking at the segment, you'd agree with me that majority of Android users are still using budget smartphones.
This doesn't​ mean you can't run high-end games on your phone. As a game lover, i was once engrossed in modern high end online casino games which i usually found comfortable playing via browser or through apps. But playing high resolution games can prove to be difficult on low-end Android device as it demands lots of processor and RAM to deliver a satisfactory performance. In other not to be disappointed, there's still a way to optimize gaming performance, and​ once this is achieved, you'll be able to play any type of high graphics games such as bully anniversary and NBA 2k17 on your low-end smartphone without lags or force close.
Note: We'll be using an app dubbed GL tools for this guide. The app possess no threat if you've custom recovery installed and if you didn't uncheck the "uninstall update.zip backup" dialogue box. We geeks over here at techviola won't be held responsible if you soft brick your device. So ensure to make a NANDROID backup of your device.
Install GLTools
To begin with, make sure you're rooted and custom recovery installed on your Android phone. Now​ head over to the Google Play Store and install GlTools. Similar to the famous chainfire3D (although it's​ restricted to Gingerbreads), GLTools is an OpenGl ES driver that allows its users to set a custom resolution and rendering bitness on a per app basis. The app allows you to fake GPU and thus play games that's intended for high end device.
Once you open the app, you will be greeted with some instructions on what to do, read and understand everything, then check the 3 boxes beneath the app. Ensure to enable the option "Create an update.zip backup", as it'll enable gltools to automatically create an uninstaller.zip file that's flashable through your custom recovery. You can find the zip in your SD card. Now tap "Install" once you are done ticking the options. Your Android device will reboot immediately.
Optimize HD Games
Once your device reboots, then you're in for the tinkering part. Simply locate and open gltools from your device's app drawer, now you will be greeted with a list of all the apps on your Android device. Scroll through the lists and select the high-end game you wish to optimize. On the next pages, you can now set things up. Note that every apps requires different settings in other to work effectively and so you'll be doing the tinkering here.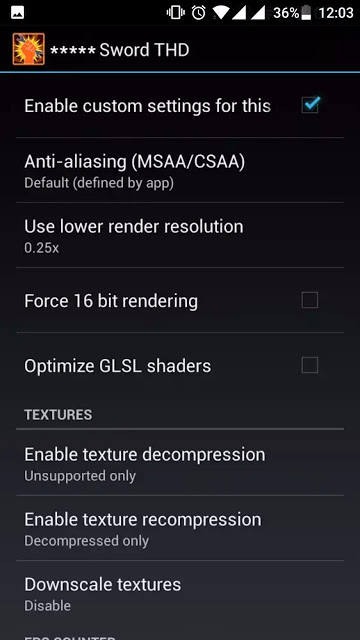 To give you a clue, select a game and on the next section, "enable custom settings". From here, simply tick "Force 16 bit rendering" as this will reduce the shading and lighting effects per game. Also enable Optimize GLSL shaders, and Downscale texture for a lesser lag during gameplay. The best part is that you can fake GPU, lower a game resolution and enable MSAA/CSAA for a better gaming experience. When you're done settings things​ up, exit the app and open the game you just configured. You'll notice the smooth performance.
Bonus Tips
After installing gltools, i was able to fix bully anniversary force issue after playing for two minutes or more. The app works perfectly well on device running on jellybean, and even if your device has 512 worth of RAM, you can still enjoy high definition games without any lag or sudden force. Android apps such as seeder and Ex task manager can also come in handy for a smooth gameplay, always disable unused apps from your device's settings and ensure to kill background app activities to increase your device performance. Alternatively, you can choose to increase your device's RAM by using the popular RAM expander. Overall, enjoy playing high-end games smoothly on your low-end Android device.