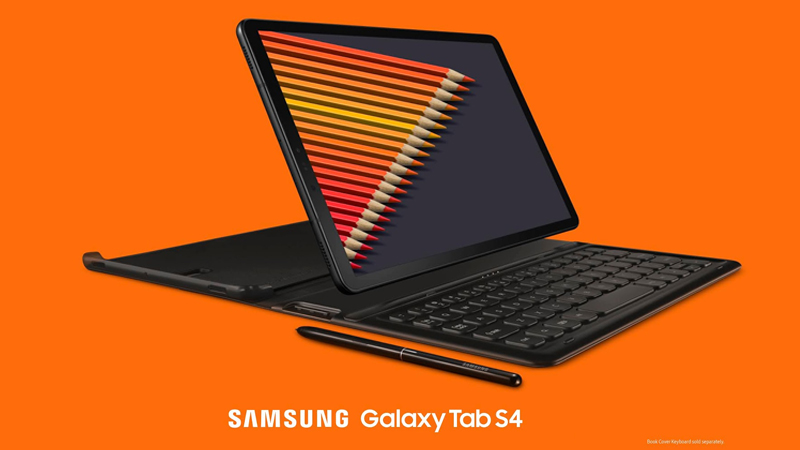 Samsung launched the Galaxy Tab S4 recently and brought a new contender in its tablet range which is the successor to the Galaxy Tab S3. Now, with the Galaxy Tab S4 Samsung has developed PC like compatibility so you can do all your personal tasks in an easier manner while you're on the go and this feature can be used through the Samsung DEX.
Along, with the Samsung DEX, Galaxy Tab S4 also stars other features like the long-lasting battery, redefined S-Pen for more productivity, more immersive entertainment anytime anywhere and much more…
Let's Check out the Specifications and Highlight Features of the Samsung Galaxy Tab S4:
Design & Display

Image Source:- SAMSUNG
The Samsung Galaxy Tab S4 gives you an immersive viewing experience with the large viewing area. Samsung has redefined the display of the Tab S4 by making some surprising changes with minimizing the bezels and removing the top logo and the home button.
Galaxy Tab S4 comes with the screen resolution of 2560x1600p and has a screen size of 10.5″. It has the 16:10 aspect ratio along with the beautiful Super AMOLED display by Samsung which is truly fabulous. Samsung Galaxy Tab S4 display looks impressive and is available with two color options – Black and Grey 
Performance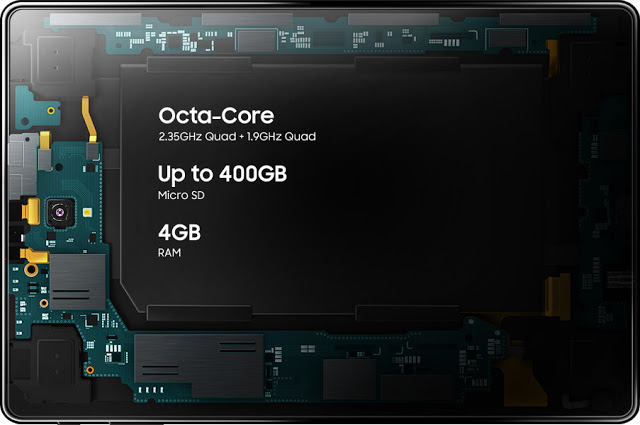 Image Source:- SAMSUNG
Samsung Galaxy Tab S4 sports the Qualcomm Snapdragon 835 octa-core chipset which gives a smooth experience along with the combination of 4GB RAM. It is available in two storage options
64 GB and 256GB, while the memory can be expanded up to 400GB using an external memory card. So it provides you a pack full of storage for all daily pieces of stuff and requirements and never lets you down.
It also offers you LTE speeds up to 1 Gbps which gives you more time to do your things in a faster way. Tab S4 never disappoints you while multitasking and you can enjoy with all your favorite apps anywhere at any time with no lags. The Tab S4 runs on the Android Operating System and has the latest version of Android Oreo.
Battery & Audio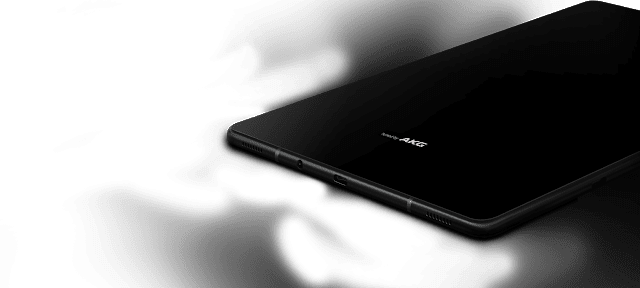 Image Source:- SAMSUNG
The Galaxy Tab S4 has a massive battery capacity of 7300 mAh which lasts up to 16 hours of video playback and even if it goes down with full usage it charges back to full in just 200 minutes with fast charging. Tab S4 has the USB 3.1 (Type C) port which helps to charge the Tab fastly and efficiently.
The additional highlight feature of Tab S4 is its sound quality which is improved a lot by the Dolby Atmos Audio technology and the Quad speakers on the Tab S4 are tuned by AKG that gives you immersive sound as well.
Camera & Bixby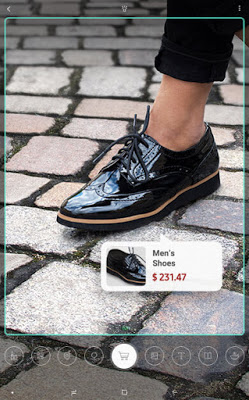 Image Source:- SAMSUNG
The Tab S4 comes with a camera setup of 13 MP AF sensor at the rear which has an aperture of f/1.9, while the front camera has 8 MP sensor with the same aperture as the rear.
Control everything at your home with your own voice along with the Tab S4 by using the Bixby Voice control. Bixby vision helps you to figure out & understand everything you look through using your camera lenses. Bixby will be supported on the Galaxy Tab S4 and will be released via a Software update.
Samsung DEX and S Pen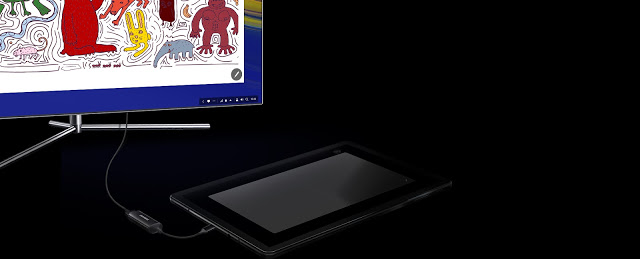 Image Source:- SAMSUNG
Samsung DEX which provides PC like functionality is available first time on a Samsung Tab with the Galaxy Tab S4. Get the productivity of PC with Tab S4 and multitask just with an HDMI adapter without the DEX station or Pad and add a keyboard or mouse for better efficiency.
With this feature, Galaxy Tab S4 works like a PC with all those PC stuffs like the taskbar, multi-window capability and more.
The PC like functionality for multitasking can be more effective and user-friendly with the S Pen, the multifunctional S Pen brings in many productivity tools along with it and helps you to work without any hassle. Its features like Screen off Memo which lets you write whenever you get any awesome ideas on the screen even when its off, Live Message to create handwritten animated notes in the conversation and translate words or phrase with just a swipe of the S Pen. All these characteristics and tools assist you to be more productive and stay focused on your work.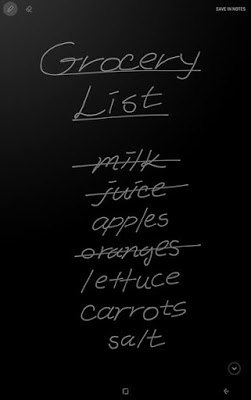 Image Source:- SAMSUNG
Others
Security has also been leveled up in the Galaxy Tab S4 by having safety innovations like iris scan in addition with the face recognition technology. Always Stay safe and secured with the Samsung Galaxy Tab S4 and enhance your productivity without any much more issues.
Pricing & Availablity
4GB RAM + 64GB Storage – $650
4GB RAM + 64GB Storage – $750
Tab S4 is available for pre-order now only in the US and will be shipping from August 10, 2018.
Verdict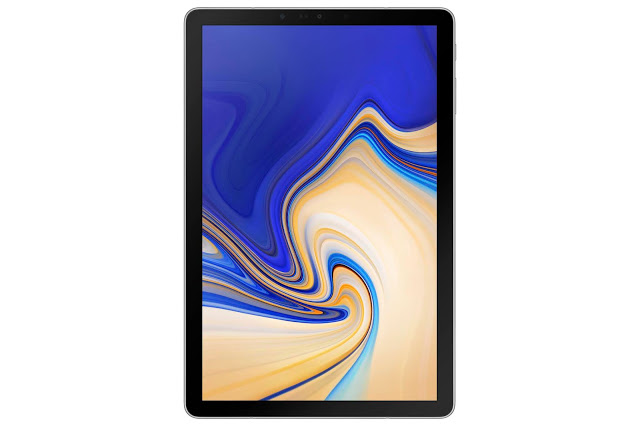 Image Source:- SAMSUNG
The Samsung Galaxy Tab S4 looks good with its classic features and superb specifications. The extra additional features like the speakers tuned by AKG along with Dolby Atmos Audio Technology and the Desktop like functionality with the DEX makes it different from its competitors.
Looks a perfect Tab for all the workers who like to enjoy working on the go and along with cool benefits from the Samsung services.
The only thing that disappoints us is its heavy pricing as compared to its competitors like the iPad or Surface Go, but the quality service from Samsung along with some good specs to look out for in Tab the Samsung Galaxy Tab S4 might be a great option for you to go for.
So, multitask without any boundaries and redefine your entertainment with the all new Samsung Galaxy Tab S4.