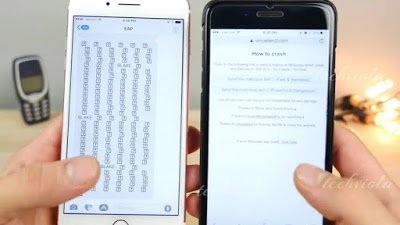 The Apple iOS brings to it's abode a high security system that cannot be breech. When an iPhone or iPad crashes, it is generally due to hardware deficit or system wide failure. Thus the iOS users gets a regular updates to enhance improvement and fix those malicious bugs. However i recently discovered a new malicious blank text message that is capable of freezing any iPhone running on iOS 10.0 to 10.3 Beta 1. Aside from the freezing effect, there are also several over glitches such as the disappearance of the status bar when you're on the home screen, the lags, and many more. This is just a little prank you can play with your friends or foes. Don't panic because it's relatively not harmful (just annoying) but it can be fixed without any hassle.
Now to begin with, headover to the malicious blank text message website upon arrival you'll be greeted with tons of hyperlinks. Now there are two methods that can be used to freeze or hang any iPhone or iPad. The first method which is "Fast & Harmless" can painlessly freeze a victim iPhone for 15-30 seconds while the second method which is "Powerful & Dangerous" can be more lethal or annoying since the freezing effect will last longer once used. Thus once you tap on the link of your choice, it will automatically open the messaging app on your phone. Now send it to your recipient and once the malicious text message arrives at the victim iPhone, it will instantly freeze any activities on the device. You can send it again and again which will make the phone unusable for a few seconds.
Fixing this however can be relatively simple as stated earlier on. All you need to do is just to wait for the freezing time to elaspse or for your iPhone to unfreeze, then navigate to your message thread and delete all the malicious text message there. If perhaps your messaging app crashes once after receiving the text message, head over to the malicious blank text message website and you'll see an hyperlink that will guide you through on how to fix this issue. Also note that when the victim receives this malicious text message whilst on the lock screen or when the iPhone screen timeout, it will actually take some time for the phone to unlock or wake up.
Conclusion
So guess that's it. I recently tried this prank on iOS 9 firmware and discovered that it was not working thus you've to upgrade your iPhone to the latest iOS 10.0 and up in other to effectively use this prank. Also you can send this malicious text message from your android device to your victim iPhone since it doesn't have any effect on any android phone. Note this prank is for educational purposes only, never you use it against your friends since it's annoying.