Aside from neon lights, large hotels and extravagant dinning, there's much more to 'Las Vegas' that'll certainly make your day. In fact, the "Sin City" is synonymous with gambling and if you'd ever visit that part of the city, then you should certainly checkout one of its biggest entertainment industry; the Casinos. But what if you don't have enough time or perhaps buck to visit one of Las Vegas casinos to play some of your favourite games? Well you'd be really wowed to know that what's happening in Las Vegas Casinos can also happen on your Android phone.
There are a lot of online casinos sites that lets you play your favourite casino games in other to win real money, but if your Android device isn't powerful enough, you won't be getting a better gaming experience especially when you don't have a good internet connection and enough data. With this in mind, and after introducing you to 11 games that don't need WIFI, we went through the Google Play Store and came up with the best free offline casino games. All games aren't ad-riddled and even if you gamble long enough and lose, it won't be painful since you're playing with a virtual money. So below are the best free offline casino games for Android.
1. Jackpot Party Casino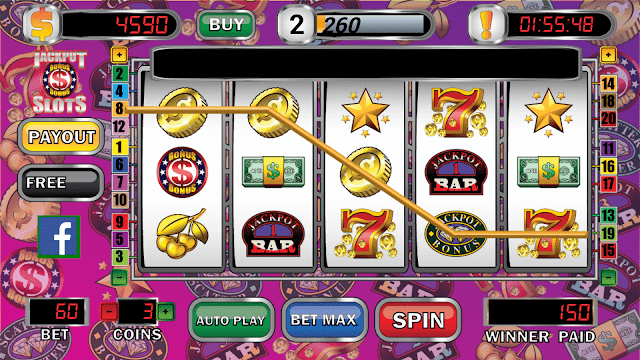 When you visit a Las Vegas casino for the first time, you'd be instantly allured by the one-armed bandit. It's a slot machine that is operated by pulling a long handle at the side and first-timers are likely to give it a try. Fortunately, an Android app dubbed Jackpot Party has emerged to allow users play their favourite slot machine games on mobile. Jackpot Party brings intensive graphics with smooth performance, there are a ton of slots to unlock and they'd take a while, but that is what makes the game interesting. Just like in real casinos, you will get to 'win big' in Jackpot party, and I personally love the fact that everything within the game is realistic down to the music.

Download Jackpot Party Casino.
2. Blackjack!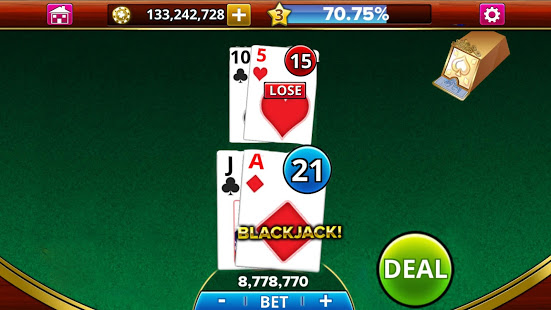 Once you move past the captivating fruit slot machine, you will see blackjack. It is one of the easiest and most popular game to play in a casino, and I love the fact that it offers one of the best odds of winning since you do be playing against the dealer and not an expert gambler. Sounds good to go? Wait don't be in a hurry. If you don't want to take the risk of blowing up your entire bank account, then you should use the blackjack mobile app to learn some basics, before indulging in the real-life game. Blackjack was designed to mimic a real Las Vegas casino by offering a six deck shoe and shuffle at every hand. The app itself brings intuitive hint system, beautiful table customization and a live tournament that can be played whilst offline.

Download Blackjack!
3. Roulette Royale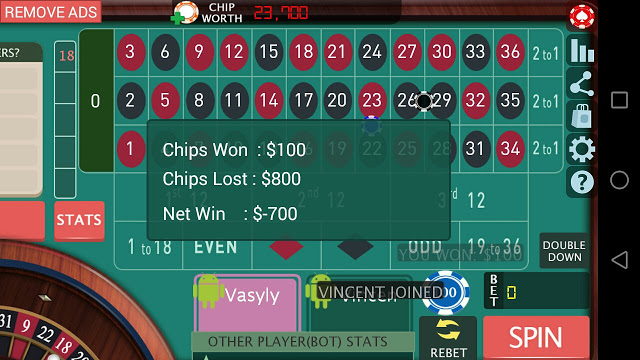 Roulette is a fascinating game of chance, it's one of the most classic casino games that date all the way back to 18th century. It is typically a game where a little white ball goes around the spinning wheel and once it halts, the 'winner' gets to go home with some money. For beginners, roulette isn't a recommendable game to play, it's among the 'worst bet' in a casino and can drain your wallet if adequate caution isn't taken. Feeling discouraged already? Don't be, as you can virtually experience casino on the Roulette Royale app. With an easy-to-read table, bonus chips and perfectly designed wheel, you'll agree with me that roulette royale is certainly the best free offline American and European roulette simulator that's ideal to play outside a smokey environment.

Download Roulette Royale
4. Poker World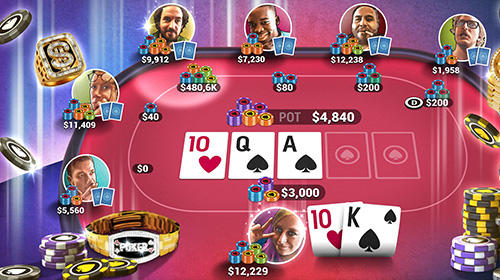 One of the most popular casino poker games you should play is Poker World. It's literally a single player poker game where you will need to compete with your opponents and emerge as the best poker player. One of poker world strong points is its navigation mechanism, guiding you across over 60 poker cities where you can engage in tournaments and win big. For one thing, poker world is offline. It doesn't require any internet connection and brings a stunningly designed interface with high definition poker graphics. New members are offered 20,000 free poker chips and you'd get to collect daily chips with your daily bonus. It's really one of the best offline casino games for Android and truthfully, poker world is the game we're currently playing.

Download Poker World
5. Huuuge Casino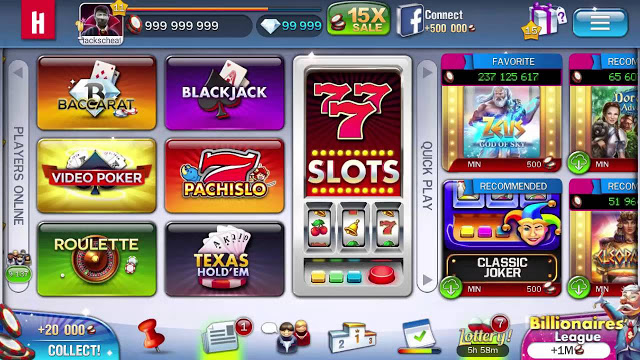 Lastly, we have Huuuge Casino. An all-in-one casino game app that offers the best slots found in an actual casino. Huuuge casino is well choreographed and brings tons of casino-like music that makes you think you are in the real thing. One of the unique features you do fancy once you fire up huuuge casino is the retro and modern slot machines it 'packs' built-in, and even if you are not a slot maniac, you can still play some of its secondary casino games and they include Video Poker, Roulette, Baccarat and more. Aside from this, huuuge casino lets you join clubs and compete in leagues for the best prizes. The game is unequivocally interesting and worth giving a try.

Download Huuuge Casino
Wrapping Up
So these are the best free offline casino games for Android. For one thing, they aren't designed to let you win real money, but are ideal for testing your strategy. If you're looking to spend some money gambling, then you can make use of the online casino websites on the internet or probably visit one of the casino den in Las Vegas and give your luck a try. Who knows, you might go home smiling with a large sum of money in your bank account.