There are quite a "dozen" of reasons why we "deeply" love Korean dramas​, they are not only addictive but also squeaky clean. Korean drama are educative, they help us absorb Korean culture without any boring studying and actors and actresses such as Lee Min Ho, Soon Joong Ki and more have already become our self proclaimed oppas probably because they're attractive. Aside from this, K-Dramas are impeccable. They have perfectly "executed plot" alongside a wonderful​ storyline that'll have you binge watching them all day long. With this, it's really no surprise that Korean dramas​ are becoming more popular, and a ton of sites like dramanice have become a home to all kdrama fans.
Also Read: Best Sites to Watch Korean Drama Online.
Dramanice was undoubtedly awesome, it was a platform solely designed to allow users watch Korean dramas for free. The site itself brought a colossal number of new and popular korean dramas with tons of latest releases. Some of dramanice K-Dramas included the legend of the blue sea, witch love, emergency couple, thirty but seventeen and goblin. The platform however didn't get to last for long as dramanice was taken down due to illegal distribution of copyrighted contents. But hopefully, we have found a slew of korean drama websites that are worth checking out. So without further ado, here are the best alternative sites like dramanice to watch Korean drama online.
1. Kocowa
Following the unfortunate shutdown of our beloved DramaFever, Kocowa has emerged to become one of the most popular website that offers media contents in the Asia-Pacific region. Kocowa which is also known as Korean Contents Wave is an online video streaming service that spawned as a result of a joint​ venture between the 3 big Korean broadcast network MBC, SBS and KBS.
The site aims to allow users watch their favourite Korean dramas, variety and K-Pops online. For one thing, all of the contents on kocowa are subtitled in English by certified professional translation team. Yes we know, kocowa is subscription-based with no commercials, but you can get a free and ad-rigged viewing experience if you don't want to go premium. It's really a better and legal alternative to DramaFever. Sadly, kocowa is only available in North and South America.
Visit Kocowa.
2. Viu
Unlike Dramanice, Viu follows a completely different approach that is perhaps awesome. Viu is simply a "platform agnostic" application that focuses more on Asian contents. For one thing, Viu provides the latest Korean dramas, variety shows and other Asian programs such as Japanese shows and they are all subtitled in English. One of Viu's strong point is its uploading speed, barely 24 hours after a kdrama has being aired, you'd see it within the app available to be streamed for free.
Viu app gives you "seamless" viewing experience across PC and mobile, and you can choose to watch any of your favourite kdrama in 480p or 1080p HD resolution. Of course Viu is free, but it has premium contents that aren't available to freemium members. Features such as downloading Korean dramas for offline viewing will require you to cough up as low as $4.90 per month, and that's not to costly I guess.
Visit Viu.
3. Dramaload
Dramaload may not be hugely popular, but it's one of the best Korean drama website that's really worth checking out. Personally, I find the site's​ user interface local and less attractive due to the dark theme. But if you can ignore it, then you'll be amazed at the slew of contents dramaload offers. Right from the site's homepage, you'll be greeted with the latest and hottest Korean dramas with English subtitles and at the top bar lies the recent and drama list section where you can easily access a list of almost all the K-Dramas on the site. Dramaload doesn't only let users watch Korean dramas, but you can also download them for offline viewing. The latter however requires you to register as a premium member.
Visit Dramaload.
4. Viki
Viki is an eye-candy, combine it with Viu and you will never have the "urge" to look for another korean drama websites again. Viki unlike the pricey Netflix and Hulu, is a "San Francisco-based" video streaming service that allows users to watch Korean dramas for free. Aside from this, the "site" provides a​ ton of "Asian contents" such as Kpop, Chinese, Taiwanese and Japanese drama all sorted in a clean user interface.
One of Viki's most "unique feature" is its real-time subtitling, allowing community members or volunteers to subtitle their favourite K-Dramas. As mentioned earlier, you don't need to pay to watch movies on Viki, but if you'd want to get rid of ads and switch from SD to HD quality with access to exclusive contents, then you'll need to opt-in to Viki Pass which costs $2.99 per month or $29.99 yearly.
Visit Viki.
5. OnDemandKorea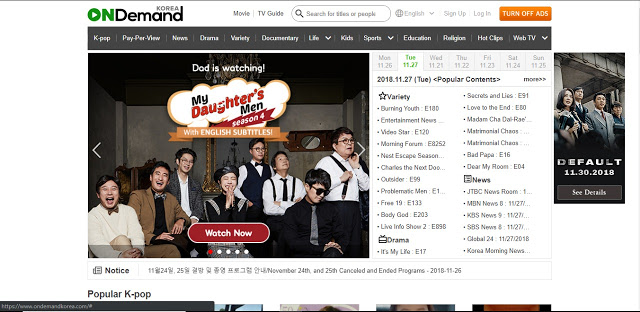 We "round off" with OnDemandKorea, one of the 'most popular' video streaming site that offers on-demand Korean dramas​ as well as variety subtitled in English. Most of the contents on the platform are free to stream with or without registration, and you'd get to see an option to binge watch them in high definition. Just like kocowa, Viu and Viki, OnDemandKorea is legal as it has licensing deal with 3 major Korean TV networks. Sadly, one of the sites cons or perhaps downside is that it's only available in North and South America.
But if you can use a reliable VPN to change your location, then you'll have access to stream from a huge collection of the newest Korean dramas available on the platform. OnDemandKorea has a free and premium service which costs $6.99 per month. The latter offers an expanded content library with wider array of viewing choices and supports a variety of devices such as Chromecast, Apple TV and Roku.
Visit OnDemandKorea.
Wrapping Up
So that's it. After Dramanice went offline, its "passionate" users found it extremely difficult to believe, as they knew it do be stressful finding a new home. Fortunately this lists will hopefully make things more easier once you have gone through it. So go ahead and forget Dramanice now, and make use of the aforementioned websites to painlessly and legally watch Korean dramas online for free.