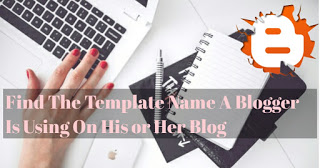 Blogger blog has been one of the best blogging platform every newbie who wants to start a new blog and perhaps makes a living with it tends to choose. They're considered as been easy and more flexible, and once you choose a perfect niche and post meaningful things, then your blogging success may be a step away.
Ever wondered what template or the template name a blogger blog is using?. Perhaps you visited a blog and saw how elegant and beautiful the template installed on the blog looks and you decided to try it out on your blog but the barrier holding you or the question that keeps lingering into your mind is what's this Template name?. Whatever your reasons maybe, we're here to guide you.
Viewing a blogger blog template name is a very tactic thing to do, since all the bloggers loves removing the credit link at the footer of there blog. (Note: you can't find any credit link on a premium Template. Never!).
Also Read: How To Add Google Analytics To Blogger Blog.
In this article we're going to brief you on how to find the template name a blogger is using on his or her blog. The first guide is for everyone, both PC users and non PC users while the second method can be done using PC only so follow below procedures.
How To Identify The Template Name A Blogger Is Using.
General Method:
We're going to view the source code of the blog you want to view its template name using an online tools/website which shows you the Real Html/Wml Code.(Not the Page Items. But The Real Source Code). To do that read below.
1.) Using your web browser app, type in http://viconet.wapka.mobi/site_73.xhtml. on the search bar or rather click on the given link here to take you directly to the source code viewer page.
2.) Now locate the search box presented on this website and type in the blog URL you want to view its Template name. Example www.blogurl.com.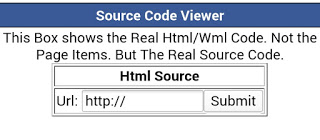 3.) Now hit the submit button and wait till the HTML/WML code of the blog processes. Then scroll down in a tactic way, (look carefully at the HTML code presented to you) and you will see the blog template name, designer etc. It should be at the beginning of the HTML source code so don't scroll down too much.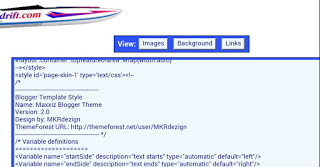 4.) That's it!. We're done with this method.
PC Method:
1.) If you're using a PC there's a way to view the template name someone is using on his Blogger blog. To do that read below..
2.) Login to the blog you want to view its template name.
3.) Right click on your mouse, scroll down and click view page source.
4.) A new window will open, now press Ctrl + f
5.) Now search for this word "Blogger Template or Designer" and press enter.
6.) Now read the information provided about the template to see its name or designer.
Conclusion
And here we're again, hope after reading this post, you will be able to detect the template name a blogger is using on his or her blog. if the above method works for you, then comment below and if it doesn't then comment your problem let's look into it. Happy blogging!.