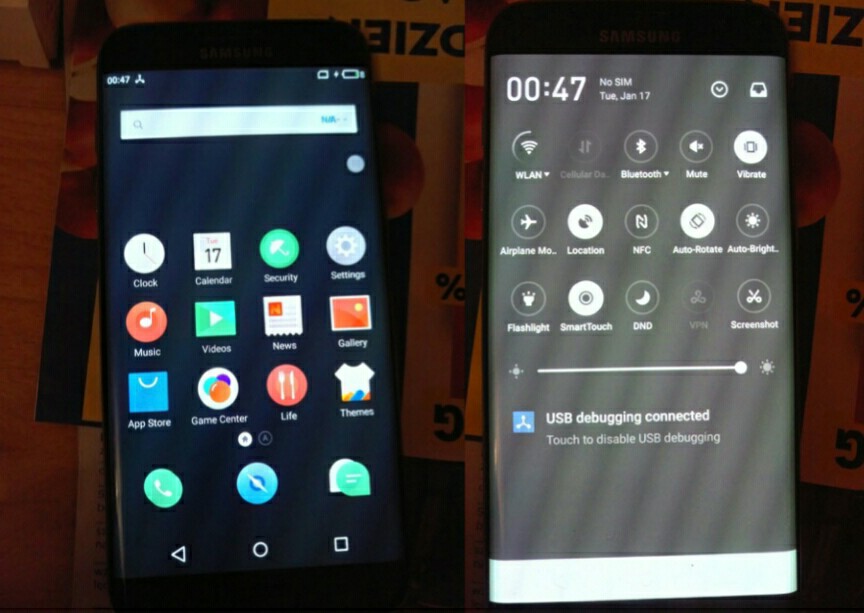 Flyme OS 6 is the latest custom ROM ported for Samsung Galaxy S7 Edge. The ROM was developed by ProtoDeVNan0, a senior member at XDA developers. If perhaps you don't want to update your Galaxy S7 Edge to official Nougat Firmware, then you can experience a new look by flashing the flyme OS 6 custom ROM. While the ROM looks pretty nice, it's not yet fully stable and also it's not that smooth to use as a daily driver. However while this might be a hindrance for you to get this ROM, the developer has assured it's users that he is currently working on it every hours.
So far,the developer has managed to boot the flyme OS 6 ROM on his S7 Edge device but it took around 5-6 minutes for its first boot. Many users has confirm that the ROM is incredible, but the bugs is still a hindrance for a fully daily use. However the developers over at Xda are seriously working on it, even though it's difficult. You can simply head over to the flyme OS 6 thread at Xda forum for further inquiries and bug fixes tutorial. While tinkering with the ROM, the developer made a few list of what's working which has been stated below.
What's Working
Sensor detection although no data is being shown
While most of the stated features are working, the bugs hasn't been fully known. But expect an improvement in months to come. The flyme OS 6 ROM can be customized to your preference and the battery life tends to be better. As usual to install the flyme OS 6 custom ROM which weigh around 800MB on your Galaxy S7 Edge, you've to be rooted and have a TWRP recovery installed. Also make sure you take a full Nandroid backup of all your data which can be restored later on after flashing the ROM..
Flyme OS is an unofficial build ROM running on android 6.0 marshmallow, it's a ported ROM so there's no source. Tech viola won't be held responsible if you brick your device while following our procedure. Flash ROM as prescribed and things will work out fine.
Install Flyme OS 6 on Samsung Galaxy S7 Edge
First download Flyme OS 6 custom ROM for Samsung Galaxy S7 Edge from here. You can also download compatible Google gapps for your S7 Edge device since it's not included in the update package. The gapps can be flash separately once you successfully install the ROM.
Now save the downloaded .zip file on your computer. Then switch on your smartphone, connect your phone with your computer by using the USB cable. Now select the downloaded files and copy then paste it on your device SD card then disconnect the USB cable.
Next power off your phone and wait a few moments until the shut down process is completed. Reboot into TWRP recovery mode on your Samsung Galaxy S7 Edge by pressing and holding the Power -> Volume Up and Home buttons for a few moments.
From the TWRP recovery mode, perform a factory reset by selecting: "wipe data factory reset", then "wipe cache partition" and also "wipe dalvik cache". Now return to main menu of TWRP recovery and tap on Install. Locate and select the Flyme 6 OS ROM package. Swipe to begin the flashing process.
When done, you can now flash any marshamallow gapps by repeating the last step above. Wait till the flashing process is completed, then go back to the TWRP recovery main menu and reboot your device. First boot will take 5-10 minutes so be patient. Go through setup wizard when your phone boots up. Enjoy!
Conclusion
The developer added an aida64 app which can be use to check what's working and what's not working. You can also disable 3D touch. To do this, tap on the search bar and type either settings and then inside accessibility find 3D touch and disable it, or just search for 3D touch and disable it. Endeavor to follow the flyme OS 6 custom ROM thread at xda forum to stay updated with bug fixes instructions.