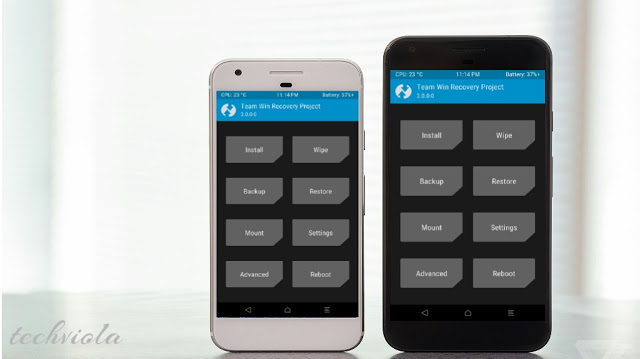 Right from the on set when the Google Pixels smartphone was released, I have been emphasizing on it's amazing features probably because it was an official product from Google. There are lot's of amazing features packed on the Google and if you're lucky to be one of the owners, explore deep into your device and unveil those features yourself.
Earlier after the Pixels smartphone was released, there has been a lot of pressure from varieties of people demanding for an official Twrp recovery on both the Pixel and Pixel XL respectively… Luckily the Twrp recovery is now available for your smartphone. However before installing a Twrp recovery on your Pixel smartphone, it's recommended and a must that you have to unlock your bootloader and root your Pixel device. If perhaps you've already done that, and feel like flashing some cool custom ROMs, then a custom recovery is mandatory.
Download Twrp Recovery For Google Pixel & Pixel L
Firstly you've to download the official Twrp recovery for your Pixels device. It's one of the biggest project powered by Teamwin and comes with lot's of essential plethora features. However we do like to draw you back on some precautions and important Notes that you've to take before following our procedure.
Precautions
Installing Twrp Recovery may void your device warranty since it requires rooting.
Ensure that your phone has at least 60-90% charged to prevent accidental shutdown in between the process.
You may lose data. You may miss an important phone call. So backup everything on your device
We're not responsible for any brick you encounter while following our procedure.
TWRP Recovery For Google Pixel (Sailfish)
TWRP Recovery For Google Pixel
TWRP Recovery For Google Pixel XL (Marlin)
TWRP Recovery For Google Pixel XL
How To Install Twrp Recovery On Google Pixel & Pixel L
We're going to share two method on how you can install Twrp recovery on your Pixel smartphone. Thus you can choose which method you prefer most.
Method 1 : Install Twrp Recovery Via Twrp Manager
Now let's assume you've already rooted (not compulsory) your Pixel device and unlocked bootloader. Since they're they mandatory things you need to do before venturing into this procedure.
Step 1: Download TWRP Manager on your device then install it.
Step 2: Now transfer the Twrp recovery zip you downloaded earlier on the internal storage of your device.
Step 3: From your app drawer, locate and launch the Twrp manager app. Then click on install.
Step 4: Now choose or click on "Select zip" at the bottom and locate the TWRP zip file you moved earlier on your device internal memory.
Step 5: After locating the TWRP zip file, click on Flash now and wait till the process complete itself.
Done! You've successfully installed TWRP on your Pixel smartphone.
Method 2: Install TWRP Recovery Via ADB Fastboot
This method can be a little bit time consuming however there's no hard in trying. You've to make sure your PC is ready and fully charged to the brim before proceeding with our guide. Before that, downloaded the below requirements.
Note: If you accidentally flash TWRP to your device using fastboot instead of temporarily booting the image, you will need to download the latest factory image for your device and reflash the boot image.
Requirement
Step 1: Firstly you've to enable USB debugging and OEM Unlocking from Setting>Developer option.
Step 2: Next download TWRP .img and zip file for your respective device from above link and rename it to recovery.img
Step 3: Now place or transfer the recovery.img on ADB and fastboot folder.
Step 4: Now locate the ADB folder and open the command window by pressing and holding the 'shift' key and right-click anywhere in that folder.
Step 5: Boot your device into fastboot mode by pressing and holding the Power and Volume Down buttons at the same time.
Step 6: Now connect your device to PC by using a USB cable. To check your connection enter "fastboot devices" in command prompt. It will return your device serial number meaning your device properly connected.
Step 7: Next from the command window, run thethe following command to temporary boot your device into TWRP.
fastboot boot recovery.img
Step 8: Once your device had rebooted to TWRP, click on Install and select the TWRP installer zip file and Swipe to flash the file.
Step 9: The zip will install TWRP to both boot slots.
Done! You've successfully installed TWRP Recovery on your Google pixel and pixel XL.
How To Root Google Pixel & Pixel XL
Once you've successfully installed TWRP Recovery on your Pixel device, there's a high tendency that it will remove root access if you are currently rooted. A SuperSU update will be required to allow TWRP and SuperSU to co-exist. Thus simply Root Your Google Pixel and Pixel XL with SuperSU. To do this, reboot your Pixel device to TWRP Recovery and flash the SuperSU zip file.
Conclusion
Installing TWRP Recovery on your Pixel smartphone can be quite an easy thing to do. You just have to master the procedure and follow it carefully. Once the TWRP Recovery has been installed on your device, you can then enjoy flashing your desired custom ROMs.