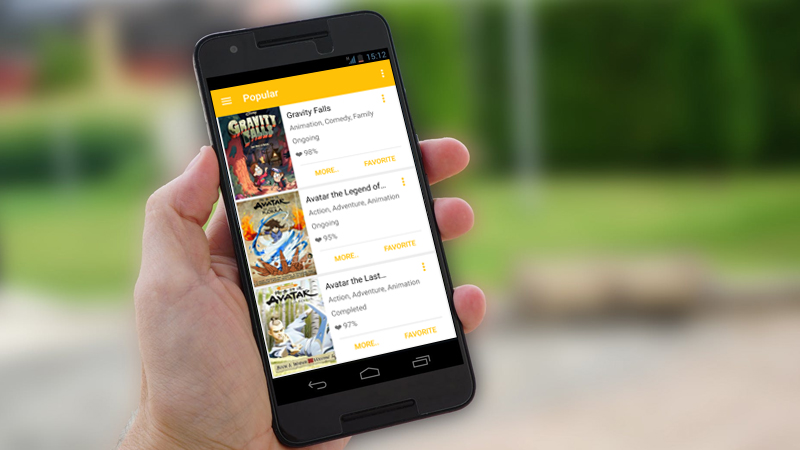 Ever wondered the best website that offers an extremely large amount of cartoon shows from different genres? No it isn't Netflix, neither is it Youtube or Hulu. it is Kisscartoon (now known as Kimcartoon), the most popular and feature-rich cartoon site on the whole internet. For one thing, i have being a regular user at kisscartoon, the site's easy-to-use interface and high quality english subbed cartoon shows makes streaming experience top-notch. But there is a catch, kisscartoon website is deeply plagued with pop-ups that tend to make the site navigation vexatious. So to avoid this, we are offering a new kisscartoon app for mobile, and you can easily use it to watch most of your favorite cartoons for free.
Kisscartoon App? Nah!
Obviously, one third of the website on the internet all have a mobile app, its essence presumably is to enhance the visibility of a site. Kisscartoon on the other hand isn't an exception, as the site has its own dedicated mobile app that brings a colossal number of new and old cartoons – all to be streamed for free. With over 1 million users per month, Kisscartoon is undeniably and massively popular, but its mobile app has moved from been reliable to unfit and here is why.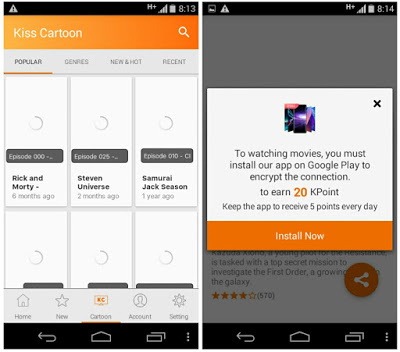 Before now, kisscartoon app was a go-to when the urge to watch unlimited cartoons arises, but following the site shutdown, things aren't as pleasant as they where before. The app that once offers full HD cartoon episodes, brings little or no ads and painlessly allows users to choose preferred resolution is gone. Think i am lying? Download the kisscartoon app and all you'll see is an app that takes decades to load and frustration is very likely to follow when it asks you to download an app before you can stream a cartoon show.
You Are Better Off With Toonmania
Yes you heard me perfectly well. There is absolutely no need to compare "the now" kisscartoon app with toonmania. Infact, toonmania is unequivocally the best cartoon app for Android. It was designed to let users watch thousands of cartoon series from different genre such as action, fantasy, crime, horror and adventure. The app itself features an intuitive interface and comes with a drop down menu that allows users to browse through the latest and most popular cartoon shows.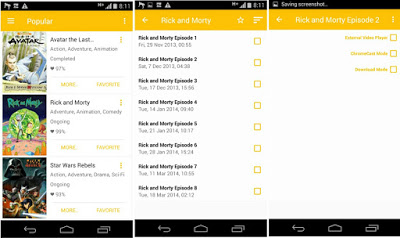 Toonmania versatility is unmatched, most of the cartoons present on the app are arranged alphabetically or by popularity, and similar to kisscartoon, there is an option to choose between watching an episode in 480p or 720p quality. Sounds crazy huh? Or is it too good to be true? Wait there is more on the way. One of toonmania's strong point is that is allows users to choose how they want to watch their favorite cartoon episodes. Either by streaming them within the app (or an external video player) or by downloading them on your mobile for offline viewing.
Also Read: Best Cartoon Download Sites (2018)
Of course you can easily opt-in to send the cartoon show you want to watch to your chromecast device and stream them with ease. Toonmania unlike the unreliable kisscartoon app is in one word excellent. Aside from the vast variety of possibility it offers, you will definitely experience a smooth and faster cartoon streaming, but this too depends on how strong your network connection is. Overall, toonmania is the app to use when you are looking to watch rick and morty online.
Conclusion
If you are seriously looking to download kisscartoon app, i suggest to think twice. Yes it was once good, but the site's unfortunate shutdown teared things apart. Its glory has been stripped but toonmania can serve as the best kisscartoon app alternative without qualm. It is easy-to-use, brings a ton of cartoons in high quality formats and allows users to stream or download them for free.