In our "previous" articles, we gave special attention to Kodi and equally talked about IPTV. It's literally without doubt that Kodi as a media center app 'shines' not only for its add-ons support, but 'ability' to stream Live TV. This is all 'thanks' to IPTV, a new inexpensive "internet protocol television" technology that is "gradually" replacing traditional cable box and satellite dish in many homes. Of course, there are quite a massive variety of IPTV services out there that provides hundreds of channels from sports to wrestling and while most of them are paid, others are free.
The free ones however engage in shadier practices to survive. But even so, they are still being persecuted. A thorough Google search will 'unveil' to you that most of the feature-rich Kodi IPTV addons have being shutdown, but some have remained thick, strong and still standing. So if you are a Kodi IPTV user who "thought" copyright holders have "robbed" you off an excellent entertainment tool, then here are the best free Kodi IPTV addons that are still active and working.
1. cCloud TV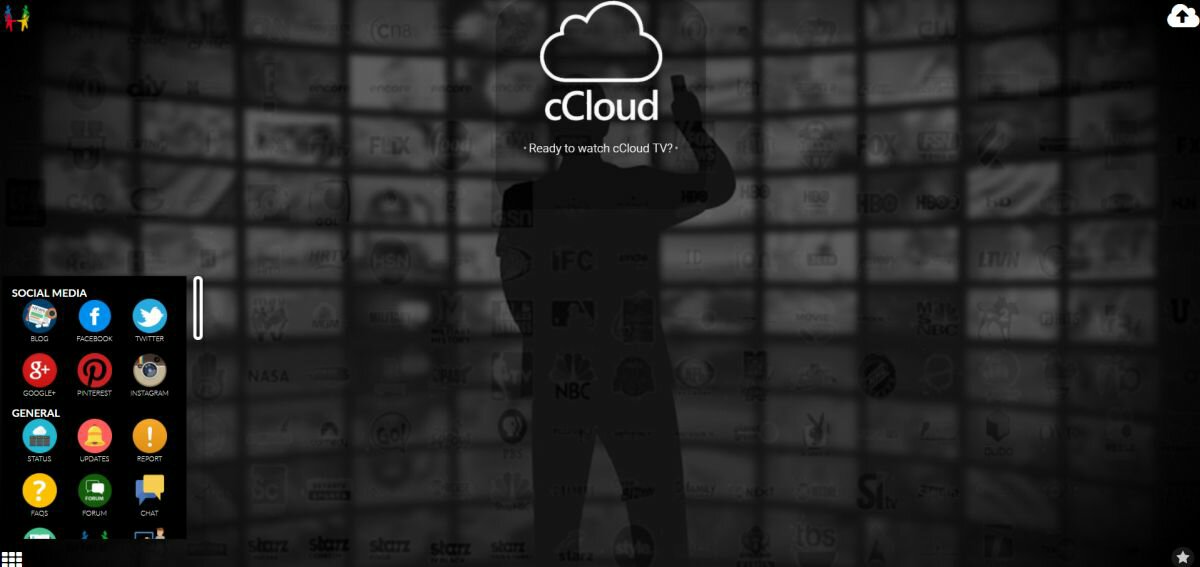 We begin with cCloud TV, one of the most popular and full-fledged IPTV service that is platform agnostic. It offers an extensive collection of "TV channels" that comes in handy for "streaming" Live TV. Candidly, cCloud TV features over 2,000 HD channels which includes Cartoon Network, ESPN, ABC, NBC, Discovery Channel, Sky and much more.
In addition to this, cCloud provides access to a colossal number of radio stations and you can equally select any of your favourite movies or TV show from a variety of genres and watch them for free. It's safe to mention that cCloud doesn't host any streams, most of the IPTV links you'd see within the service are submitted by users. So lets quickly install cCloud TV on Kodi.
Installation Guide
Fire up Kodi and click on the System Settings icon at the top-left.
On the next page, click on File Manager followed by Add source
Then click on where it says None, enter the following URL http://lazykodi.com/ and click OK.
From here, name it anything such as lazy and click OK. Now double check that everything is accurate and hit OK again.
Navigate back to the main menu, jump into Add-on and click on the package installed icon at the top left.
Next up, click Install from zip file and select lazy (or anything you previously name the file) from the box that'll appear.
Now click on ZIPS followed by CCloud.zip. Then wait for the Add-on installed message.
Once seen, click on Install from repository then select cCloud Repo.
Now, click Video add-ons followed by cCloud TV and hit Install.
2. Chronos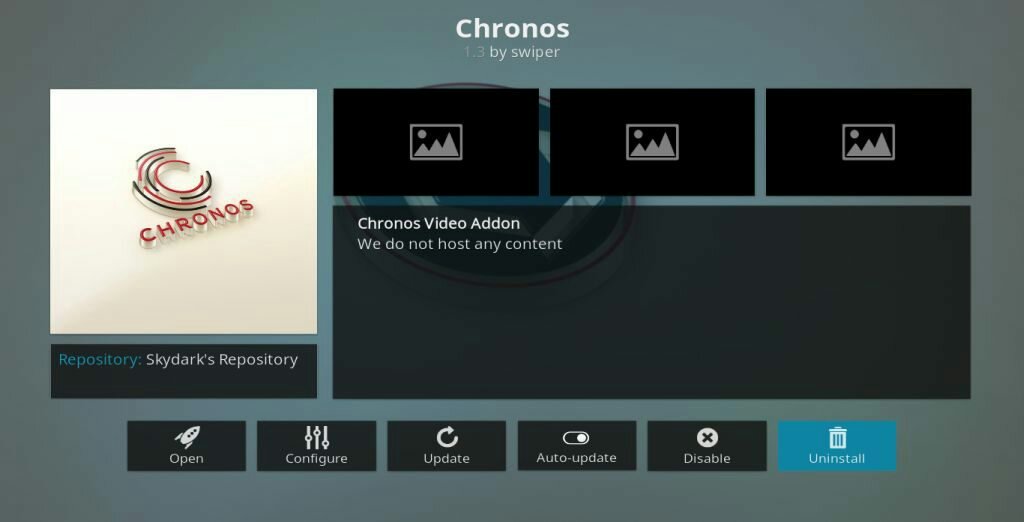 Made in Canada was once a popular Kodi IPTV add-on, but with its demise, chronos spawned and has being acting as a better alternative. Infact, Chronos is the pick of the bunch. It features a huge collection of live channels that are streamable in high quality, and buffering is non-existant. An initial opening of chronos once installed will pop-up a message to enable "adult" contents. You can go "ahead" and accept, i.e if you want to have access to its whole library.
Once chronos fires up, you'll be presented with a succinct list of content categories that includes Live Sports, Movies, Sports, Concerts, Live TV, 24/7 and Austria. This directories once clicked will expand an extensive array of streams organized alphabetically and users can watch them for free. Already charmed? Let's install chronos IPTV add-on on your Kodi.
Go ahead and launch Kodi as usual, then directly from the homepage, click on the System cog icon followed by File Manager ==> Add Source == None.
Now enter the following URL http://www.skydarks.com/skydarks/ correctly and click OK.
Give the media source a name such as chronos or skydarks and click ok.
Once done, return to the home screen and click on Add-on. Now select the add-on package installer icon (open box) at the top left and hit Install from zip file.
Select skydarks from the box that'll pop-up, then click repository.skydarks-7.1.7.zip.
Wait untill you see an add-on installed notification, then click on Install from repository and select Skydark Repository.
Now tap Video Add-ons followed by chronos and click the install button.
3. BBC iPlayer (iPlayer WWW)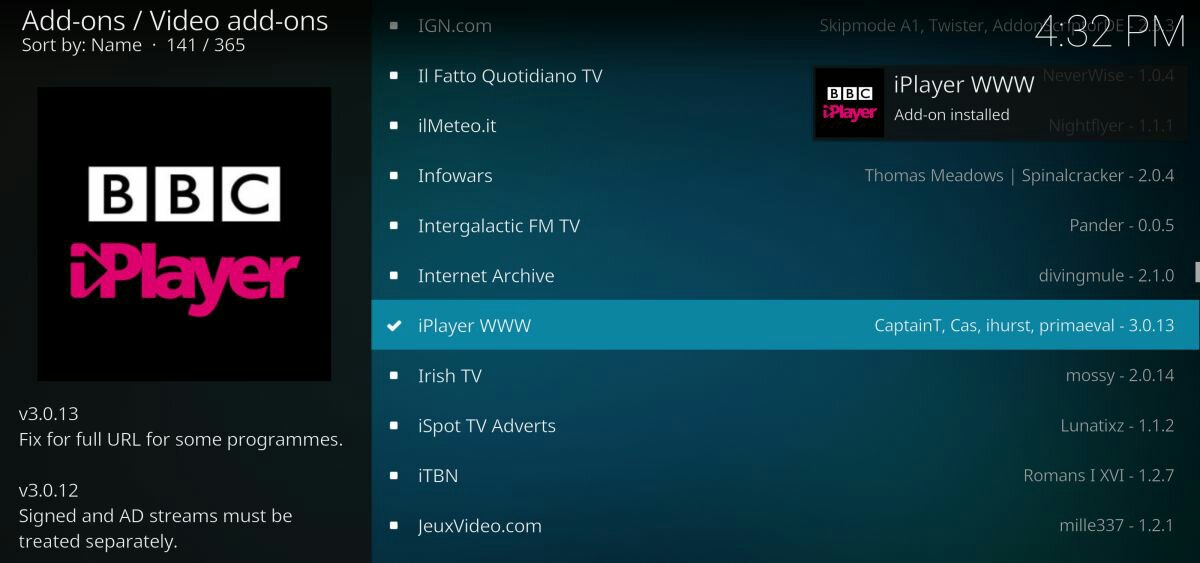 If we had rounded up this Kodi IPTV list without 'mentioning' BBC iPlayer, then this article will be incomplete. As we all know, BBC is the biggest & most popular TV service in the UK. It produces a wide range of contents and allow users to watch them for free. Fortunately, there's a Kodi add-on dubbed iPlayer WWW that provides an interface for users to access BBC iPlayer website on Kodi and play Live and Catchup British TV as well as Radio contents.
With tons of 'on-demand' contents and specialty in drama and documentaries, you'd agree with me that BBC iPlayer is top-notch. It broadcasts a variety of media including lifestyle, news, current affairs, comedy, movies and reality shows and even though the service is geo-restricted, you can connect to a VPN that has servers located in the UK to enable you watch BBC contents from anywhere in the world. So lets install the BBC iPlayer add-on on Kodi.
Start up Kodi and directly from the home screen, click Add-ons.
Next up, click on the package icon that looks like an open box, then hit Install from repository.
Now go to Kodi Add-on repository and select Video add-ons followed by iPlayer WWW.
Once done, click Install and wait for the Add-on installed notification.
Conclusion
So these are "undoubtedly" the best free Kodi IPTV add-ons that are worth using. There's equally no doubt that there are other IPTV addons out there, but most of them aren't reliable and some has been taken down. The add-ons we unraveled above boasts of content quality, top-notch excellent user experience and most importantly, they have stable streams, self-explanatory menus and detailed description of each shows. Install any of this kodi IPTV add-on and you'd be a step ahead to watch live TV on Kodi.