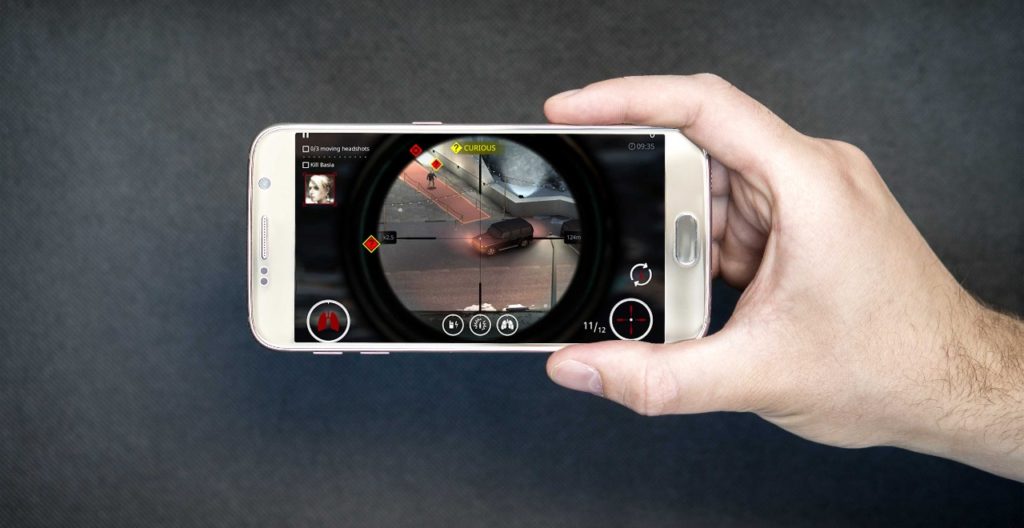 Moving from the comfort zone of playing a first person shooter (FPS) game then you will agree with me that the next action game you should look out for is a sniper game. Whether you're playing on PC or Android, sniper games can be fun and addictive. Snipers mainly involves well trained and highly skilled marksman who operates alone to eliminate an enemy from a long range distance that exceeds detection capabilities.
For one thing, I'm not skilled in precision shooting, neither am i a sharpshooter nor a rifle expert. But I'd enjoy playing a graphic rich sniper game on Android. The Google Play Store is obviously filled with a ton of sniper games, and you'd get confused if you don't know your way around. So having vetted the Google Play Store, we came up with the best sniper games for Android and most of them doesn't require an internet connection and they're free to play.
1. Hitman Sniper
A tad repetitive, but still addictive and solid. Hitman sniper is a sharpshooting sniper game that lets you take on the role of Agent 47. Your mission is to assassinate several powerful enemies without being noticed by the associates. Hitman Sniper brings over 150 mission and 10 different contracts that needs strategic skills, subterfuge and highly execution speed to complete. Players are offered rewards after eliminating targets and the money can be used to unlock rifles and perform essential upgrades. Hitman sniper also pits you against your friends in a leaderboard challenge and you'll need to prove what it takes to be a silent assassin.
2. Sniper Fury
Sniper fury is yet another sniper shooting game that brings realistic weather effects with over 130 missions' and awesome 3D graphics. The game takes you around the world as you complete difficult & dangerous missions. For one thing, your sniper rifle & assault rifle may come in handy to eliminate targets. Players can also use the money they earn while completing various objectives to upgrade weapons and this is necessary if you are to face advanced missions. Sniper fury also brings an online multiplayer mode where you can attack enemy base and steal their resources. Despite it not being original, sniper fury is still a nice sniping game for Android.
3. Sniper 3D Gun Shooter
Sniper 3D gun shooter brings mesmerising visuals and tons of mission objectives that'll allure you non-stop. One thing you'd love about sniper 3D gameplay is that it isn't a repetitive sniper shooting game as there are a lot of duties to complete and each scenario brings various targets. Tasks such as killing zombies will require you to unlock awesome weapons and upgrade them for maximum hits. Sniper 3D offers a variety of heavy and powerful weapons such as rifles, shotgun and pistols. Players can also play sniper 3D whilst offline and you can head in to the PvP online multiplayer mode to challenge your enemies. There's no time to save victims and kill the right targets other than now.
4. Modern Sniper
One shot, one kill!. Modern sniper is an over the top sniper shooting game that will take you on a tour of the criminal underworld. The game brings over 50 crime missions to complete with 6 unique maps and stunning locations that 'blends' between an ultra realistic 3d graphics. Players are meant to eliminate a mob of enemies at street level and rooftops , & you'd get to snipe-out high profile targets. Modern sniper allows you to access an inventory of 7 different real-world weapons which includes a sniper rifle and assault rifle. To complete the objectives in modern Sniper, you will need to rely on your marksman skills.
5. Sniper X
Sniper X is another cool sniper game that's worth playing on your Android device. The game lets you team up with the actor Jason Statham who is known for is assassination skills on various action movies including the expandables and the mechanic. Your mission is to eliminate enemies and drones in a first person shooter mode whilst hiding in a certain location. You can zoom in, slow down time and shoot your enemy using the sniper rifle. Sniper X brings hundreds of military missions that mainly takes place in incredible 3D environments. The game also gives you access to an elite armory where you will get to discover a ton of powerful sniper rifles and they're widely upgradable.
6. Lonewolf
Lonewolf's art style reminds me of a comic book and it's one of the most realistic sniper games for Android. Lonewolf is a Neo-Noir story driven sniper adventure game that lets you step into the role of a mysterious assassin whose motive is secret. After his entrance to a criminal organization called the Assembly, he's tasked with a lot of work that involves taking out high targets using upgradable sniper rifles, pistols and a dozen of weapons that brings realistic sound and recoil. For one thing, Lonewolf hand drawn cutscene and thrilling story mode will glue you to your device. The game brings over 30 different missions & awesome atmosphere that creates an identity for itself.
7. Best Sniper: Shooting Hunter 3D
A hunter I am not, but bringing down wild dinosaurs and bloodthirsty zombies can be very addictive. Best sniper shooting hunter 3D narrates the story of a failed scientific experiment that lead to the creation of monstrous and deadly species that roams planet earth. As an elite shooter, your mission is to hunt this creatures down with an arsenal of awesome and upgradable weapons which includes a sniper rifle and flash grenades. Precision shooting is highly recommended if you're to survive in this game. Simply enhance your rifle's scope and zooming capabilities, then scan your prey's weak point and take em out. Best sniper brings exotic locations and the gameplay is fluid.
8. Contract Killer: Sniper
Contract killer sniper is one of the most popular sniper game for Android. Its mission starts of when cyborgs and mechanical combat unit invaded the world alongside a secret agent organisation known for kidnapping scientist for use in developing a nanocrystal technology. As a reputable master assassin, you have being hired to stop the invasion by infiltrating secure locations and eliminating high-profile targets. Contract Killer Sniper brings over 250 missions and customizable weaponry which includes sniper rifle, tesla guns etc. In the game's PVP mode, you can assault other player bases and steal thier resources. Overall, contract killer sniper brings an immersive gameplay.
9. Sniper Arena: PVP Army Shooter
Want to go on a sniper vs. sniper combat to show off your sharpshooting skills? Then you should opt-in for sniper arena since it is one of the best sniper games for Android. Sniper arena lets you compete with over 500 thousand snipers in a realistic, spectacular and authentic combat locations. One of sniper arena's strong point is its breathtaking 3D graphics & intuitive control. Players are meant to create their own squad & take out enemies with a colossal number of professional weapons such as sniper rifle and camouflage. Sniper rifle brings 3 game modes with 8 real opponents and whoever kills the highest number of enemy emerges as the winner.
10. Kill Shot Bravo: Sniper FPS
Kill shot bravo offers over 2400 missions that take place in jungles mountains and Mediterranean sea. For one thing, the game brings deadly sniper weapons, machine gun and other military gear that will aid you to eliminate enemies and complete important objectives. The main goal in this game is to hunt down terrorists, kill zombies, take out drones & hostile threats either on land or by air in hazardous helicopter missions. Players can also collect bounties from dead opponents and also engage in multiplayer missions. Kill Shot Bravo is in one word awesome & you'll get to experience massive combats in stunning 3D environments. You can download the Kill Shot Bravo from here.
Wrapping Up
Sniper games are definitely the new sensation for Android shooting games. Aside from being addictive, they'd let you feel the pure adrenaline rush and life-like combat emotions in the heat of the battlefield. Now you'll need to be a sharpshooter, a hideous marksman who's capable of taking down long range targets without detection. So go ahead and play the above sniper games on your Android phone.