Here's the thing, if your Android and iOS device brings support for dual-SIM card slots which allows you to make calls and send text messages, then what's stopping it from running multiple accounts of the same app and game simultaneously? We have reached the stage where technology needs to be leveraged. With a reliable and feature-rich app cloner or clone app, you can easily manage multiple tasks efficiently on your smartphone. For instance, when you have a dual WhatsApp or Facebook app, you can simply choose to use one to have fun with your friends while the other one can be used to get work done professionally.
Also Read: Parallel Space Review: Run Multi Accounts Of Same App Simultaneously
Before now, we do Google for how to clone apps on rooted Android phones but things have changed for the better since then as a slew of clone apps are surfacing all over the web, allowing users to create copies of the same app and game and run them simultaneously without any crash. Roots aren't needed for this and you'd be glad to hear that some smartphones comes built-in with the clone app capability. Xiaomi for instance calls it Dual Apps, Huawei and Asus says it's App Twin, Vivo named it App Clone, Oppo dubbed it Clone App and you'd get to see this feature within the Settings menu. Now if your iOS or Android device doesn't bring this option, then the below clone apps for iPhone and Android will help.
1. Parallel Space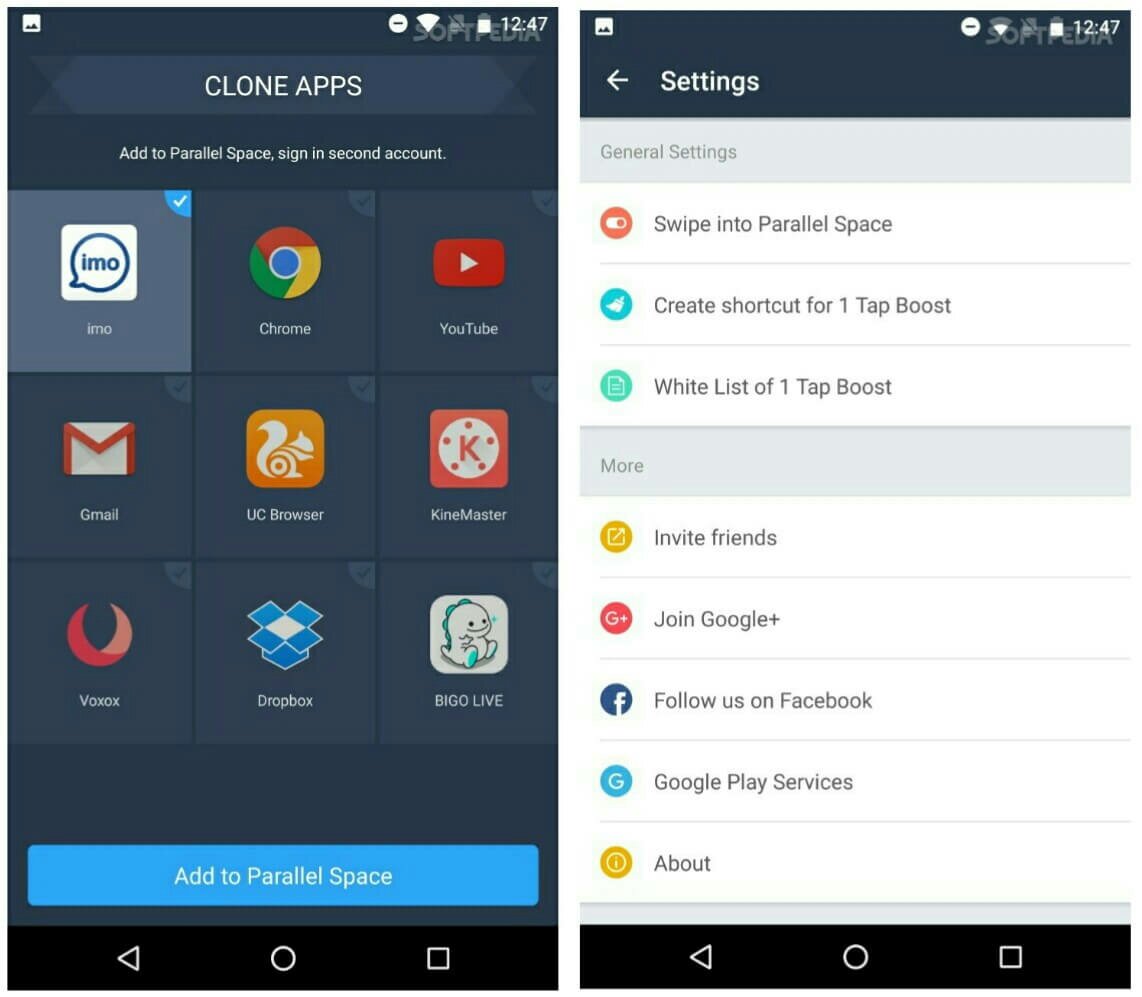 Wait, did we just say dual-SIM? Parallel Space is an app that delivers. It's one of the most popular, stable and easy to use clone app that allows users to clone and run "multiple accounts" of the same app and game simultaneously even on a one SIM phone. Here's how it works. The app serves as a sort of emulator or container, it typically creates a virtualized isolated environment and allow apps added by users to run inside. In other words, one app runs on your device while the other runs on parallel space without any interference.
For one thing, parallel space brings great features. Aside from allowing users to use themes to style their cloned apps, they can equally hide or protect them from prying eyes by using the built-in security lock feature. Based on the multiDroid engine, Parallel Space is very lightweight and doesn't require root access but permissions. Overall, it's a worthwhile clone app to create and run two different accounts for apps like Instagram, twitter, messenger, candy crush and more.
Download Parallel Space
2. Dual Space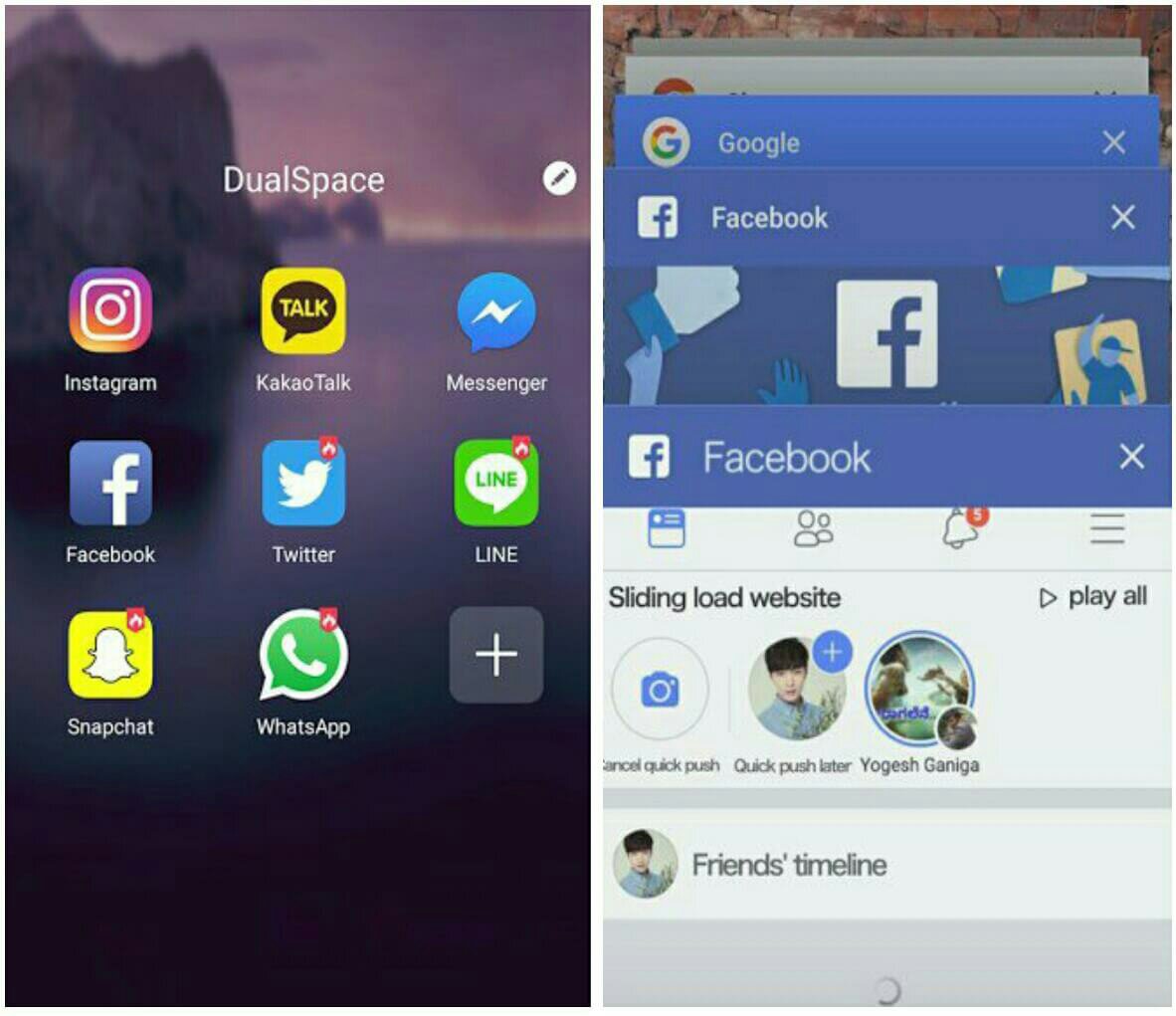 Dual Space is literally an eye-candy. It comes in handy when other clone apps fails to run WhatsApp smoothly. With assurance for stability, dual space proves that one mustn't carry two smartphones around just to use two or more WhatsApp accounts. Similar to parallel space, dual space is an application that allows users to manage two different account for any app installed on their Android phone. The whole process is more simpler than you might expect.
Just launch the app, add any social app you want to duplicate (be it Facebook, Instagram, WhatsApp, Messenger, Snapchat) and you are good to go. Both programs will work independently and simultaneously if choosen. Furthermore, dual space brings a privacy zone feature that helps to hide your private account from intruders. It's undoubtedly one of the best clone app or app cloner out there.
Download Dual Space
3. Mochat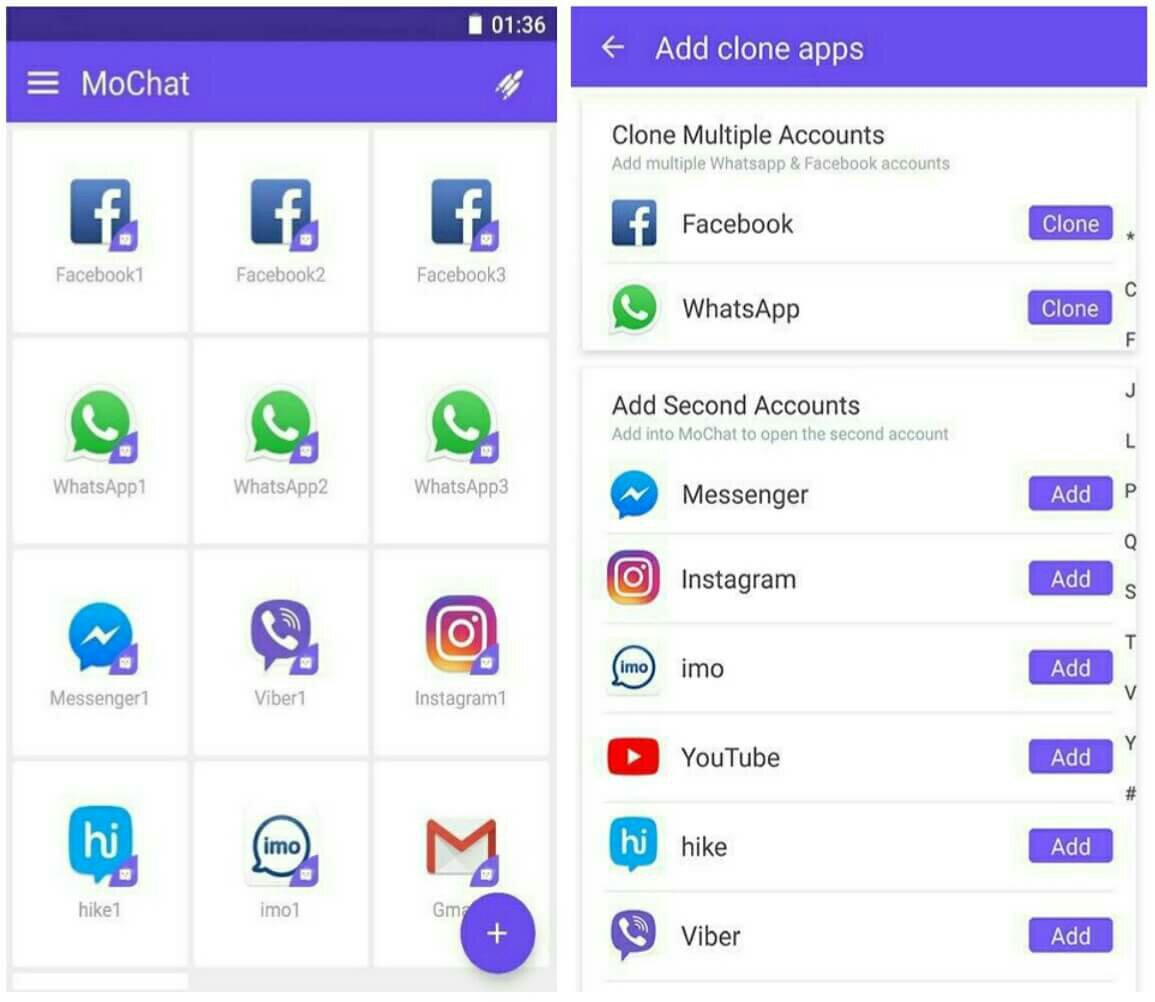 Before we proceed, let's quickly get something out of the way first. Mochat to begin with, is an awful name for a brand. Saying it loud, it do sound like moo-chat. Like a cow. But let's ditch aside reminiscent moniker and see what the app is trying to offer. Mochat just like its mates aims to do something interesting. Allow users to painlessly clone and run multiple accounts of the same app or game simultaneously, thus separating work and life easily. The app brings same features as seen in parallel space, and even run more faster. There's no crash, no interference and most importantly, no mixed messages. Everything works absolutely fine.
Download Mochat
4. 2Accounts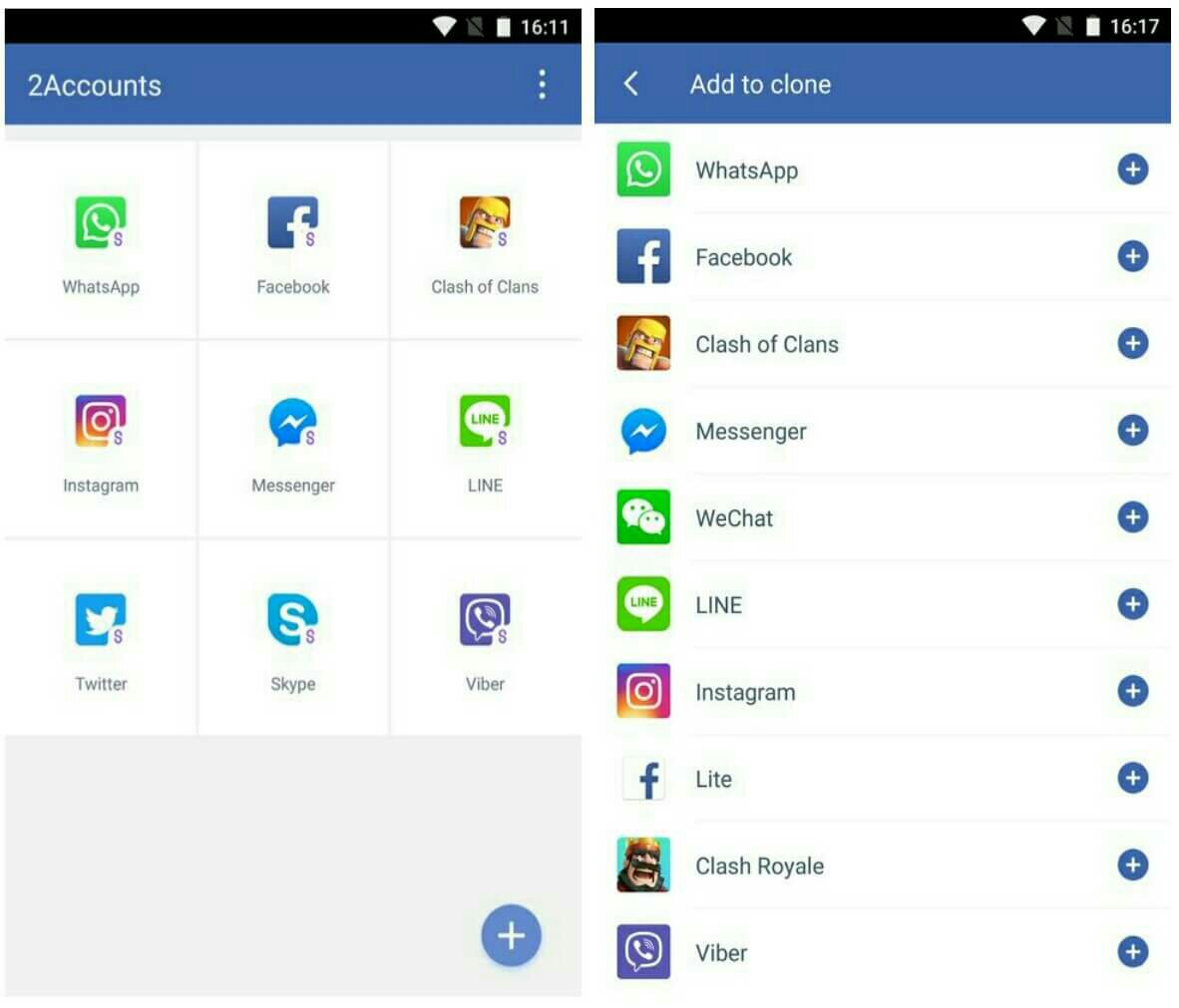 Hurryingly ask a mobile geek which is the best clone app of all time and he do plainly tell you it's the one with less ads and spam. If parallel space intrusive ads seems more like amnesia, then look into 2Accounts. For some, they do say it is far better. But I personally think it is the app that gets the job done when utilised in its intended state. 2Accounts is obviously an app cloner with unique capabilities. It is designed for users who wants to have two accounts of the same app in one phone. With an upgraded UI and clear notification, 2Accounts ensures zero conflicts with little or no CPU or battery consumption. Go ahead and use it to clone multiple parallel accounts.
Download 2Accounts
5. Multiple Accounts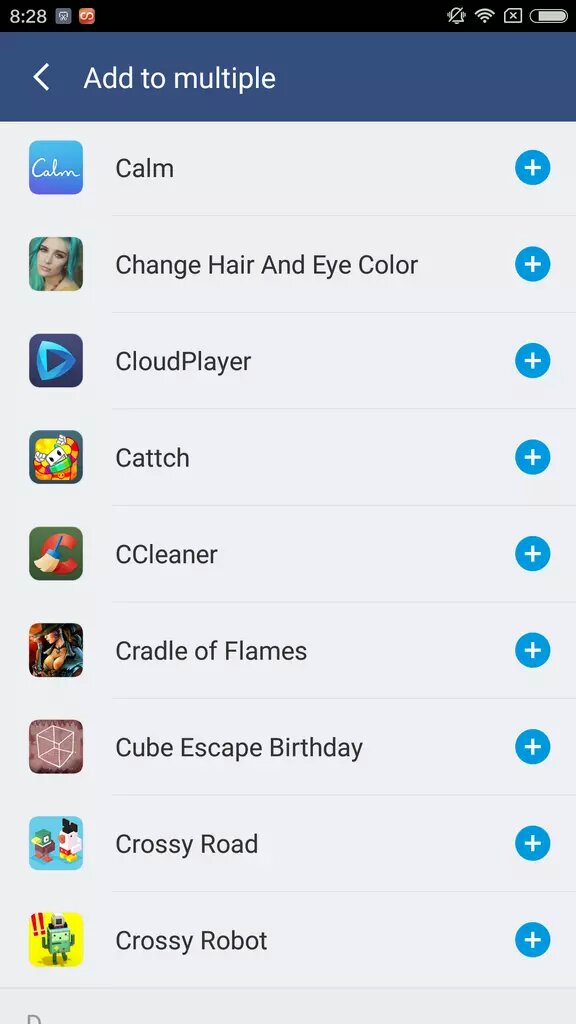 Lastly, we present one of the most reliable clone app dubbed multiple accounts. The app that makes it effortless to keep two or more accounts of the same app online easily and steadily. Multiple accounts fulfills your wish of quick cloning. If you are looking to have two messaging or game accounts probably to enhance your chatting or gaming experience, then multiple accounts is the app for you. We won't bore you with long talks. It's a clone app accepted, lets you run copies of the same apps at the same time and equally brings tons of essential features that are hard to ignore. Simply make it your first choice.
Download Multiple Accounts
Wrapping Up
One app, two accounts, one phone. Doesn't it sound interesting? App cloners or clone apps are evolving, bringing more and more features everyday. The overall concept is nice; allow users to have two same app in one device and run them without hassles. With love, we explored the Google play store, weeded the fake and spammy app cloners and came up with clean clone apps that are just too cool. They work perfectly fine on Android and iPhone and comes in handy in balancing life and work.