Have you heard of the website that offers tons of south asian movies in abundance? No it isn't Netflix neither is it Hulu. It is einthusan, the self-acclaimed largest streaming content provider that hosts a slew of full-length south Asian films in superior HD. The company's name may sound a little bit "tricky" to pronounce or pen down, but you do get to remember it if you are familiar with the word enthusiast. Reminiscent moniker aside, einthusan is an eye candy. Right from its homepage, you'd get to see all sorts of south Asian movies categorized in grid with thumbnails.
Also Read: The Best Websites to Download Punjabi Movies
Some of them includes Hindi, Telugu, Chinese, Marathi, Malayalam, Kannada, Bengali down to Punjabi movies. Priding itself as the largest collection of south asian films, einthusan's library consists of over 4000 legally licenced contents from different languages. The site unlike its mates is incredibly unique. It goes as far as providing high-birate movie clips, music videos and audio album to its users. Catalogue/Collections aside, einthusan offers the deal of the century.
Its free video galore are completely free, but if you're looking to access the site's features, then you do be surprise to learn that it has a very cheap premium option. The freemium plan is already enough to consume all the south Asian content on the platform, but you'd be capped at 512kbps with commercials interrupting your viewing experience. Aside this, you'd have to wait three whole days to have access to all the latest released contents. The premium plan which unlocks all the restricted goodies costs $25 only and it's a one-time payment. Like forever, you'd never have to renew your subscription.
Einthusan sounds too good to be true, and it sort of is. With support for all kinds of device including iOS, Android and gaming consoles, you'd probably ask yourself if the site is legal or not. Think no further, we're going to clear the legitimacy. As mentioned earlier, einthusan hosts a colossal number of contents and they are pirated. Think of it, with such a premium plan offer, it do be difficult for them to buy movie licence. The brain's behind the platform are openly distributing copyrighted contents but it's unclear whether they are downloading them from different websites and uploading them on their portal or they are just ripping discs of movies and uploading them on their database.
Whatever the case may be, the fact remains that einthusan falls under the legally murky arena and we do suggest you utilize a reliable VPN app whilst accessing the site. Streaming south asian movies on einthusan is infact cumbersome, not only will you be bombed with annonying adverts, but you'd be denied of that strong and stable streaming speed. Now, if you don't have enough dollars to upgrade to the site's premium plan and you equally do not want to ruin your viewing experience, then here's how to download einthusan movies for offline viewing.
Downloading Movies From Einthusan
As a site free of malware, it's completely safe to download from einthusan. The site originally forbids users from downloading their contents, but we're going to use a walkaround. So if you have got your smartphone or PC ready, then here's how to download south asian films from einthusan for free.
To begin with, fire up your web browser and head over to einthusan.tv. You will be greeted with an elegant and nice user interface. Simply select the country's movie you want to watch.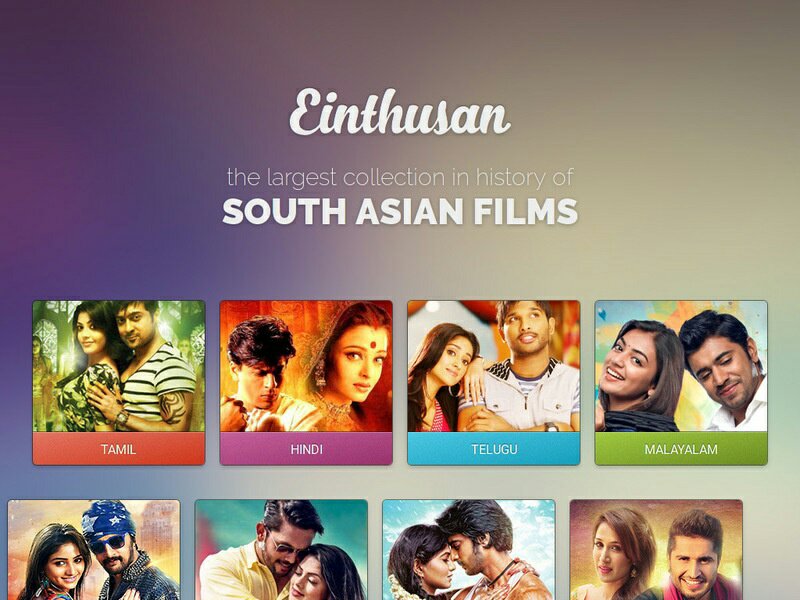 On the next page, you'd get the option to choose either movies, music videos or movie clips. Go ahead and click on the one you prefer. We'll go with Movies.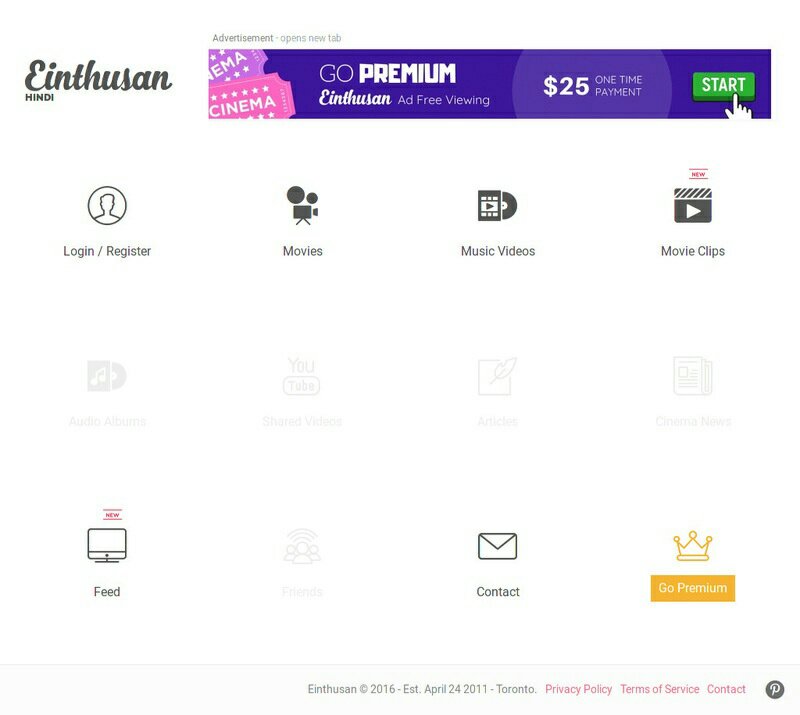 Once choosen, you'll arrive at the page with the "Watch" button. Click on it and tap on the address bar. From there, copy the movie url.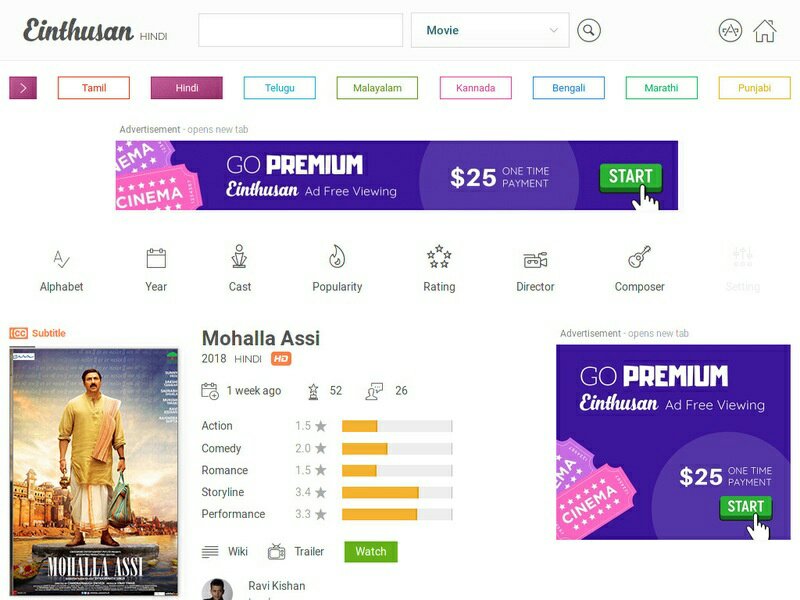 Now navigate to qdownloader.net or fetchfile.net and paste the url that's on your clipboard into the provided box.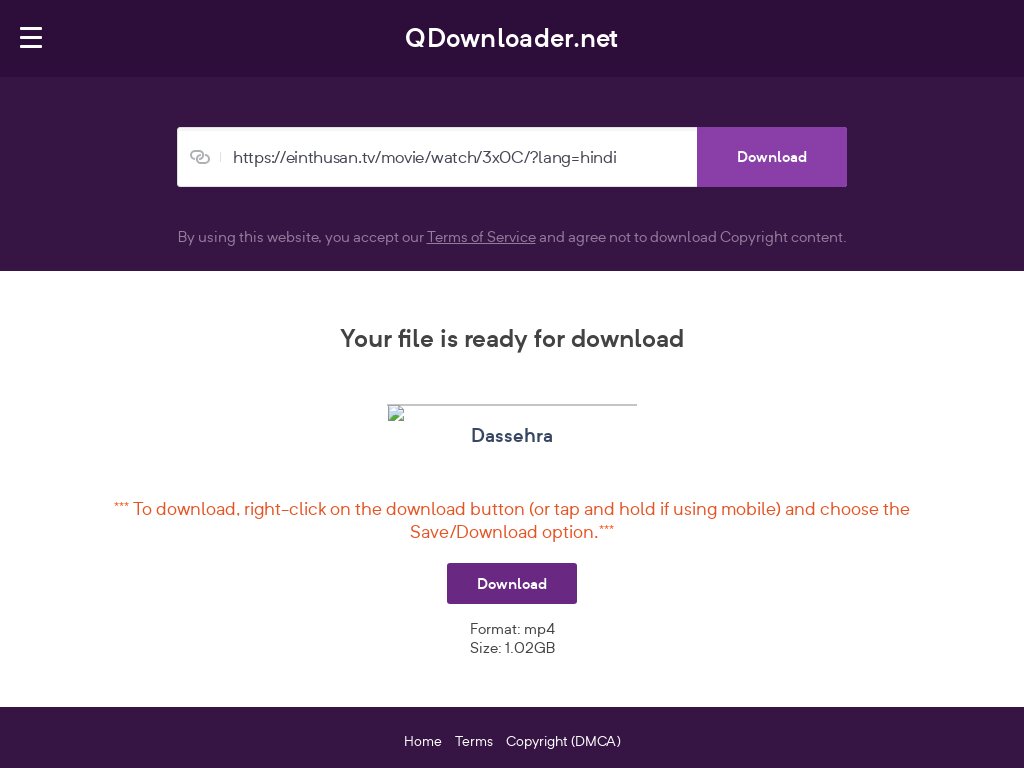 When you're done, choose the format/quality that best suits you and hit the download button. That's all.
Conclusion
Einthusan brings a huge collection of hand-picked south asian films in HD quality. You'd get to see recently added and regional hits, and they can be sorted alphabetically or by year. The streaming speed is relatively fast provided you're a premium member and the ad free viewing experience is top-notch. Endeavour to patronize the site more often, it's worth every time spent.