The primary function of every smartphone is to make calls. Anything less than this will instantly leave it dead on arrival. Our smartphones are precious, we do carry it along on far journeys, but it is quite irritating when you switch on your once well behaved device only to see it fall into a virtual tantrum. Just yesterday, a close friend of mind brought his once perfectly working Samsung Galaxy S3 saying he couldn't access nor use data, make phone calls or even send texts as he's being faced with a not registered on network error even when his SIM card was placed correctly.
Also Read: Fix "Unfortunately, the process com.android.phone has stopped"
Thinking it was a network issue, we went into Settings, had APN updated, switched network mode to 3G/2G, manually tried to update network provider but got the message "error while searching for network and unable to connect, try later". Finally, we did a factory reset but still nothing worked. Thankfully, after a few research, we stumbled upon a fix that worked and it was permanent. So today, in this article we're going to unveil it. But first, before we go into the "how to" thing, let us see why the not registered on network error often occur.
Reasons Why You Get Not Registered on Network
There are but a few reasons why this issue may occur. As for my friend, he started experiencing the error after performing an official update. So with intuition, a bad software update can be one of the reasons behind the not registered on network error. Beside this, when you switch on your device and your current service provider isn't notified of your IMEI number, then you'll likely encounter the "Not Registered On Network" error.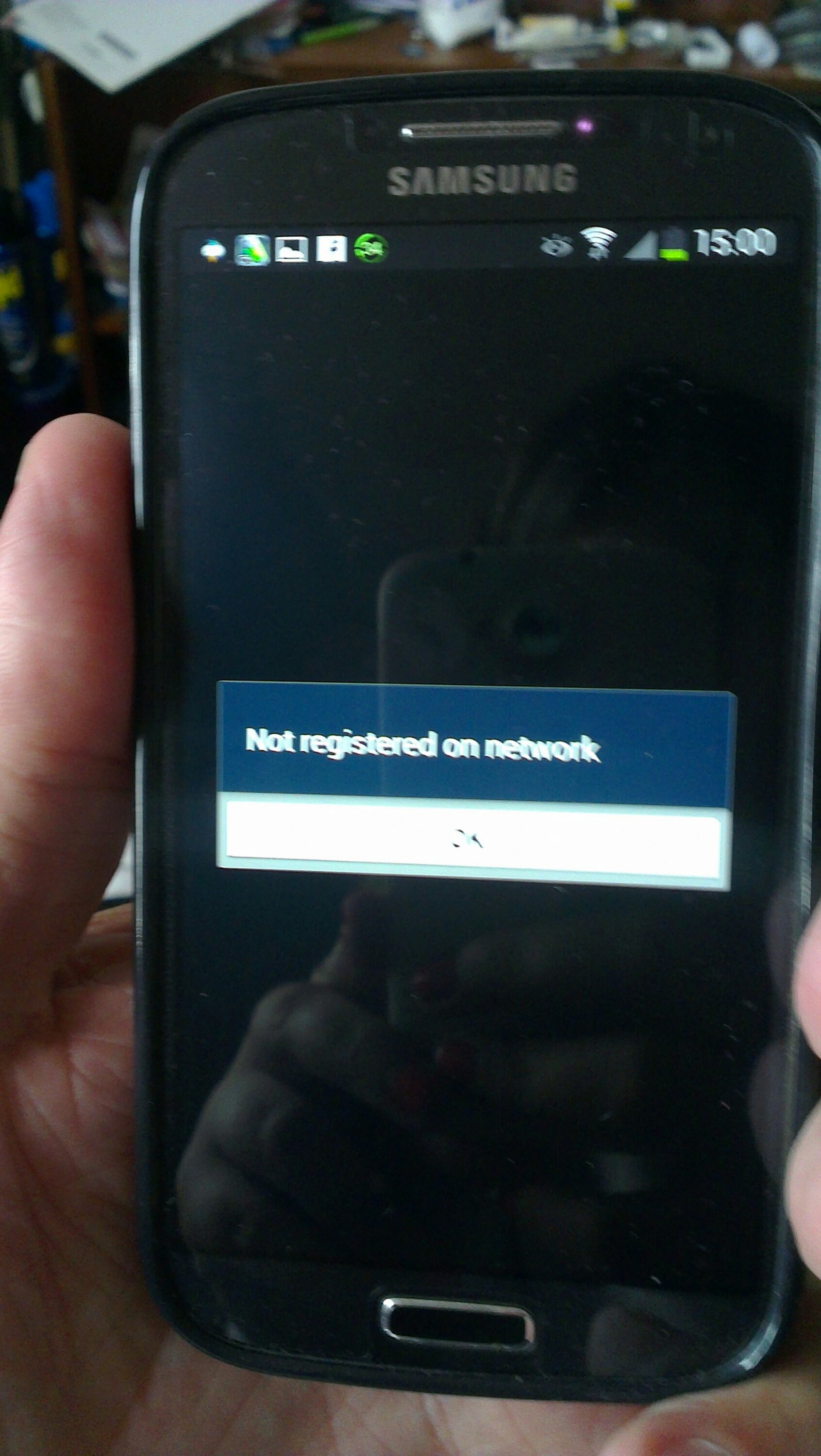 Now, upon seeing this error, you do instantly want to apply some certain majors. This includes checking your SIM port, removing the SIM card and placing it on another Android device (only to see it working).
Even when you navigate to Setting/About device/status/network, you do see "unknown". Of course all of your applications will work perfectly fine on WiFi, but when you have a phone with no network connection, you no longer have a phone. So knowing this fully well, we weeded the internet and found a permanent fix to the Not Registered On Network error on Galaxy S3 and other Samsung phones.
1. Install This Patches (For Galaxy S3 Only)
Samsung Galaxy S3 was "once" a popular and flamboyant smartphone, but it began showing its fair shares of irritating errors following an update to Android 4.3 Jelly Bean. With sense, we knew an official or unofficial software update could be one of the reasons behind the not registered on network error. Luckily, we found a patch that will help restore your Galaxy S3 back to normal. So lets get this one going.
Prerequisites
Ensure to create a backup of your apps, music, photos, documents, contacts, text messages and other important stuffs.
Then go to Settings >> About Phone and tap Build number 7 times. Navigate back and jump into "Developer options" and enable USB debugging.
Ensure your Galaxy S3 is rooted and have a custom recovery such as ClockworkMod (CWM) installed.
Finally, make sure your battery is charged up to 70% to avoid unexpected shutdown during installation.
Files Needed
Fixing the Not Registered On Network Error On Galaxy S3
Now, we assume you have meet up with all the above requirements and have the files downloaded and saved on your device SD card. If you are stuck with rooting and flashing CWM recovery on your Galaxy S3, then simply follow Google it. Once done, read the steps below to solve the not registered on network issue on Samsung Galaxy S3.
To begin with, switch off your device and reboot it into recovery. To do this, simply press and hold the Volume Up, Power and Home button, and release them when you see Samsung logo.
Once you enter the recovery mode, simply navigate to Install Zip From SD Card, then locate and select the ZIP file XXUGMK6 Kernel.zip and confirm the installation. Do the same thing with the other file XXUGMK6 Modem.zip and waiting till the flashing process is completed, then reboot your device normally.
With the two patches installed, wait until your Samsung Galaxy S3 boots up and you will discover that you've being registered to a network and your real IMEI number restored. So go ahead and send texts, make and receive incoming calls.
2. Flash Official Stock Firmware
Truth is, we aren't going to bore you with long articles. Telling you to dial some sort of codes, remove SIM, press buttons, wait for two minutes etc; is simply a waste of time. This process doesn't and can never be a fix to the not registered on network error. So as we stated earlier, an official or unofficial software update might be one of the reasons why you're getting the not registered on network error. So basically, what you're going to do if you happen to encounter this issue is to download and flash your device official stock firmware using Odin. The steps are pretty simply, but if you're a newbie to this, there are a slew of guides on Google that'll help you out. So simply search for it.
Wrapping Up
The not registered on network error that often occurs on Samsung Galaxy devices is really complex, but there's always a fix to everything in life (atleast that is what they say). Bonus tip nonetheless, if you discover that you have a null IMEI, simply retweak it and you'll be good to go. To find your device IMEI, remove your phone back cover as well as the battery and you'd see it boldly written in black at the body of the phone.