Although DVDs are no longer as popular as they were 10 years ago, a lot of our warm memories are stored in this format. These are not only favorite movies, but also home recordings of family life and holidays, as well as videos from the wedding and prom. To review such videos from time to time is a pleasant nostalgia, but what if the disc does not start? So the best way to keep those precious memories is to digitize the DVD disc and store them in the computer or hard drive.
We know there are a lot of tools which enable you to free convert DVD in the market, such as Handbrake. However, things are not always easy with free programs. The most common problem is that they do not "see" your disc. That's to say they failed to read the DVDs correctly. Besides, there are also some troubles you may meet.
No title of the main partition
Write to disk not complete
Not enough powerful processor
Disk not detected
The program stopped working
Improper division into sectors
Movie size exceeds 40 GB
Audio track not synchronized with video
Video splits into pixels
Black frame top and bottom
I/O error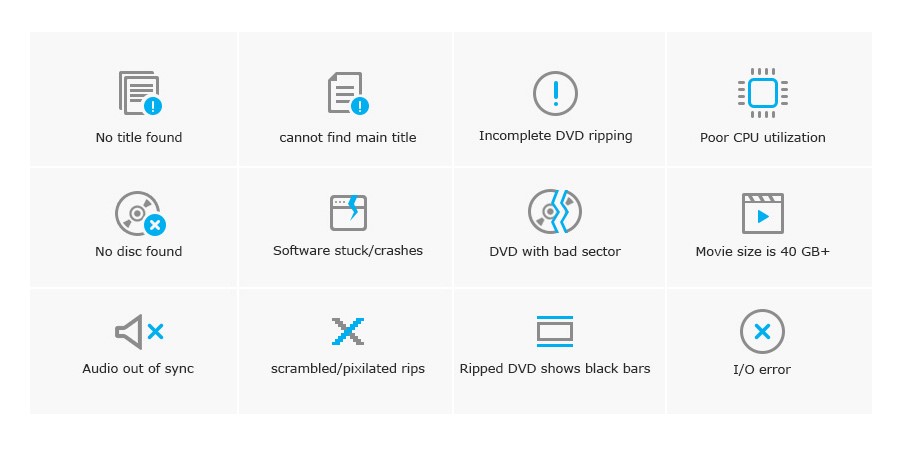 Luckily, MacX DVD Ripper Pro is here to help and able to work with all the problems listed above, even if the disc is not readable in other programs! This software almost support all kinds of DVDs, no matter latest DVDs, 99-title DVDs and workout DVDs etc. With built-in more than 350 profiles, it allows you to convert video in the desired format without sacrificing quality, such as convert DVD to MP4, MOV, AVI or other portable devices.
How MacX DVD Ripper Pro Works
MacX DVD Ripper Pro enables to remove encryption including regional code, CSS, RCE, Sony ARccOS, Disney Fake and other strong protection systems that can interfere with reading the disc. (Please note: We do not suggest any illegal or commercial use of copied DVDs)
Thanks to the unique level-3 hardware acceleration technology, MacX DVD Ripper is able to copy a 2-hour-long disc without loss of quality in just 5 minutes. It also solves the problem of the computer's power shortage to read the DVD and play the content.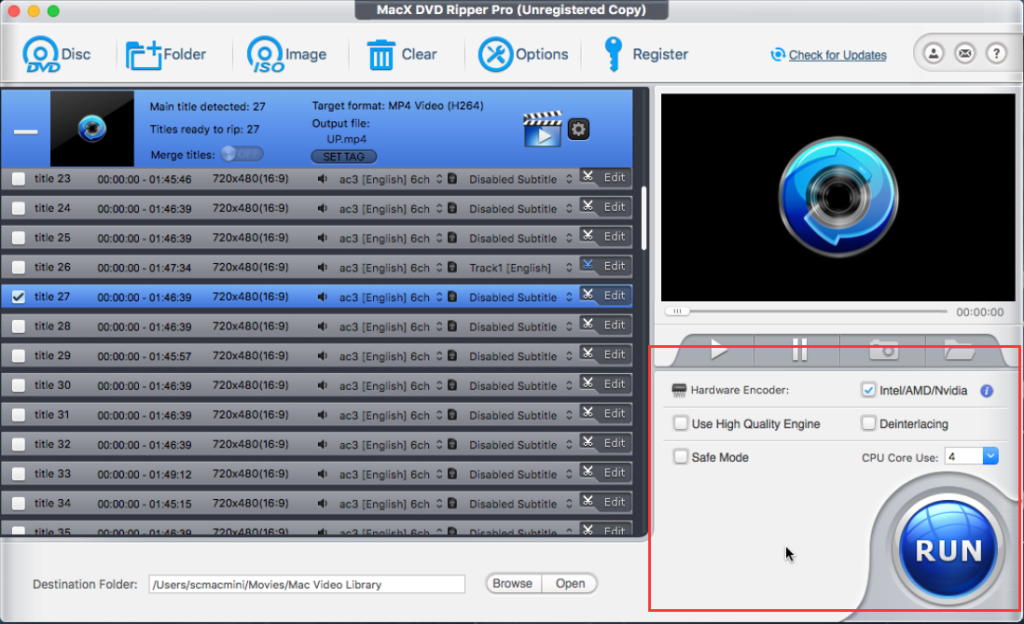 This software is designed specifically for the Apple ecosystem and allows you to convert video from disk to formats MOV, M4V, H. 264. You can open these files in QuickTime or on your iPhone, iPad, iTunes, and Apple TV. Enjoy your DVD video anywhere and anytime.
Even if the content is corrupted, you can still copy the data from it, and using the built-in tools, cut out the damaged fragments or sections to save maximum data.
You can also use the Crop tool to get rid of black frames at the top and bottom. The utility is characterized by high stability and compatibility with MacOS, which minimizes the risk of hovering or terminating the program.
How to use the program
Step 1: Insert the disc. Open the program and click on the Add DVD button to access the content. MacX DVD Ripper Pro will automatically detect the correct title of the main section.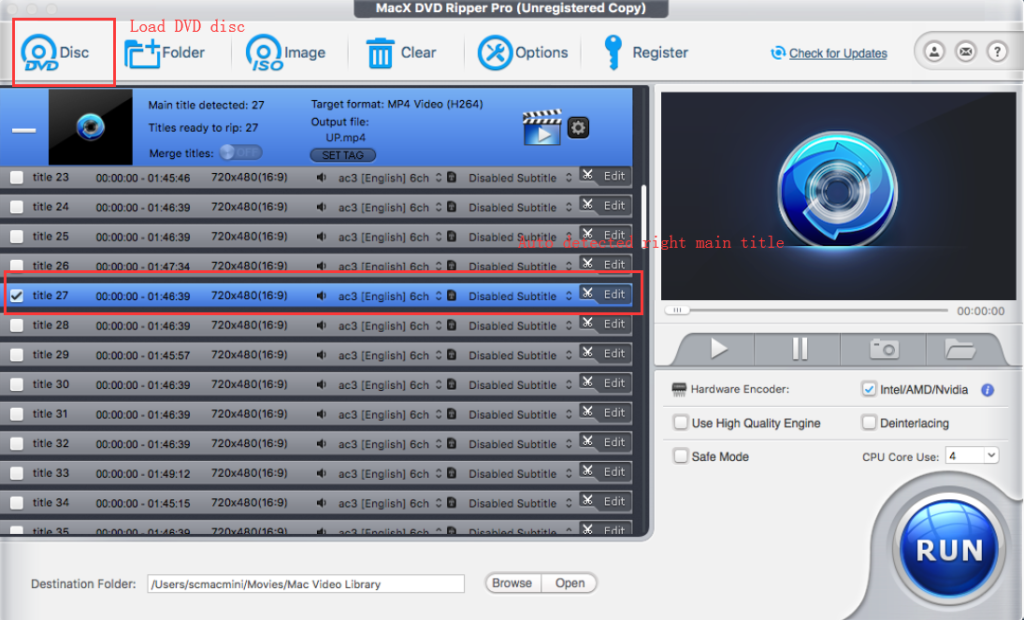 Step 2: Select the output format. The optimal choice will be MP4 H. 264 – This codec provides the best ratio of compatibility, quality and file size. Additional settings are usually not required, but you can shift the quality slider to reduce file size or improve video quality. Also at this stage, you can save the disk image or choose a format adapted to the devices Apple, Android, Microsoft, Sony, etc.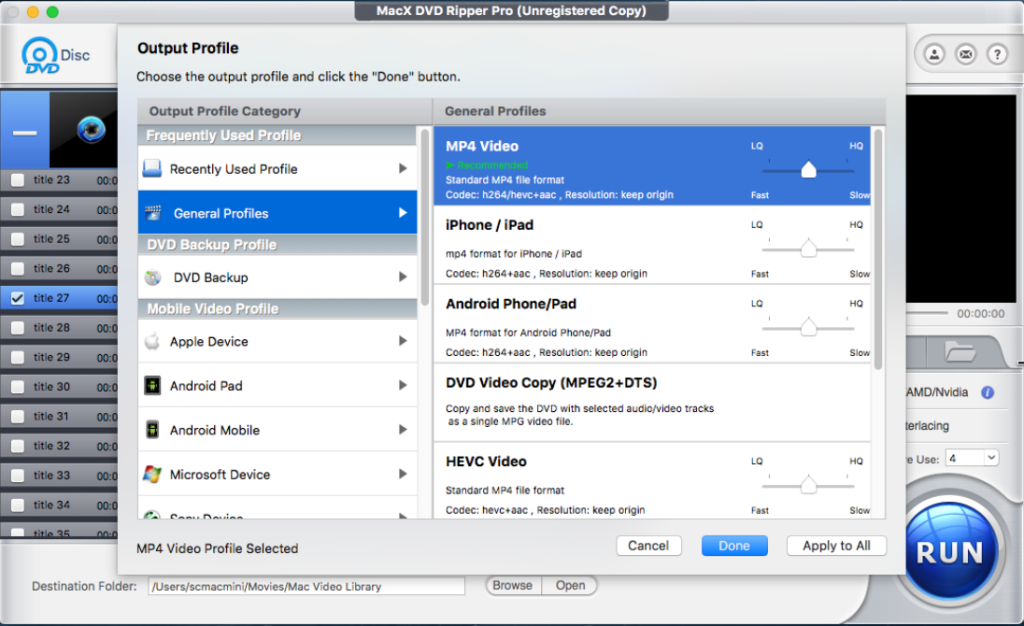 Step 3: Start the conversion. The only thing left is to press the Run button, and the rest of the program will take over. For disks with a complex protection system, the algorithm automatically detects partition titles, bypasses protection, and converts video.
Here is a tutorial video to show you how to use this software step by step.
How to get MacX DVD Ripper Pro and iPad Pro for free
Generally, this powerful DVD tool will cost $67.95. But from now to February 20, Digiarty conducts a large-scale drawing of prizes. Daily are dealt on 500 licenses MacX DVD Ripper Pro on the principle "first come, first served": The keys are received the first 500 participants. Luckily, you still have enough time to free get the license and win iPad Pro for free.

This is a sponsored post by Digiarty Software.
The content has not been created or verified by us (TechViola).