The iPhone is a portable digital camcorder right in your pocket. It could capture amazing videos, whether you're shooting in 4K, slow-motion, or common 1080p. But what is the use of a glorious video if nobody can see it?
Sharing to social media could be the most common way to make your iPhone videos widespread. Yet that's not easy. The iPhone video format and file size can be hindrances to your progress. Not to mention that sometimes you'd like to do some editing to make it more exclusive. To ensure your iPhone recordings perfectly fitted with the social media, you have to process the iPhone videos. Fortunately, VideoProc allows you to do that easily and free.
What's VideoProc?

It's an all-in-one video processing program especially designed for users to transcode, resize, edit videos, giving you access to any videos, including the emerging 4K HEVC. Besides, it also allows you to convert DVDs, record screen and download online video etc. With it, you don't have to be trapped in the problem on how to convert HEVC videos to H264. The program rolls video transcoding and editing into one, getting a whole greater than the sum of the parts.
Get Free VideoProc to Make iPhone Video Social Media Friendly and Win iPhone XS Max.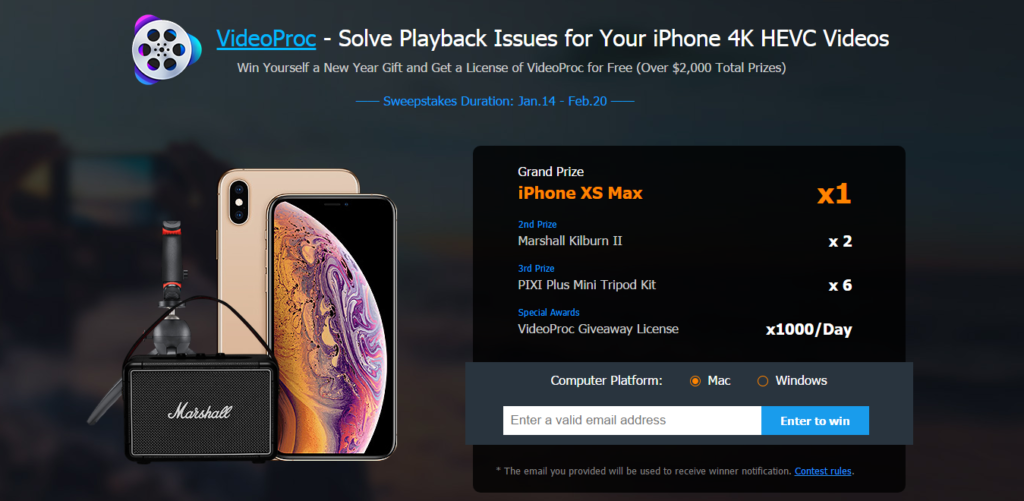 Let's face that, video shot by iPhone can be a hot potato for uploading to social media, because of its awkward 4K HEVC codec, large file size as well as the clutter footage. Whereas with VideoProc, everything will go smoothly. And now you can enter here to get free giveaway license and win iPhone XS Max and other prizes.
Encode iPhone 4K HEVC Video to More Compatible H.264

Since iPhone X/8, you can shoot 4K HEVC videos with iPhone, but it's absolutely incompatible with websites like YouTube, Facebook, Vimeo, Instagram etc. With VideoProc, you can easily decode and encode iPhone 4K HEVC videos to H.264 for better compatibility. And even if you've shot iPhone videos in H.264 MP4, it's also advisable to transcode them to more social media friendly FLV, WMV, WebM, etc.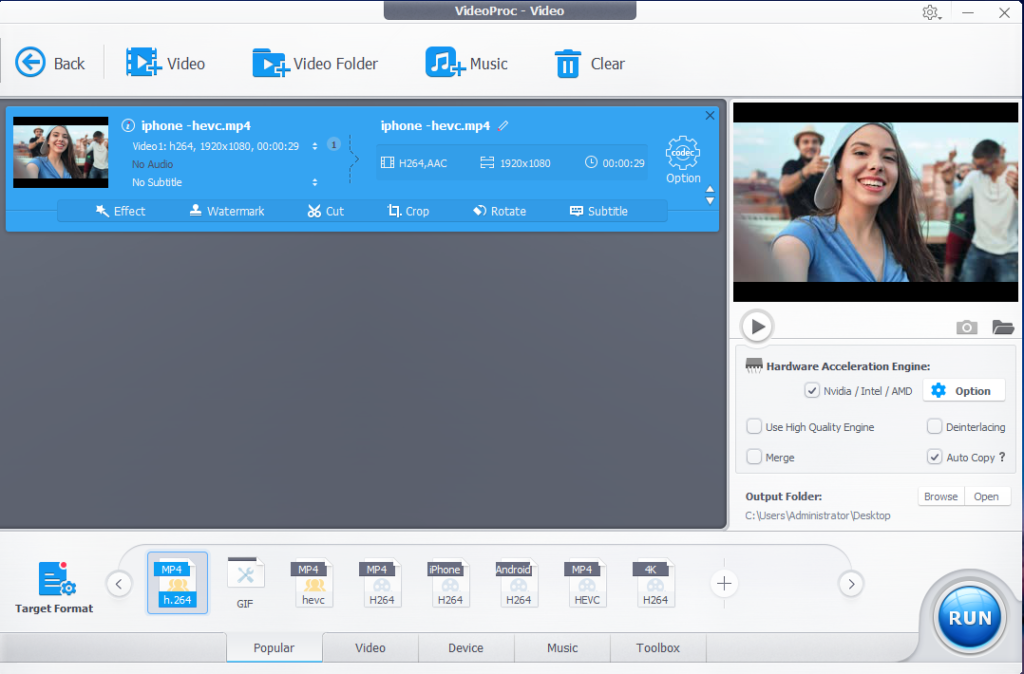 After you click "Add Video" to load iPhone 4K video, choose the MP4 H.264 as the output from the bottom column. Of course, other profiles like MKV, AVI, MOV, WMV, M4V, MPEG2 etc. can be your choice according to the final use of your video.
Shrink Oversized iPhone 4K Video Max at 90% Reduction
The video file size also comes critical for sharing iPhone videos, especially the 4K UHD footage. A minute of 4K footage at 60fps eats up approximately 400MB for HEVC, and 23.4GB for an hour of that. Whereas YouTube maximum accepts 20GB video for verify accounts, and Vimeo merely has 500MB free storage space per week for basic users. Obviously, a very short clip of 4K video will go far beyond the social media acceptable size limits.
Fortunately, VideoProc has the ability to compress iPhone 4K video to the hilt without visually quality loss, through encoding to a format with high compression algorithm, adjusting parameters like reaolution, bit rate, frame rate etc, and trimming or cropping videos. In accordance with you needs, apply one or all to reduce your iPhone video size to various extents, by up to 90%.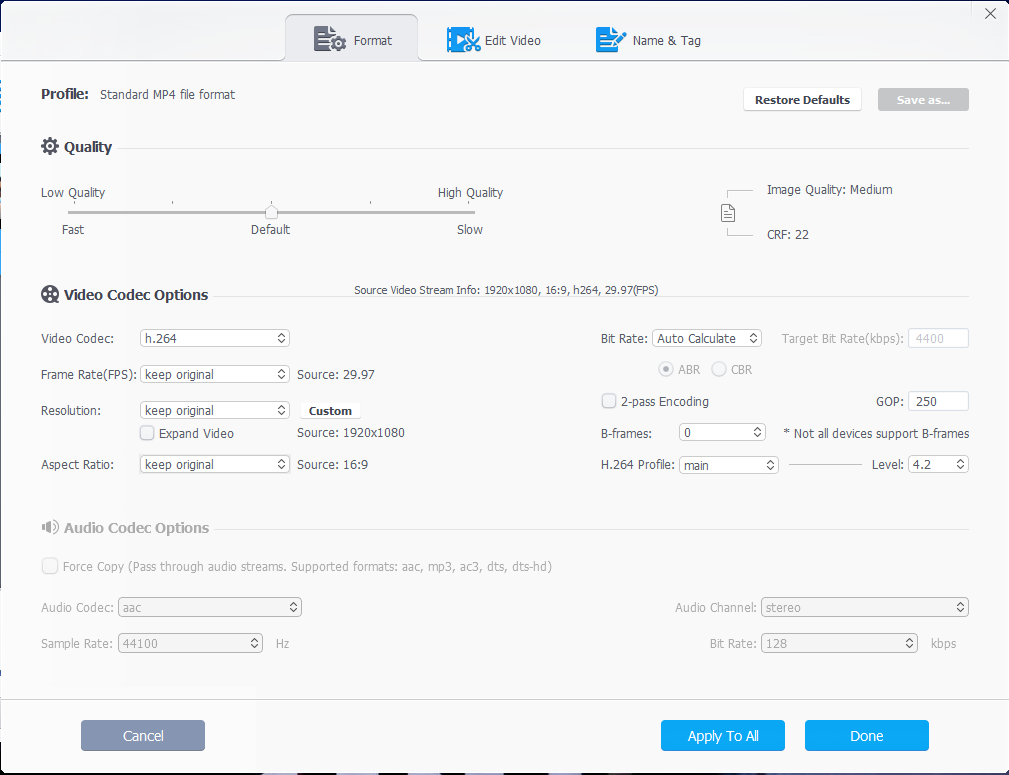 Take an example of adjusting parameters. All you need is to tap on "Codec OPT" button, and you're able to downscale resolution from 4K UHD to 1080p/720p HD, lower the bit rate, decrease the frame rate, change the aspect ratio and adjust audio.
Quick Edit iPhone Recordings for Social Media
Despite the needs of trimming video length and cropping video dimension to reduce video file size, editing and customizing could get iPhone video easier to engage the audience. Generally, it's wise to consolidate all iPhone footage, trim out the unwanted video parts, stitch together video clips, crop video dimension, fast forward, slow motion, add titles, watermark and effects to create a home movie for social media. VideoProc has everything in control for 4K video editing with easy steps.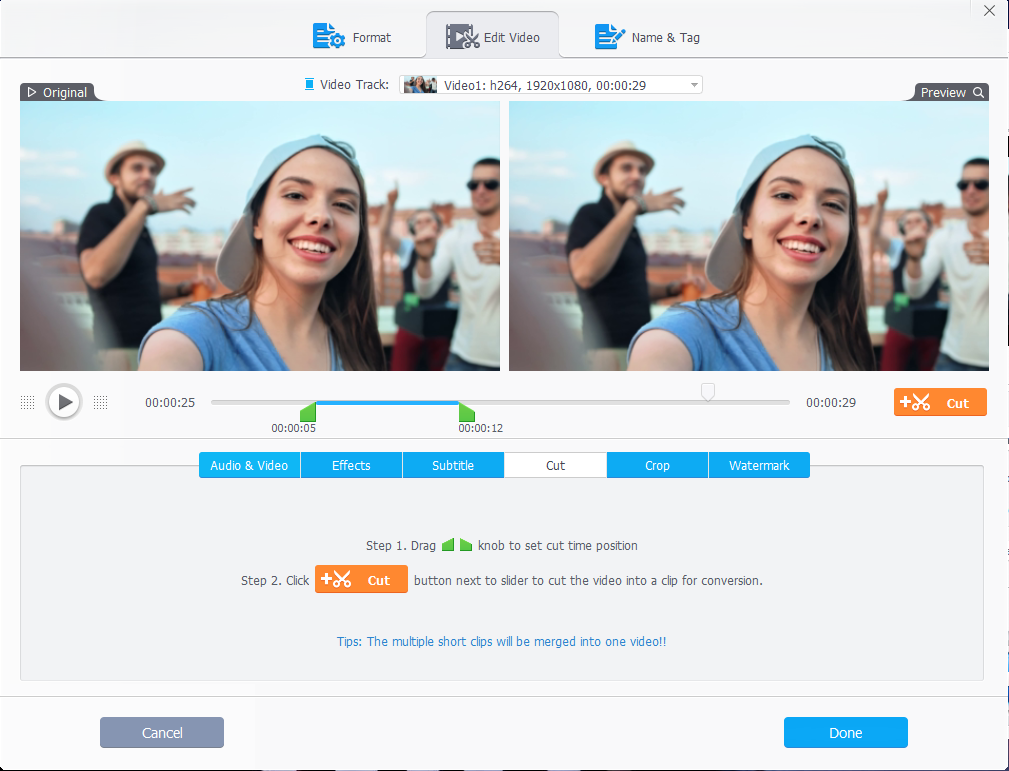 On the main interface, you can clearly see the edit options, namely cut, crop, subtitle, effects, rotate. Head to the specific option to edit iPhone video straightforward as follows.
Cut: Drag start/end time knob on the timeline, and click on the Cut button.
Crop: Enable Crop and set the position on the rectangular box.
Subtitle: Click Add SRT File…, or you can search subtitle first, then download and add it.
Effects: Choose your desired effects, and adjust the brightness, contrast etc. if you need.
Rotate: Click on Left or Right to make a video rotation. You can also flip video by hitting Vertical and Horizontal option.
Merge: Tick on the box of Merge All Videos on the main interface.
Turn iPhone video into funny GIF for sharing on social media.
If your computer is good enough to support hardware acceleration, VideoProc will bring you a big surprise in terms of speed. With the unique level-3 hardware acceleration enabled, the whole iPhone 4K video processing will be accomplished at 47 times faster than real time.
Final Thoughts
The iPhone is undoubtedly a digital camera and video editor in your palm that you can shoot 4K videos and do some basic editing. But it's far from enough for sharing the iPhone recordings to social media. So why not try a professional software to make iPhone 4K footage social-easy? What are you waiting for? Get Free VideoProc to process iPhone camera videos and win iPhone XS Max right now!
You can also watch the full tutorial video here to see how VideoProc help you to process the iPhone video easily.
This is a sponsored post by Digiarty Software.
The content has not been created or verified by us (TechViola).