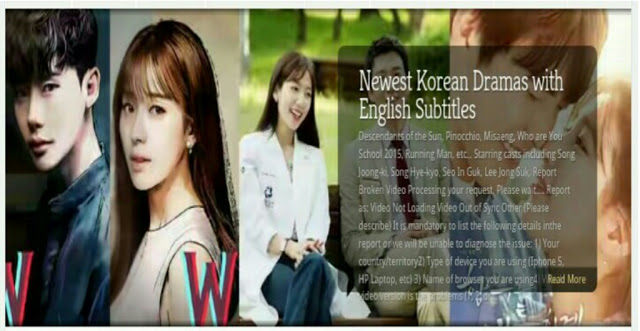 Today we are sharing a powerful tutorial on how to download Korea movies and drama from Dramafire using dramadownloader. Its an easy step so just read below!.
Korea drama's are tremendously addictive and action packed. The love sequence they present always gets me focused non-stop on watching them. But there's a problem many folks have been facing when it comes to downloading any Korea movies online. Yep! Don't misunderstand, YouTube offers almost half of the movies we need but its hard to find a legit full korea movies from YouTube. Even when you're opportuned to see some, they might just be adverts and always sucks.
Dramafire offers great qualities of full episodic Korea movies, its no new thing that apart from Dramafire, website like dramacool, dramanice, dramago and others offers you an opportunity to download Korea films but I recommend Dramafire because of the below reasons.
Dramafire is safe and secure thus no need to fear malware's
No annoying advertisement
Extremely fast and easy navigate and to search for movies
Full quality English subtitles added in each movies
Dramafire offers great collections of newest and trending Korea movies with full episodes up to 1hrs and present movies in full HD high quality. Certainly as a Korea seasonal movie addict, you will probably prefer to download Korea movies and save to your PC to watch later instead of watching them online. Dramafire let's you directly watch korea movies from there website without an option to download it, but after reading the below tutorial, you're certainly going to master an easy way to download Korea movies, save it on your PC or mobile and watch offline when you're less busy.
Also Read: Top 10+ Best Websites To Download Korean Dramas For Free.
Steps To Download Korea Movies From Dramafire.com
1.) Go to www.dramafire.com using your web browser and you will arrived at the website homepage with trending movies presented for you to watch. Now locate the search bar at the top right corner of the website and Search for any movie name you prefer (Example: 49 Days). Make sure its spelled correctly or you won't get any search result. Then hit search.
2.) On the next page you will be presented with the full episode of the movie name you searched earlier in a descending order, so you have to click on the number navigation to see more episodes. Now select the preferred episode you which to download and on the next page, there you can click the play button to start watching the movie online. But that aside for now.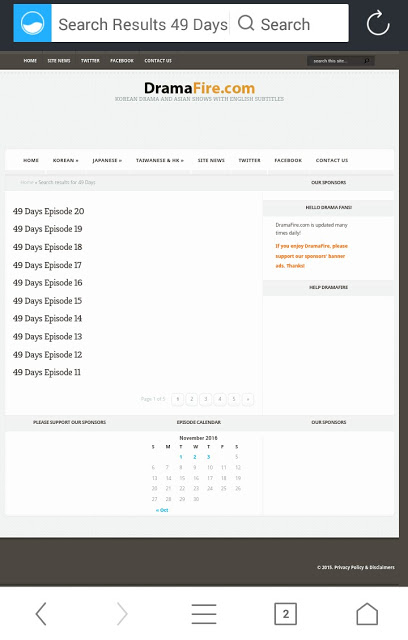 3.)  Copy the movie page URL I.e if you do not wish to watch online. To copy the movie URL, tap and hold on the movie URL at the search bar as shown below and copy it to your clipboard. We're partly done here.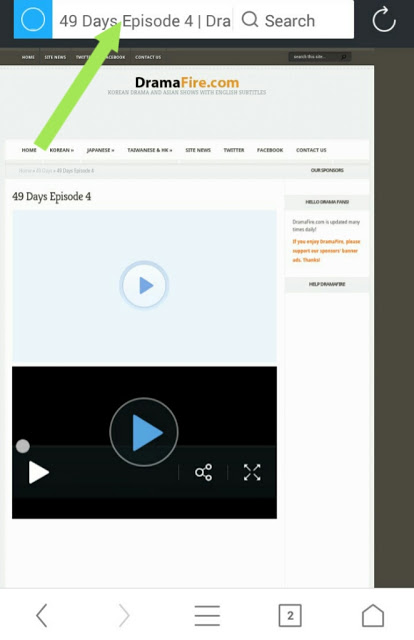 4.) 
Now create a new tab and type in
www.dramadownloader.com
in the search bar and hit enter. You will be taken to a page with a search box presented. Paste the movie URL you copied earlier and click continue. Now wait till it process and a 
server 1, server 2 
buttons will emerge. Sometimes they're upto 
4-5 servers 
so just select any desired download servers. (We recommend you try the 
server 1 
first before others).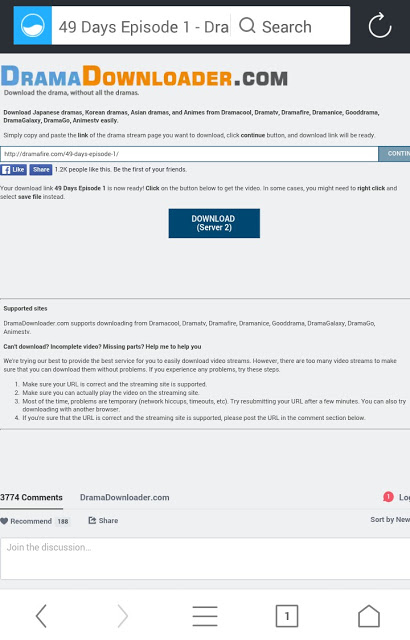 5.) Now if you clicked on server 1 as recommended above, you will land on the Mp4upload.com download page. Click on create download link button and hit save for the movie to start downloading. Done!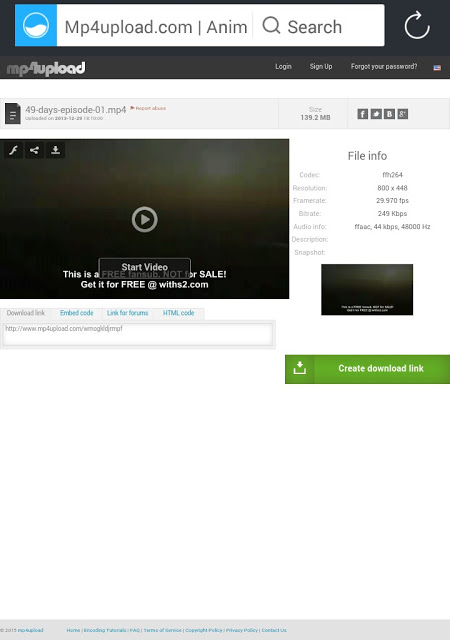 You can manually repeat this steps to download all episodes or here's a tip we recommend.
6.) Instead of following the above step of  copying the movie URL manually from dramafire and pasting in dramadownloader which is kind off a big stress, here's what to do!. On the movie URL you pasted on the dramadownloader search box earlier on, which will be presented like these http://dramafire.com/49-days-episode-1/ Now change the episode numbers from episode 1 to episode 2 just like this http://dramafire.com/49-days-episode-2/.Then hit continue. Do the steps again and again to download all episodes. That's it you won't have to go back to dramafire to copy the URL and back to dramadownloader to paste it. Just get copy the URL of any desired movie and paste in dramafire then interchange the episode numbers to download all.
Conclusion
So as said earlier its absolutely easy and I guess you saw it yourself. The movies are presented in high quality and have subtitles installed already. So you don't need to worry about language barrier.