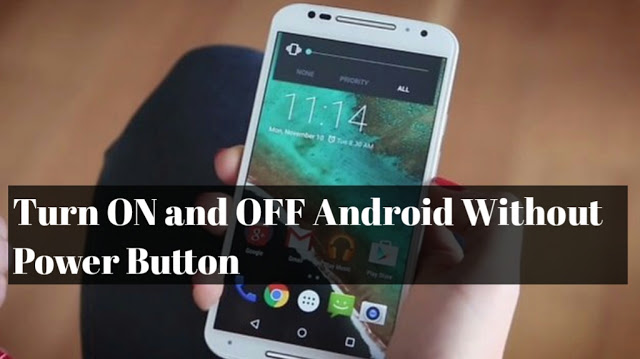 Android phones has been perfectly known for there best huge amount of apps and customization that enables you take full control of your device thereby tweaking it the way you desire. This feature is certainty what made Android phones stand out in the mobile market today.
In this article I am going to show you how to Turn on your android phone without using the power button. Its certainly time to "Forget the power button and make use of gravity screen to turn on your device". Mostly at times, I do prefer using this method since its easy, efficient and professional thereby sustaining more life to my power button. If your power button has faded out or is no longer working properly due to one reason or the other, then follow this guide and forget the damned power button. We are going to use an android app called Gravity Screen as mentioned earlier. The app enables you to turn ON and OFF your Android using motion.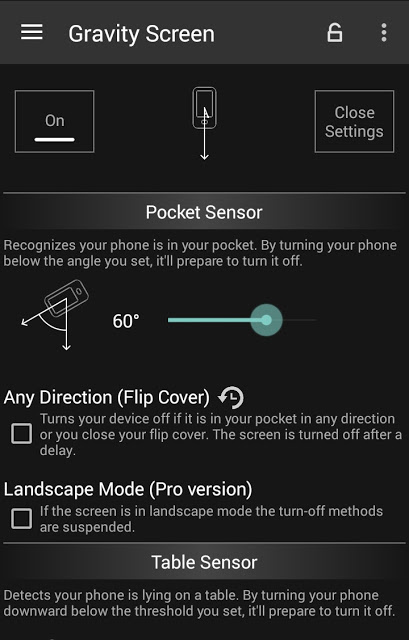 KEY FEATURES OF GRAVITY SCREEN
• Pocket Sensor: Turns the screen off if your phone is in your pocket.
• Table Sensor: Detects your phone is lying on a table and turn it off if not in use.
• Turn Screen On by Motion: If the screen is off and it's facing up the device can be woken up by moving it.
• Keep Screen On by Motion: It keeps the screen on while you are watching the screen. It relies on the small movements of your hand while holding the device.
• Smart Lock support: It's a workaround to make the Smart lock feature work fine on devices with Lollipop.
• Locale plug-in for: Tasker, Llama and othersothers
HOW IT WORKS…
Gravity screen turns automatically the screen off when you put your phone into your pocket or onto a table. And turns the screen on when you take it out or up. No need to touch any button and you are ready to go. It's especially helpful if your lock key is hard to reach or the power button is broken.
HOW TO USE GRAVITY SCREEN FOR ANDROID
1. Download the Gravity screen app for Android from Google playstore using below link.

2. Install the app and open it then activate the Gravity screen (Screenshot above).
3. Once taken to the next page, tap on OFF to turn the app ON then setup up the app in your desirable way.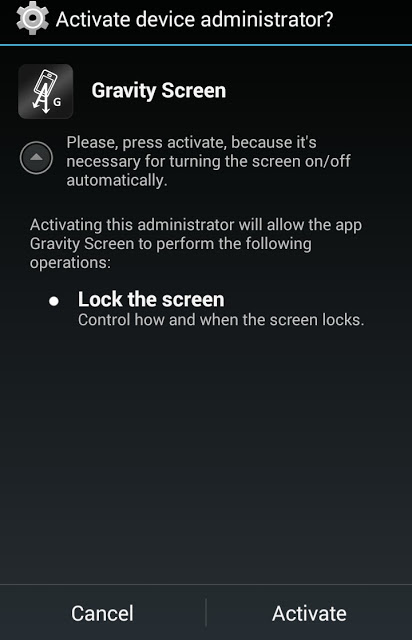 HOW TO UNINSTALL GRAVITY SCREEN
Please, use the Uninstall button in the app. Due to Android restriction the app cannot be uninstalled.
In conclusion the gravity box app those not drain battery and also its more efficient and works great on both rooted and non-rooted Android device.